William Ferdie "Willie" Brown (December 2, 1940 – October 22, 2019) was an American former cornerback, coach and executive. He played for the Denver Broncos and the Oakland Raiders in the National Football League. He served as Director of Staff Development for the NFL's Oakland Raiders at the time of his death.
Playing career
Edit
Willie Brown played collegiate football at Grambling University and was not drafted by any professional team after leaving school in 1963. He was signed by the Houston Oilers of the American Football League but was cut from the team during training camp.
He was then signed by the AFL's Denver Broncos and became a starter by the middle of his rookie season. He won All-AFL honors in his second season and played in the AFL All-Star Game, recording 9 interceptions for 144 yards.
In 1967, Brown was traded to the AFL's Oakland Raiders and would spend the remainder of his career there. He served as defensive captain for 10 of his 12 years with the team. He was named to 5 AFL All-Star games and 4 NFL Pro Bowls. He was also named All-AFL 3 times and All-NFL 4 times.
Perhaps Brown's most memorable moment as a Raider came during Super Bowl XI, when he intercepted a Fran Tarkenton pass and returned it a Super Bowl-record 75 yards for a touchdown. His record would stand for 29 years until it was broken by Kelly Herndon's 76-yard interception return in Super Bowl XL.
Willie Brown retired after the 1978 season, and finished his Raiders career with 39 interceptions, tied for first all-time on the team. Overall, he finished his 16 Pro Football seasons with 54 interceptions, which he returned for 472 yards and 2 touchdowns. He also recovered 3 fumbles.
He is a member of the American Football League All-Time Team and was inducted into the Pro Football Hall of Fame on July 28, 1984, his first year of eligibility. In 1999, he was ranked number 50 on The Sporting News' list of the 100 Greatest Football Players, making him the highest-ranking Raider player.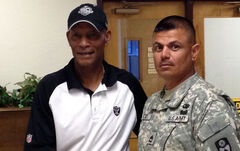 Coaching career
Edit
Brown served as a defensive backfield coach for the Raiders from 1979-88. He also had stints as the head at Long Beach State, where he earned a master's degree, in 1991 and L.A. Jordan High School in 1994. In 1995 he returned to the Raiders as the Director of Staff Development.
Personal life and death
Edit
Brown and his wife Yvonne and his three adult children, two daughters and one son.
Brown died on October 22, 2019 at the age of 78.
Named to the All-Time AFL Team in 1969
Named to the Pro Football 25-year All-Star team
Inducted into the Pro Football Hall of Fame in 1984
Inducted into the Louisiana Sports Hall of Fame in 1992
Inducted into the Mississippi Sports Hall of Fame in 1994
Inducted into the African-American Ethnic Sports Hall of Fame in 2010[1]
References
Edit
External links
Edit
Community content is available under
CC-BY-SA
unless otherwise noted.