Welcome
Hi, welcome to College Football Wiki! Thanks for your edit to the Big Ten Conference page.
Please leave a message on my talk page if I can help with anything! -- Wikia (Talk) 09:01, August 31, 2011
Rights
Hey. I've given you admin rights. I know youre an admin on Basketball Wiki, so you should be a good help here too.--Hockeyben (talk - contribs) 01:03, May 1, 2012 (UTC)
No prob man. Your a dedicated and trusted user, so you were an obvious choice.--Hockeyben (talk - contribs) 21:24, May 1, 2012 (UTC)
CHAT!
Sice you are ADMIn here, can you make a chat? Please? LegoSuperBowser (talk) 17:59, May 18, 2013 (UTC)
NCAA football schedules
Just as an FYI, I've spent several months thinking about it, and have decided that your style of doing the football schedules is much simpler and easier than the grid pattern that I learned from doing the NFL stuff. So while I will keep the pros in the grid pattern, we should no longer be butting heads (much) in the college stats. And I apologize for any grief that I have caused in the past. Will49 (talk) 19:58, August 29, 2013 (UTC)
Hi there Hugbear-
I just wanted to ask if this wiki also includes articles about NFL football? If not, do you know if there is another wiki dedicated to that? I can't seem to find one, and I'd like to start one if there isn't one already. NFL.wikia.com just links to this site. :P
Thanks,
Disregard the above message... I just checked and this site does indeed have pro pages. :P My bad! I'll just edit here, I suppose.
Thanks,
Pages that were erased
Hoping all is well. For some reason, there was a user called Twistedmental, who erased seven pages, including six of my own, stating that it was not American football. I was not sure if you could please look into this. I understand that not everyone likes women's football (including LFL) but I would like to help build a database for it. Thanks for your time. Mark Staffieri (talk) 18:15, November 5, 2013 (UTC)
List of college team seasons
I have what might be a better way to handle a long list of seasons for a college team. I took the template that the NFL teams use to list all of their seasons in the main infobox, and I adapted it for Stanford. Eventually I could have those for all of the teams.Will49 (talk) 18:38, November 8, 2014 (UTC)
Providence Park
I'm going go delete your Providence Park page, but not for anything that you have done. A few weeks ago I created an almost identical page under the name of Multnomah Stadium, and was going to change the name several times (leaving behind redirects), so that we could allow for all of the names used for the place. My earlier one is already used for a bunch of Oregon and Oregon State games, and has some pix included, so I think that would be the better one to keep. But if I had gotten myself in gear, this would not have come up, so my apologies on that. Will49 (talk) 10:47, November 22, 2015 (UTC)
Proposal: Changing Florida International to FIU
I had a thought. "Florida International" is a pretty big and clunky name, and almost everywhere else that school is referred to as "FIU". How would you feel about us changing to FIU? I'd be willing to do most of the work of converting. Will49 (talk) 06:27, August 21, 2016 (UTC)
Additional info
FYI, after some poking around, I found out that Florida International's teams were originally the "Sumblazers". They became the Golden Panthers before the 1987-88 school year, and the word "Golden" was dropped before the 2010-11 school year. Will49 (talk) 19:24, August 21, 2016 (UTC)
Virtual game ball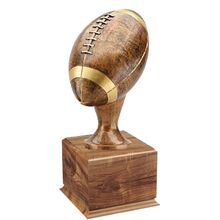 I've long known that you do the lion's share of the work here, but I never realized how much that amounted to until I created Category:College teams by year the category below. At which point I kind of said 'holy crap.' You've been keeping more than 700 teams current for several years now. So I started thinking about what I could do to recognize the amount and quality of work you do, and I came up with this. It might be a bit maudlin, but what the heck. And they do this sort of thing on the real Wikipedia, but never with this exact award. So I thought it would be fitting to give you a virtual game ball. You deserve it. Will49 (talk) 23:31, September 16, 2016 (UTC)
Bureaucrat rights.
Your opinion is needed here Starkiller131 (talk) 19:28, January 18, 2017 (UTC)
Delete
Hey, can you delete Category:Free agent, as it has the deletion template, and we already have a category for it. Starkiller131 (talk) 21:00, January 19, 2017 (UTC)
FYI Name Change
I was getting tangled in all of the different "Ottawa"'s that we had floating around, so I made a change. Following convention, as of now the NAIA Ottawa Braves of Kansas are the 'Ottawa (KS) Braves'. I think that I got all of the changes and redirects lined up. Should smooth things slightly. Will49 (talk) 16:58, April 12, 2017 (UTC)
Delete
Bureaucrat rights part two
Hey hugbear. I have a question for you and Will. Do one of you want Bureaucrat rights? If you do not know the difference, a bureaucrat is essentially a Sysop (Administrator) that can promote regular editors from regular status to a user with rights. I just looked and the only Bureaucrat this wiki has is this user. We can either ask him to grant one of you two rights, or you can ask them yourself. Thanks, and happy editing. Starkiller131 (talk) 21:16, September 21, 2017 (UTC)
Wasup
wasup wat do u need help with Jdh87 (admin) 02:28, February 18, 2019 (UTC)
Hey, I was wondering if you would consider appointing a new Administrator? As a HUGE Football Fan I would love the opportunity to serve on this Fandom. I'm also Admin on the Lost wiki, and the Flash/Reverse Flash wiki so I guess I know what I'm doing ;) Thank you for your Consideration!
FYI Name Change >> Penn
I was rummaging around in the Penn Quakers media guide, and they have a specific directive in there asking media people to refer to them as "Penn", not "Pennsylvania". Since we are kinda sorta media people here, I'm going to spend some time making the appropriate changes. Will49 (talk) 20:37, October 29, 2019 (UTC)
Deleting a category
Hey Hug. Can you please delete this page; this page is much more useful imo. Starkiller131 (talk) 00:04, March 26, 2020 (UTC)
Admin
Hello as you know im a frequent contributor to this wikia and was was wondering if I could become a admin
Hi
Can you make me an admin becuase I am the biggest football fan ever
Greetings from Fandom Staff!
Hello!
I'm Lucas, the Community Manager responsible for niche wikis like this one! You've done a great job leading up the American Football Wiki so far and I want to thank you for all the time and effort you've put into this community. If you have any questions about the Fandom platform or need a hand with anything, feel free to reach out to me.
Thanks again for building up this community and I hope you have a great day!
Lder1995 (talk) 18:56, 7 January 2022 (UTC)
Name change
Just as an FYI, Dixie State U will be known as Utah Tech, starting in July. I just stumbled across that info.Will49 (talk) 23:38, 13 January 2022 (UTC)
Main Page updates
Hello! My name is ReverieCode, and I'm a Wiki Representative working for Fandom.
I was wondering if you (and other admins) would like to have any cosmetic fixes done in this wiki's Main Page. With the design change that happened last year, we sometimes offer assistance to make sure all the content still looks good (well positioned, visible on both light and dark themes, etc.)
For this wiki it actually looks pretty good already, but I could perhaps center galleries, and look at the formatting in general to see if there's anything out of date. If this is something that interests you, let me know, and I can get working on it. --ReverieCode 19:30, 2 February 2022 (UTC)