Hello, everyone! My name is Jayhawks4ever, and I'm trying to solve an age-old mystery: who is the greatest athlete of all time? So, in tradition with March Madness, I've devised a bracket and used statistics, popularity and other factors to determine who should get a chance to be the best.
Okay, so it goes like this. Every other day, I'll post a different match. Then you will all have 48 hours to vote before a winner is decided. If there is not as many votes as I had hoped, I will likely delete this blog. So, let's begin.
MATCH 1: BO JACKSON VS TIGER WOODS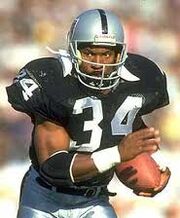 Okay, so let's get voting!
The winner will be decided on March 15, so vote until then!
Jayhawks4ever (talk) 11:05, March 13, 2013 (UTC)