The Tulane Green Wave football team represents Tulane University in the sport of American football.  The Green Wave competes in the Football Bowl Subdivision (FBS) of the National Collegiate Athletic Association (NCAA) as a member of the American Athletic Conference.
The Green Wave play their home games at Yulman Stadium, a new 30,000-seat on-campus facility that opened in 2014. The Green Wave previously played in the Louisiana Superdome, which also serves has the home field for the New Orleans Saints of the NFL, and in Tulane Stadium, which was demolished in 1980. Tulane is currently coached by Willie Fritz.
History
Early years
Tulane's earliest athletic traditions are tied to its football team. Football was introduced to Tulane by Hugh and Thomas Bayne, who played the game at Yale University. The first organized game was played on New Year's Day in 1890 and was the first football game in New Orleans or Louisiana by dividing the students into two teams. Tulane football began playing intercollegiate in 1893 and hit its stride in 1900 with a perfect 5–0 season, beating the Southern Athletic Club, Alabama, Millsaps, LSU, and Ole Miss. In a 1912 game against Southwestern Louisiana, Tulane set records of 15 rushing touchdowns and 95 points that still stand. In 1925 the Green Wave again went undefeated, with only a tie against Missouri to blemish its record. The administration declined a Rose Bowl invitation, however, in order to keep the students in class.
Tulane Stadium
1926 saw the completion of a new stadium on campus, Tulane Stadium. Tulane's third and fourth perfect regular seasons came in 1929 and 1931, with a single loss to Northwestern in Chicago marring the 1930 campaign. The 1931 team did go to the Rose Bowl, losing 21–12 to Southern California, and Gerald "Jerry" Dalrymple became the only unanimous All-American selection that year. In 1932 Tulane joined the Southeastern Conference as a charter member. In 1935 Tulane began hosting the Sugar Bowl in Tulane Stadium, an annual contest that eventually lent its name to the stadium itself. In 1939 the team completed its fifth unbeaten season, losing a close 14–13 battle to Texas A&M in the Sugar Bowl. Tulane left the SEC in 1966 to become an independent. They had some success in the 1970s with three bowl invitations in the decade, including a memorable 17–3 victory in the 1970 Liberty Bowl over the heavily favored Colorado Buffaloes.
Louisiana Superdome
A seminal moment in the history of Tulane football occurred following the 1974 season, when the Green Wave moved all of its home games to the new Louisiana Superdome in downtown New Orleans, which was renamed the Mercedes-Benz Superdome in 2011. Tulane has the dubious distinction of being the only Division I-A football team ever to move from a larger, on-campus stadium to a smaller, off-campus stadium. Tulane Stadium was subsequently demolished in 1980. While Tulane has had the benefit of playing in an NFL standard facility under a controlled environment in the Superdome, many are critical of the 'Dome's sterile atmosphere, arguing it is not conducive to a real college football environment.
The 1980s and most of the 1990s were mainly down seasons for Tulane, with the lone highlight season coming in 1987, when the Green Wave finished 6–6 under then head coach Mack Brown, and lost to Washington 24–12 in the Independence Bowl. The Green Wave that season were led by dynamic quarterback Terrence Jones and wide receiver Marc Zeno. Brown subsequently left Tulane for the head coaching post at the University of North Carolina. He was succeeded at Tulane by his offensive coordinator Greg Davis. Davis failed to garner a winning season at Tulane and was fired in 1991 following a 1–10 campaign. Dartmouth head coach Buddy Teevens was hired to turn the program around, but he too failed to muster a winning season during his tenure at Tulane and was fired following the 1996 season. In 1995, Tulane left the ranks of the independents and joined a new all-sports league called Conference USA, formed by the merger of the Metro Conference, the non-football conference it belonged to at the time, and the Great Midwest Conference.
Tommy Bowden
The 1997 football season at Tulane football program started fresh with a new coach: Tommy Bowden. Using players recruited during the Teevens era, Bowden's first season produced a 7–4 season, its first winning regular season since 1987; however, the Green Wave did not participate in a bowl game that year. The dramatic turnaround was only a preview of what was to come in Bowden's second year as coach. In 1998, Tulane went undefeated for the first time since 1931. Quarterback Shaun King led the Green Wave to a 12–0 record, a Conference USA championship and a final No. 7 national ranking. Despite a perfect regular season, the Green Wave was not invited to a BCS bowl game — an event which contributed to questions about how college football championships and revenues are managed. All the more remarkable about this season was that King played with a cast on his left wrist, which was broken in the third game of the 1998 season. That year, King set the all-time NCAA passing efficiency record for quarterbacks, a record which, at 183.3, was not surpassed until 2006.[2]
Tommy Bowden departed Tulane to become head coach at Clemson University in the middle of the 1998 season. He was replaced by Georgia assistant and South Louisiana native Chris Scelfo, who was chosen in favor of popular Tulane offensive coordinator Rich Rodriguez. Rodriguez was the architect of the devastating spread offense that averaged 45 points per game during the 1998 season. Scelfo coached the Green Wave in the 1998 Liberty Bowl, a 41–27 victory over the BYU Cougars which completed the perfect 12–0 season. Rodriguez, who had hoped to be named head coach, followed Bowden to Clemson to serve as offensive coordinator. He subsequently was hired in 2001 as the head coach of West Virginia University, his alma mater, until he took the head coaching position at the University of Michigan in December 2007.
Chris Scelfo
The Chris Scelfo era was highlighted by a 6–5 record in 2000 and a 2002 Hawai'i Bowl victory over the University of Hawai'i, which completed an 8–5 overall season for the Green Wave. Unfortunately for Scelfo and Tulane fans, the 2002 season was the final winning season under Scelfo. Scelfo and his staff showed great resolve and courage in guiding Tulane football through an extraordinary 2005 season in which the Green Wave was displaced from New Orleans due to the effects of Hurricane Katrina and forced to play 11 games in 11 stadiums; the team finished the season at 2–9. After returning to a normal 2006 home schedule in the Superdome, Scelfo was fired by the University following a 4–8 season, his sixth losing season in eight years as head coach. Scelfo finished his career at Tulane with a 37–57 overall record.
Two quarterbacks developed by Scelfo and his staff, Patrick Ramsey and JP Losman, were selected in the first round of the 2002 and 2004 NFL Drafts by the Washington Redskins and Buffalo Bills, respectively. A third quarterback, Lester Ricard, was signed by the Jacksonville Jaguars as an undrafted free agent in 2007 and was on their practice squad the entire season. Mewelde Moore, a lightly recruited running back out of Belaire High School in Baton Rouge, LA, was signed by Scelfo in 2000 and ultimately finished his four year career as Tulane's all-time leading rusher, surpassing the legendary Eddie Price. Moore was selected in the 4th round of the 2004 NFL Draft by the Minnesota Vikings, where Moore was primarily used as a kick and punt returner.
Bob Toledo
On December 11, 2006, former UCLA Bruins head coach and University of New Mexico offensive coordinator Bob Toledo was selected as the 37th head coach in Tulane football history. Toledo, age 60, compiled a 49–32 overall record while at UCLA from 1996–2002, which included a Pac-10 title in 1998 and a 20-game winning streak between the 1997 and 1998 seasons. Ironically, Toledo became head coach at a school whom he lost a prized recruit to; JP Losman signed with UCLA in 1999 but transferred following UCLA's Spring practice to play for Scelfo at Tulane. It has been thought that Losman's transfer was one of the events that ultimately led to the demise of Toledo's tenure at UCLA.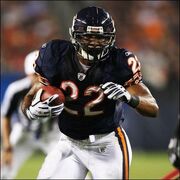 Prior to his time as Bruins head coach, Toledo served as offensive coordinator at UCLA (1994–95), Texas A&M (1989–93) and Oregon (1983–89). He also had stints as head coach at the University of Pacific and UC Riverside. The Green Wave finished 4–8 in Toledo's inaugural season, highlighted by the individual performance of running back Matt Forté, who shattered several Green Wave records on his way to rushing for 2,127 yards and 23 touchdowns. In 2007, Forté broke the 200-yard rushing barrier five times and the 300-yard barrier twice, which included a Green Wave and Conference USA single game record 342 rushing yards against SMU on October 20, 2007.
Toledo resigned on October 18, 2011, after the team started 2–5. Co-offensive coordinator Mark Hutson then became interim head coach, going 0-6 to finish the season.
Curtis Johnson
On December 5, 2011, New Orleans Saints Wide Receivers Coach Curtis Johnson was introduced as the new head coach of Tulane football.[3] Four days later, with $40 million already raised, it was announced that the university was embarking on a $70 million fundraising campaign known as "Home Field Advantage." The campaign looks to raise $60 million for construction of a new 30,000-seat stadium on the Uptown campus - to be opened by 2014 - and $10 million for the football program itself, to be put toward locker room, weight room, and academic advising upgrades.[4] The stadium is tentatively known as "Tulane Community Stadium," although naming rights have already been sold.[5]
Rivals
LSU Tigers
Tulane's biggest and oldest rival is LSU. It began in 1893 with a 34–0 Green Wave victory over the Tigers. Since then the teams have met nearly every year in the Battle for the Flag. The rivalry became less competitive after 1948, until Tulane broke a 25-game losing streak in 1973 with a 14–0 victory in front of a Tulane Stadium record crowd of 86,598 in the final installment of the long-time rivalry played on Tulane's campus. Between 1979 and 1982, Tulane won three out of four games against the Tigers; the 1982 win was the last win to date. The two schools stopped playing annually after the 1994 game; however, the two teams have met six times (1996, 2001, 2006, 2007, 2008, and 2009) since. LSU currently leads the series 69–22–7 and has won 45 of the last 50 games.
Southern Miss Golden Eagles
Known as the Battle for the Bell, Tulane's rivalry with Southern Miss was played yearly from 1979 until 2006 and alternates sites between New Orleans and Hattiesburg, Mississippi. As a result of Conference USA splitting into divisions in 2005, the game is now played two out of every four years.
Yearly records
Future non-conference opponents
Logos
Image gallery
Season records
Recent results
References
External Links
Community content is available under
CC-BY-SA
unless otherwise noted.