Tom Benson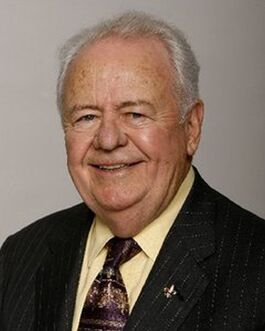 Tom Benson was the owner of the NFL's New Orleans Saints as well as the NBA's New Orleans Pelicans franchise.
New Orleans Saints
Biographical information
Born:
Thomas Milton Benson
July 12, 1927
Birthplace:
New Orleans, Louisiana, U.S.
Died:
March 15, 2018
(aged 90)
Deathplace:
New Orleans, Louisiana, U.S.
Nationality
American
Career/Education information
Career:
Owner of the New Orleans Saints (NFL)
New Orleans Hornets (NBA)
Auto dealership magnate
Net Worth:
$1.2 billion (2008)[1]
Family/Personal information
Spouse:
Grace Marie Trudeau (?–2003, her death)
Gayle Marie LaJaunie (2004, his death)
Children:
seven and six grandchildren with Trudeau
Parents:
Thomas Benson Sr. and Carmen Benson, both deceased
Thomas "Tom" Benson (July 12, 1927 – March 15, 2018) was the owner of the New Orleans Saints. He was also the owner of several automobile dealerships in the Greater New Orleans and San Antonio areas. Benson became wealthy by investing profits from his automobile dealerships in local banks. He eventually purchased several small Southern banks and formed Benson Financial, which he sold to Wells Fargo in 1996.
Benson purchased the Saints from John Mecom in 1985 after he learned from Governor Edwin W. Edwards that the team was on the verge of being sold to parties interested in moving the team to Jacksonville, Florida. As a successful businessman, he recognized the economic implications of such a move not only for the city of New Orleans, but for the state of Louisiana as well, which was in the midst of a deep economic recession caused by plummeting crude oil prices. Ownership of the team was officially transferred to him on May 31, 1985.
Shortly after acquiring the Saints, he gained a reputation as one of the more popular and colorful owners in the league. He hired general manager Jim Finks and head coach Jim Mora, who led the Saints to their first winning season and playoff appearance.
His popularity later declined, however, after numerous attempts to persuade the state of Louisiana to construct a new stadium for the Saints to replace the aging Superdome, suggesting that he might move the team elsewhere if said stadium were not built. His popularity hit an all-time low in late 2005 after it appeared he was trying to move the team to San Antonio after Hurricane Katrina ravaged New Orleans. (See Relocation controversy below for more details.) He later stated that the Saints would return to New Orleans for the 2006 season, which they did.
In 1998, he was granted a license for a team in the Arena Football League, which began play in 2004 as the New Orleans VooDoo.
On February 7, 2010, the Saints beat the Indianapolis Colts 31 - 17 to win Super Bowl XLIV. After purchasing a home in the exclusive Audubon Place neighborhood in New Orleans, Benson is now a resident of his hometown again. His brother, Larry Benson, has also been in sports ownership and owned the San Antonio Riders of the World League.
Benson is well known for doing the "Benson Boogie" after Saints home victories. Benson, in true New Orleans fashion, would second line dance down the field of the Superdome in the closing minutes of the game while carrying an umbrella decorated in black and gold. He is often called "Boogie Benson" by Michael Wilbon on ESPN's Pardon the Interruption.
The Benson family established an endowment fund at Central Catholic High School, in San Antonio, Texas dedicated to the memory of their son Robert Carter Benson, who graduated from the school in 1962. Tom Benson also donated the Benson Memorial Library at Central Catholic. Robert Carter Benson died of cancer in 1985, at the age of 37.
Also in San Antonio, Texas at St. Anthony Catholic School there is a Library named after Benson's son who died of cancer.
September 23, 2010, Benson donated $8 million to Loyola University New Orleans in what will be called the Benson Jesuit Center.
During the Saints' 2001 negotiations with the state of Louisiana, rumors circulated that Benson would seek relocation if his requests — which included renovations to the Superdome, a new practice facility in suburban Metairie, and escalating annual payments from the state to the team — could not be met. Though he never made public statements to this effect, Benson's business ties to the city — and the availability of the Alamodome as a playing facility — made San Antonio the most common subject of speculation.
When it became clear that Hurricane Katrina's extensive damage to New Orleans and the Superdome would make it impossible for the Saints to play there in 2005, the team temporarily relocated its operations to San Antonio and began negotiations to play home games at the Alamodome. (The Saints, after discussions with the NFL and Louisiana State University, eventually agreed to play one "home" game at Giants Stadium against the Giants, three games at the Alamodome and four games at LSU's Tiger Stadium in Baton Rouge).
At the Saints-Falcons game on October 16, the second of two warm receptions of the Saints by the San Antonio community, mayor Phil Hardberger stated that Benson had agreed to schedule negotiations for permanent relocation once the 2005 season is over. In reference to Benson, Hardberger said, "I'm pretty comfortable in saying he wants to be here."[2]
On Monday, October 17, Benson dismissed executive vice president Arnie Fielkow, who had been a public advocate of the Saints' importance to the state of Louisiana, and who had advocated the playing of home games in Baton Rouge. According to Fielkow, Benson told him that if he'd tender his resignation and sign a confidentiality agreement, he'd be paid the remainder of his contract; when he refused, he was fired outright.[3]
Benson's actions quickly drew outrage from Saints fans as well as local and state officials. On Wednesday, October 19, New Orleans mayor Ray Nagin sharply criticized Benson for acts he deemed heartless and opportunistic. Said Nagin: "For them to be openly talking to other cities about moving is disrespectful to the citizens of New Orleans, disrespectful to the Saints fans who have hung in with this franchise through 30-something years under very trying times."[4]
Two days later, Benson publicly stated that he has made no plans to move the Saints to San Antonio. "There are many factors that will affect the future location of our team," Benson said. "That is also true of many other New Orleans-based companies that are faced with deciding their future homes." He said he would make no decisions about the team's future until the 2005 season was over.[5]
On Wednesday, October 26, Benson reiterated his commitment to the New Orleans area in the form of a full-page ad in newspapers around the region. The ad, a letter entitled "Tom Benson Wants to Return to New Orleans," acknowledged the negative reaction surrounding the team's recent actions, but promised that no decision has been made regarding the team's future. Said Benson in the letter, "It is too early to determine, but my desire is to return to New Orleans."[6]
Benson's firm but noncommittal stance compared unfavorably to the statements of the New Orleans Hornets, the city's displaced NBA team. Though the Hornets played all but a handful of games during the 2005-2006 and 2006-2007 seasons in Oklahoma City — and even temporarily changed the team's name to the New Orleans/Oklahoma City Hornets, the basketball team's ownership insisted they would return to the recovering city as soon as possible. The Hornets also announced a community relations initiative to keep the team involved in the New Orleans area.
NFL Commissioner Paul Tagliabue met with Benson and Louisiana governor Kathleen Blanco at the Saints' first home game in Baton Rouge on October 30. After the meeting, he stopped just short of making a formal commitment to keep the Saints in New Orleans. Said Tagliabue: "The Saints are Louisiana's team and have been since the late '60s when my predecessor Pete Rozelle welcomed them to the league as New Orleans' team and Louisiana's team. Our focus continues to be on having the Saints in Louisiana." He dispelled rumors that have the Saints relocating to Los Angeles. He also suggested that the Saints may need to focus on becoming more of a regional team, possibly implying a name change to the Louisiana Saints or the Gulf Coast Saints. Tagliabue will form an eight-owner advisory committee to help decide the team's future.[7]
That same day, Benson charged a cameraman with a raised hand while leaving Tiger Stadium following a Saints loss to the Miami Dolphins and lunged at the television news crew grabbing a camera and wrenching it down before being eased away by Saints security. A video also appeared to show Benson angrily responding to a heckling fan. NFL spokesman Greg Aiello said the league would likely take no action against Benson.[8] On November 11, 2005, an e-mail sent to Commissioner Paul Tagliabue from Benson was leaked to the press. Benson stated in the e-mail that he feared for his life, and his family's safety upon his exit from Tiger Stadium, and would not be returning to any future games in Baton Rouge. Benson declared in the email that security in the stadium was "inadequate" and claimed that his family "could all have been severely injured or killed." However, LSU officials were quick to point out that they had no negative comments from the Saints or the NFL concerning Tiger Stadium security. In addition, the videotape of Benson from October 30 showed him being escorted by at least one security guard, belying his e-mail claim that security was "non-existent." A day later, Saints spokesman Greg Bensel stated that Benson's e-mail was sent in frustration, and that Benson was undecided on whether he would attend any future games in Baton Rouge.[9] Benson did not attend the following week's game at Tiger Stadium on November 6 against the Chicago Bears.
On 2005-11-04 Benson made a deal with Louisiana governor Kathleen Blanco that would postpone two important termination deadlines in the team's Super dome lease until after the 2006 season. Benson extended his force majeure clause period until January 2007. Presumably this will keep the Saints in New Orleans until January 2007; however, Benson can still invoke the clause any time between now and then. This buys the Saints time to explore future options with state officials without having to make a decision on the future of the franchise now. This would also allow the state to focus on more pressing needs in the recovery efforts from Hurricanes Katrina and Rita, while allowing the Saints more time to determine whether the region's economy could rebound enough to continue supporting the franchise.[10]
In the midst of this controversy, several groups of investors have approached Benson with offers to buy the team and keep them in Louisiana, the most publicized group being one led by Fox Sports analyst and former Pittsburgh Steelers quarterback Terry Bradshaw, who is a Louisiana native.[11] However, Benson has expressed that he has no intentions of selling the team and plans to eventually hand down ownership to his granddaughter, Saints owner/executive Rita Benson LeBlanc. Benson spoke to press following an NFL owners' meeting on November 15, at which he reiterated that the team is not for sale, but also stated that other NFL owners, along with Tagliabue, were working with him to keep the team in New Orleans.[12]
On December 17, ESPN reported that Benson had told Saints players that he planned to keep the Saints in San Antonio for the 2006 season and possibly beyond, and that he was willing to sue the NFL for the right to stay there. This was days after NFL Players Association director Gene Upshaw advised the Saints players not to renew their leases on their homes in San Antonio because the league planned to order them to return to their home facilities in Metairie.[13] This was also a few days after Benson had reportedly told his staff that they could not return to their Metairie facilities because it was still being occupied by FEMA and National Guard officials and that the New Orleans area had become "unlivable." The State of Louisiana responded by sending Benson a formal letter asking him and the Saints organization to return to the facility at the end of the 2005 season. Included with the letter were statements from FEMA and the National Guard stating that they were no longer using the facility.[14]
On December 30, two days before the Saints' final game of the 2005 season against the Tampa Bay Buccaneers, Benson announced at a press conference that the Saints will return to their Metairie facility at the end of the 2005 season, and that the team would play as many of their home games as possible during the 2006 season in the Louisiana Superdome, which he said could be ready as early as mid-September, 2006.[15] On 2006-01-11 Benson and Tagliabue announced plans to play all of their 2006 home games in the Superdome. Tagliabue also stated that the NFL was committed to keeping the Saints in New Orleans beyond 2006, calling it a "multiyear effort" and not just a one-year deal. He also stated that the NFL was talking with city officials about possibly hosting another Super Bowl there in the near future, which would be the city's 10th. Benson stated that he was committed to New Orleans "forever, as long as the community commits to me".[16]
↑ "Tom Benson", Forbes.

 

↑ Associated Press. "Mayor, Saints owner to negotiate at season's end", ESPN.com, October 17, 2005.

 

↑ Associated Press. "Saints dismiss executive Fielkow", ESPN.com, October 18, 2005.

 

↑ Associated Press. "Nagin blasts Saints owner for trying to move team", ESPN.com, October 19, 2005.

 

↑ Associated Press. "Benson says he has no San Antonio plan", ESPN.com, October 21, 2005.

 

↑ Associated Press. "New Orleans' pro teams reaffirm ties to battered city", ESPN.com, October 26, 2005.

 

↑ Associated Press. "Saints are expected back in Superdome", Houston Chronicle, January 11, 2006.

 
Community content is available under
CC-BY-SA
unless otherwise noted.