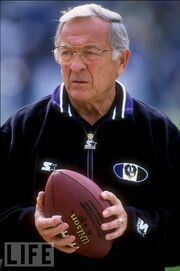 Ted Marchibroda


'
Date of birth
March 15 1931
Franklin, Pennsylvania
—

No.

N/A

Career highlights

Coaching Record / Statistics

Career player statistics (if any)
TD-INT  
  16-29
Yards  
  2,169
QB Rating  
  45.3
Stats at NFL.com
Team(s) as a player (if any)
Team(s) as a coach/administrator (if any)
Theodore "Ted" Joseph Marchibroda (born March 15, 1931) is a former American football quarterback and head coach in the National Football League.
Marchibroda played college football at Saint Bonaventure University[1] and the University of Detroit, where he excelled as a quarterback. He was drafted in 1953 by his hometown Pittsburgh Steelers. After one year, he left the Steelers to serve in the army. He finished his career with the Chicago Cardinals.[2]
He began his coaching career as an assistant for the Los Angeles Rams. He then served as offensive coordinator under George Allen for the Washington Redskins. He got his first head coaching job for the Baltimore Colts in 1975. He stayed as coach until 1979, and again he served as coach for the Indianapolis Colts from 1992 to 1995. He also coached the Baltimore Ravens from 1996 to 1998, making him the only man to serve as head coach for both Baltimore NFL teams. He compiled a career record of 87–98–1, with an 2–4 record in the playoffs. He also was the offensive coordinator of the Buffalo Bills during the Jim Kelly years from 1989-1991.[3]
Marchibroda was a radio color commentator for the Colts from 1999 to 2006. Marchibroda remains with the Indianapolis Colts Radio Network as an analyst on their pre-game show. He is the perfector of the hurry-up offense. As the Offensive Coordinator for the Buffalo Bills, Marchibroda and QB Jim Kelly perfected the "K-Gun" offense. With this style, Kelly hurried to the line of scrimmage, preventing the defense from making substitutions. At the line, Kelly called audibles. The National Football League would later impose a rule that forced offenses to allow time for the defense to make substitutions.
Marchibroda is a member of Indianapolis Colts Ring of Honor.
He now serves as a pre-game commentator for the Indianapolis Colts.
NFL head coaches under whom Ted Marchibroda has served:
Assistant coaches under Ted Marchibroda who became NFL head coaches[4]:
In addition, Kirk Ferentz, head coach of the Iowa Hawkeyes, served as an assistant under Marchibroda with the Ravens.[5]
Community content is available under
CC-BY-SA
unless otherwise noted.