Super Bowl I

| | 1 | 2 | 3 | 4 | Total |
| --- | --- | --- | --- | --- | --- |
| KC | 0 | 10 | 0 | 0 | 10 |
| GB | 7 | 7 | 14 | 7 | 35 |

Date
January 15, 1967
Stadium
Los Angeles Memorial Coliseum
City
Los Angeles
MVP
Bart Starr, Quarterback
Favorite
Packers by 14
National anthem
University of Arizona and University of Michigan Bands
Coin toss

Norm Schachter

Referee

Norm Schachter

Halftime show
University of Arizona and University of Michigan Bands
Attendance
61,946
TV in the United States
Network
CBS and

NBC

Announcers
CBS: Ray Scott,

Jack Whitaker

and Frank Gifford
NBC:

Curt Gowdy

and

Paul Christman

Nielsen Ratings
CBS: 22.6
(est. 26.75 million viewers)[1]
NBC: 18.5
(est. 24.43 million viewers)[2]
(Total: 51.18 million viewers)[3]
Market share
CBS: 43
NBC: 36
Cost of 30-second commercial
$42,000 (Both CBS and NBC)

The first AFL-NFL World Championship Game in professional American football, later to be known as Super Bowl I, was played on January 15, 1967 at the Los Angeles Memorial Coliseum in Los Angeles, California.
The National Football League (NFL) champion Green Bay Packers (12-2) scored 3 second-half touchdowns en route to a 35–10 win over the American Football League (AFL) champion Kansas City Chiefs (11-2-1).
Green Bay quarterback Bart Starr earned the first Super Bowl MVP in NFL history by throwing 16 of 23 for 250 yards and two touchdowns, with 1 interception.
Summary
The Green Bay Packers opened the Super Bowl series by defeating the AFL champion Chiefs behind the passing of Bart Starr, the receiving of Max McGee, and a key interception by all-pro safety Willie Wood.
Green Bay broke open the game with three second-half touchdowns, the first of which was set up by Wood's 50-yard return of an interception. McGee, filling in for ailing Boyd Dowler after having caught only four passes all season, caught seven from Starr for 138 yards and two touchdowns. Elijah Pitts ran for two other scores. The Chiefs' 10 points came in the second quarter, the only touchdown on a 7-yard pass from Len Dawson to Curtis McClinton. Starr completed 16 of 23 passes for 250 yards and two touchdowns and was chosen the most valuable player. The Packers collected $15,000 per man and the Chiefs $7,500-at the time, the largest single-game shares in the history of team sports.
The making of the Super Bowl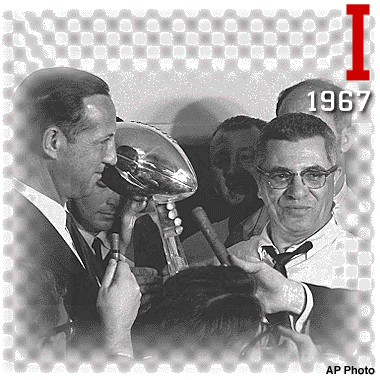 One day Lamar Hunt, architect of the AFL and owner of the Kansas City Chiefs, came across his daughter's Super Ball and was given the inspiration for the name of the championship game between the upstart American Football League and the old-guard National Football League.
"Why not," he wondered, "call our championship game the Super Bowl?"
The name caught on quickly and thus, an American tradition was born.
The first of these "Super" contests pitted Vince Lombardi's Green Bay Packers (13-2) against Hank Stram's Chiefs (12-2-1) and was played before 61,946 fans in Los Angeles' 93,000-seat Memorial Coliseum. The television audience for this game is estimated to have been approximately 60 million viewers.
The game itself featured an unlikely hero in Green Bay wide receiver Max McGee. McGee was strictly a backup and did not receive much playing time. In fact, in 14 games during the 1966 season he had caught only four passes for 91 yards.
Legend has it that Max had spent most of the previous night out on the town and was in no shape to play football, especially in a championship game. But he felt safe in knowing the only way he would get into the game was if Boyd Dowler got hurt.
McGee was later quoted as saying, "I waddled in about 7:30 in the morning and I could barely stand up for the kickoff. On the bench Paul (Hornung) kept needling me, 'What would you do if you had to play?' And I said, 'No way, there's no way I could make it.'"
But Dowler did get hurt early in the game and McGee was suddenly thrust into a game he had no business being in.
Just moments after entering the game though, he caught a 37-yard touchdown pass from Bart Starr to cap off an 80-yard drive that gave the Packers an early lead. On the day, McGee caught seven passes for 138 yards and two touchdowns as the Packers went on to win the first Super Bowl, 35-10.
Each player on the Packers received a $15,000 bonus for winning the game, while members of the Chiefs earned $7,500. A one-minute television commercial sold for $75,000 to $85,000; pocket change compared to the millions spent on air time now. The national anthem was played by the marching bands of the universities of Arizona and Michigan.
References