NFL Films, Inc.
Steve Sabol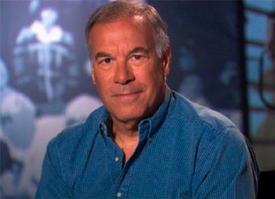 Personal Information
Born:
October 2 1942

lphia, Pennsylvania, U.S.

in Philade
Education:
Colorado College, 1964
Career Information
Occupation:
Sports filmmaker, Narrator, Cinematogpaher, Cameraman, Entrepreneur, Artist
(co-founder of NFL Films with father Ed Sabol)
Years Active:
1962–present
Awards and Honors
Awards:
Dan Reeves Pioneer Award (2007)
Lamar Hunt Award For Pro Football (2011)
Stephen Douglas "Steve" Sabol (born October 2, 1942) is an American filmmaker. He is the president and one of the founding members of NFL Films.
Born in Philadelphia, Sabol attended Colorado College, where he played football. He was the subject of a humorous article about his self-promotion exploits in the November 22, 1965 issue of Sports Illustrated.[1] He began working at NFL Films as a cameraman alongside his father Ed Sabol after graduation. He started in the filming industry when his father got the rights to the 1962 NFL Championship.
This company eventually grew into NFL Films with Sabol serving mainly as a cameraman, editor, and writer in the 1960s and 1970s. When ESPN was founded, they signed NFL Films as a production company and Steve became an on air personality. He has since won 35 Emmy Awards and has had a documentary about him air on 60 Minutes. Sabol also played a part in founding the NFL Network.
He is also the author of the poem The Autumn Wind.
As president of the most honored filmmaker in sports, Steve Sabol continues to be the artistic vision behind the studio that revolutionized the way America watches football.
Pro Football HOF induction ceremony
Edit
Sabol presented his father, Ed, who was elected to the Pro Football Hall of Fame on February 5, 2011; the two both were honored in 2003 with the Lifetime Achievement Emmy from the National Academy of Television Arts and Sciences for "revolutionizing the way America watches football and setting the standard in sports filmmaking."
While NFL Films has won over 100 Emmys, Sabol himself has received 35 of those Emmys for writing, cinematography, editing, directing, and producing. No one else in all of television has earned as many Emmys in as many different categories.
Building on the entrepreneurial spirit of his father and founder of NFL Films, Sabol was named the 2002 Sports Executive of the Year by Sporting News magazine.
Pete Rozelle Award
Edit
Sabol also received the prestigious Pete Rozelle Award, which is presented each year to someone who has made an outstanding contribution to the National Football League and to professional football. He joins a select group of honorees including: Vince Lombardi, Dan Rooney, Lamar Hunt, Tom Landry and Don Shula.
In 2007, the Pro Football Hall of Fame honored Sabol with the Dan Reeves Pioneer Award recognizing his innovative ideas that have contributed to the game of professional football. Steve was the recipient of the 2010 Sports Leadership Award presented to him at the March of Dimes 27th Annual Sports Luncheon which is one of the highest profile events of the year for the sports and sports media business in New York.
In March of 2011, NFL Films was recognized with the Lamar Hunt Award for Professional Football which is given in recognition of visionary leadership that has helped the NFL become the preeminent pro sports league in America. Steve and his father, Ed, were inducted into the Philadelphia Sports Hall of Fame in November of 2011 which was followed by Steve's induction into the Sports Broadcasting Hall of Fame in December.
Steve received the Sports Business Journal's "Champions - Pioneers & Innovators in Sports Business" award in March of 2012 for shaping the business of sports through his career of distinguished success.
Steve began his career in 1964 as a cinematographer working for his father and founder of NFL Films, Ed Sabol. As an All-Rocky Mountain Conference running back at Colorado College majoring in Art History, as well as an avid movie fan, Steve was, as his father put it, "uniquely qualified to make football movies."
Steve Sabol's collage art is a natural outgrowth of his cinematic vision. As President of NFL Films, Steve has spent his entire career thinking about football and the positive values the game represents. In the process football became for Steve a prism for looking at American society. Using symbolic imagery from both the sports world and popular culture, Steve has created a unique visual language that hearkens to times past and reminds us of the best in ourselves. Steve has exhibited at the ArtExpo in New York, the Avant Gallery in Miami, Florida, the Govinda Gallery in Washington, DC, the Milan Gallery in Ft. Worth, Texas and the Garth Davidson Gallery in Moorestown, New Jersey. His work can be viewed on www.stevesabolart.com. [2] For more information, you can contact the Davidson Gallery at the toll free number 856-222-3555 .
References
Edit
↑

www.stevesabolart.com Steve Sabol's official art website
External links
Edit
Community content is available under
CC-BY-SA
unless otherwise noted.