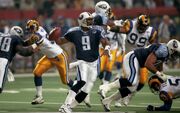 Steve McNair
250px


Steve McNair with Titans, 2004

Personal Information
Born:
February 14, 1973 in Mount Olive, Mississippi, U.S., in
Died:
July 4, 2009, in Nashville, Tennessee, U.S., in
Career information
Year(s)
1995–2007
NFL Draft
1995 / Round: 1 / Pick: 3
NFL Supplemental Draft
/ Pick:
College
Alcorn State
Professional teams
Career stats
Pass attempts/completions/Pass yards
4,544/2,733/31,304 yds.
Comp.Pct %/QB Rating
60.1/82.8 RTG.
TD-INT
174 TD-119 INTs
Stats at NFL.com
Career highlights and awards
Steve LaTreal McNair (born February 14, 1973 - July 4, 2009) nicknamed Air McNair, was a former American football quarterback in the National Football League. He was originally drafted by the Houston Oilers third overall in the 1995 NFL Draft. He played college football at Alcorn State.
McNair was selected to the Pro Bowl three times and was the Co-Associated Press NFL MVP in 2003.
Early years
Edit
McNair attended Mount Olive High School as a freshman in the fall of 1987, where he played football, baseball, and basketball in addition to running track for the Pirates. The Seattle Mariners drafted him in the 35th round of the 1991 MLB amateur draft.[1] As a junior, McNair led Mount Olive to the state championship. McNair also played free safety in high school, and in 1990 alone, he intercepted 15 passes, raising his career total to 30, which tied the mark established by Terrell Buckley at Pascagoula High School. An All-State selection, McNair was named an All-American by Super Prep magazine.
College career
Edit
McNair played collegiately for Alcorn State University, a historically black university which competes in the NCAA's Division I-AA Southwestern Athletic Conference (SWAC). In 1992, McNair threw for 3,541 yards and 29 touchdowns, and ran in for 10 more scores. The Braves fashioned a record of 7–4, including a last-second victory in their rematch with Grambling. In that contest, McNair returned from an injury and helped Alcorn State, trailing late in the final period, move deep into Tigers' territory. Then, despite limping badly,Template:Fact he tucked the ball under his arm and dove into the end zone for the winning touchdown. The victory over Grambling helped the Braves qualify for the 1-AA playoffs. McNair helped Alcorn State to another good year in 1993, as the Braves upped their record to 8-3 while McNair threw for more than 3,000 yards and 30 touchdowns. He was also named First-Team All-SWAC for the third year in a row.
In his senior season, McNair gained nearly 6,000 yards rushing and passing, along with 53 touchdowns. In the process, he surpassed more than a dozen records and was named an All-American. In addition, McNair won the Walter Payton Award and finished third in the Heisman Trophy voting behind Rashaan Salaam and Ki-Jana Carter.
Professional career
Edit
Houston Oilers
Edit
With the third pick in the 1995 NFL Draft the Oilers and new head coach Jeff Fisher selected McNair, who signed a seven-year contract. McNair did not see his first action until the last two series of the fourth quarter in a November game versus the Cleveland Browns. Late in the season, he also appeared briefly against the Detroit Lions and New York Jets. Meanwhile, starting quarterback Chris Chandler finished as the AFC's fourth-best passer. In 1996, McNair remained a backup to Chandler until starting a game in December against the Jacksonville Jaguars.
McNair's first season as the Oilers' starter in 1997 resulted in an 8-8 record for the team, which played its home games as the Tennessee Oilers at the Liberty Bowl in Memphis, Tennessee. McNair's 2,665 passing yards were the most for the Oilers since Warren Moon in 1993, and his 13 interceptions were the fewest for a single season in franchise history. He also led team in rushing touchdowns with eight and ranked second behind running back Eddie George with 674 yards on the ground, the third-highest total for a quarterback in NFL history.
Tennessee Titans
Edit
In 1998, McNair set career passing highs with 492 attempts, 289 completions, 3,228 yards and 15 touchdowns for the Oilers, now competing in Nashville. He also cut his interceptions to 10, helping his quarterback rating climb to 80.1.
The Oilers officially changed their name to Tennessee Titans for the 1999 season as they debuted a new stadium, the Coliseum. Early in the 1999 season, McNair was diagnosed with an inflamed disk following Tennessee's 36-35 win over the Cincinnati Bengals, and needed surgery. In his place stepped Neil O'Donnell, a veteran who had guided the Pittsburgh Steelers to the Super Bowl four years earlier. During the next five games, O'Donnell led the Titans to a 4–1 record. McNair returned against the St. Louis Rams, and with McNair starting, Tennessee won seven of its last nine games, good for a record of 10-6 and second place in the AFC Central.
Tennessee opened the playoffs at home against the Buffalo Bills in a Wild Card game, winning on the "Music City Miracle" and eventually advancing to Super Bowl XXXIV in a re-match with the Rams. On the final play of the game, a McNair pass to Kevin Dyson was complete, but Dyson was unable to break the plane of the goal line, giving the Rams the win. McNair signed a new six-year contract after the season worth $47 million.
Following a 13-3 season in 2000 that ended in a playoff loss to the Baltimore Ravens, the 28-year-old McNair put together his most productive year as a pro. McNair registered career passing highs in yards (3,350), completions (264), touchdowns (21) and quarterback rating (90.2). He was also the team's most effective rusher, tying George for the club lead with five scores. Named to the Pro Bowl for the first time, McNair did it all with a sore right shoulder and
After another playoff loss in 2002, McNair was arrested for DUI and illegal gun possession in May 2003. His blood alcohol was above 0.10, and a 9-mm handgun had been sitting in the front of the car.
In December of the 2003 season, an injured calf and ankle kept McNair on the sidelines for two games. Still he finished with the best numbers of his career, including 24 touchdown passes and a quarterback rating of 100.4. The Titans ended at 12-4, the same record as the Colts, but Indianapolis took the AFC South by virtue of its two victories over Tennessee. McNair and Colts quarterback Peyton Manning were named co-NFL MVPs following the season, which ended in a playoff loss to the New England Patriots for the Titans.
McNair missed the 2004 season's fourth game with a bruised sternum, an injury suffered the previous week against Jacksonville, and played in only five more games that season.
Baltimore Ravens
Edit
Following the 2005 season, on April 30, 2006, the Titans allowed McNair and his agent, Bus Cook to speak with the Ravens to try to work out a deal.Template:Fact On May 1, 2006, the Baltimore Sun reported that the Baltimore Ravens might wait for McNair to be released by the Titans during free agency.Template:Fact Speculation was that the Titans might hold onto McNair until the week before training camp in late July if the Ravens didn't come up with a satisfactory trade offer for McNair according to a league source.Template:Fact However, on June 7, 2006, the two teams worked out a deal to send McNair to the Ravens for a 4th-round pick in the 2007 NFL Draft. On June 8, McNair flew to Baltimore, passed a physical, and was announced as the newest member of the Ravens.
The 2006 season saw McNair start each game for the Ravens, missing only portions of two games, helping Baltimore to a 13–3 record and an AFC North Championship. McNair started at quarterback in his first playoff game as a Raven when his team played against the Colts on January 13, 2007. The Ravens lost 15-6.
On May 9, 2007 McNair was a passenger in a car that was pulled over for suspicion of drunk driving. Both the driver of the vehicle, who is his brother-in-law, and McNair were arrested for driving under the influence. Under Tennessee law, one can still be arrested for DUI even if you are a passenger in your own car and the driver is found to be under the influence. McNair owns the pick-up truck involved and was charged with DUI by consent.[2] The Charges were dropped on July 10, 2007.[3]
In 2007, McNair did not play in Week 2 against the Jets which the Ravens won 20–13. He also did not play the full game in Week 3, however, the game was won by the Ravens, 26–23. McNair missed 9 more games during the rest of the season, including getting pulled after taking many hits by Steelers' linebacker James Harrison in Week 9, and fumbling the ball twice.
After 13 seasons in the NFL, McNair announced his retirement in April 2008.
Early Life
Edit
Steve LaTreal McNair was born February 14, 1973 to Ms. Lucille McNair in the small rural community of Mt. Pleasant, (in Mt. Olive) Mississippi—population of approximately 100. He was raised in a single-parent household with his four brothers--Fred, Tim, Jason, and Michael ("Doc")--by his mother who worked a factory graveyard shift to provide for her family. Ms. McNair not only worked hard to provide for her family but strived to instill in them certain values such as hard work, perseverance, honesty and integrity. When Steve was very young, Fred, the oldest of the McNair boys, became the man of the house / father-figure for Steve and his brothers. He made certain that everyone did their homework and farm chores as well as bathing and brushing their teeth before bedtime. Fred was also the one Steve turned to for advice on everything from choosing a college to deciding which sport to play since he was an All-Star athlete in four sports. Steve once said he owed Fred everything...and that he (Fred) was "forced to grow up too quickly" by having to help raise his brothers.
Steve grew up performing farm chores from before daylight until after dark. This (most times) included "catching" food for supper and helping his grandmother, Ms. Hattie Fray, prepare it (which is likely why Steve enjoys and excels in cooking today). He and his brothers also performed odd jobs including mowing yards in the summertime to help their mom with the bills.
Steve McNair attended Mt. Olive High School where he was an outstanding athlete excelling in several sports—track, basketball, baseball, and, of course, football. He received "All State" honors in all of these sports. He played shortstop and outfield for the baseball team, conquered the point guard position in basketball, ran long and short distance races as well as competed in the long jump in track, and terrorized competitors at both offense (quarterback) and defense (defensive back) in football. Upon graduation Steve was drafted by the Seattle Mariners professional baseball organization, but after much discussion and guidance from his mother, Lucille, and big brother, Fred, he decided to pursue his true love of football. His next major decision related to football was his choice of college. He was pursued by many large colleges including Louisiana State, Miami, Ohio State, Nebraska, and Mississippi State, however they all wanted him to play defensive back; Steve was determined to be a quarterback. So, once again, leaning on his mom's and older brother Fred's advice, he signed with Alcorn State (located in Lorman, Mississippi) where he was guaranteed a shot at the quarterback position. He would actually be following in Fred's footsteps as he had played quarterback for Alcorn as well. The McNair family has no lack of athletic ability. As previously stated, Fred (the original Air McNair) also quarterbacked for Alcorn putting up impressive stats himself. Fred would also enjoy ten (10) successful years in the Arena Football League playing for Albany, Florida, Carolina and Buffalo. Another McNair brother, Tim, was Steve's craftiest wide receiver in their years together at Alcorn. Eventually, Steve would borrow Fred's nickname to become "Air McNair" II.
On July 4, 2009, McNair was found dead from multiple gunshot wounds in the head and his girlfriend lying dead beside him. It was later reported that McNair's girlfriend killed Steve and then herself in a murder-suicide.
Personal and family lifeEdit
McNair was married to Mechelle McNair from June 21, 1997 until his death. He split his time between a farm in Mississippi and Nashville, Tennessee. McNair had two sons by Mechelle: Tyler and Trenton; and two sons - Steve LaTreal McNair and Steven O'Brian Koran McNair; - by two other women. McNair earned the nickname "Air McNair" in High School. He opened his own restaurant in Nashville, which he named Gridiron9.[21] In addition to that, Steve McNair was the mentor to former Titans' quarterback Vince Young, who was greatly affected by the death of his teacher.
Tyler McNair, a cousin, reportedly is a top rated safety prospect. One of the slain quarterback's sons, Steve Jr. is a former wide receiver in Mississippi, who starred at the high school at which Brett Favre regularly works out during the off-season. Steve Jr. graduated from high school in 2010 and received offers from Mississippi State, Southern Miss, West Virginia, and Tulsa.
References
Edit
External links
Edit
Community content is available under
CC-BY-SA
unless otherwise noted.