Los Angeles Rams
E. Stanley "Stan" Kroenke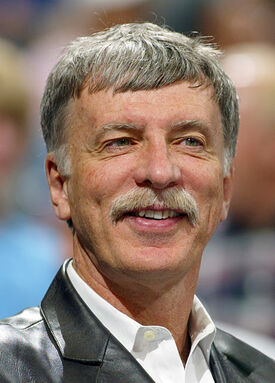 Born:
Enos Stanley Kroenke July 29 1947
in Columbia, Missouri, U.S.
Education:
B.A. University of Missouri, 1969
B.S. University of Missouri
MBA. University of Missouri
Career and Business Information
Occupation(s)
St. Louis Rams Majority owner/Chairman, Sports entrepenuer
Founder and owner of Kroenke Sports Enterprises
Founder, Kroenke Group, Columbia, MO
Owner, Pepsi Center arena in Denver, CO
Part Owner, Dick's Sporting Goods Park in Commerce City, MO
Net Worth:
$ 3.2 billion USD by Forbes in 2011
Family and Personal Information'
Spouse:
Ann Walton, 1973-present
Children:
2, son Josh Kroenke and daughter Whitney Ann
Enos Stanley "Stan" Kroenke (Template:IPA-en; born July 29, 1947 in Columbia, Missouri) is an American business entrepreneur. He is named after St. Louis Cardinals Hall of Famers Enos "Country" Slaughter and Stan "The Man" Musial. His wife, Ann Walton Kroenke, is the daughter of Wal-Mart co-founder Bud Walton. Kroenke is also the owner of Kroenke Sports Enterprises, which includes the Denver Nuggets of the NBA, The Colorado Rapids of Major League Soccer, Colorado Avalanche of the NHL, Colorado Mammoth of the National Lacrosse League, and the Los Angeles Rams of the NFL (the Colorado sports properties are in the name of Josh Kroenke, one of his children, to satisfy NFL ownership restrictions that forbid a team owner from owning teams in other markets). He is also the majority shareholder of English football club Arsenal. He currently lives in Columbia, Missouri.[1] Kroenke was estimated to be worth $US 3.2 billion by Forbes in 2011.[2]
Business career
Edit
Real estate
Edit
Kroenke obtained a Bachelor of Arts, Bachelor of Science, and a Masters of Business Administration from the University of Missouri. He founded the Kroenke Group in 1983, a real estate development firm that has constructed numerous shopping centers and apartment buildings. Since his marriage to Walton, he has been in the special position to develop many of the plazas near Wal-Mart stores. He is also the chairman of THF Realty, an independent real estate development company that specializes in suburban development. He founded this corporation in St. Louis in 1991.
Sports interests
Edit
Kroenke is a well-known sports Business magnate. As the head and owner of Kroenke Sports Enterprises, he has owned 40% of the National Football League's St. Louis Rams since their relocation to Missouri in 1995. In 2000, he became full owner of both the NBA's Denver Nuggets and the NHL's Colorado Avalanche,
Kroenke Sports Enterprises
Edit
purchasing the team from Charlie Lyons' Ascent Entertainment Group. In 2002, he partnered with Denver Broncos owner Pat Bowlen and former Bronco quarterback John Elway to become part-owner of the Arena Football League's Colorado Crush. He continued to grow his sports empire in 2004,
In 2010, Kroenke exercised his right of first refusal to buy the remaining interest in the St. Louis Rams. [3] On August 25, 2010, he became full owner of the Rams by unanimous consent of the NFL. To gain approval from NFL owners, Kroenke agreed to turn over control of the Denver Nuggets and Colorado Avalanche to his son, Josh, by the end of 2010, and he must give up his majority stake in both teams by December 2014. The NFL does not allow its owners to hold majority control of major league teams in other NFL markets.[4]when he purchased the National Lacrosse Leauge's Colorado Mammoth and MLS soccer's Colorado Rapids from Phil ANschutz.
Kroenke Sports Enterprise also owns the Pepsi Center arena in Denver, home of the Nuggets and Avalanche, and co-owns Dick's Sporting Goods Park in Commerce City, home of the Rapids. Both venues were built by his development company. In 2004, Kroenke launched his own competitor to FSN Rocky Mountain (now known as Root Sports Rocky Mountain), Altitude Sports and Entertainment, a new regional sports network which became the official broadcaster for both of Kroenke's teams on launch. Kroenke also established TicketHorse, a ticket company that provides in-house sales for all of his team
Kroenke is a somewhat reclusive man who stays out of the limelight. He is popularly known as "Silent Stan" because he almost never gives interviews to the press.[4] He rarely interferes in his teams' day-to-day operations.s.
Kroenke is the largest shareholder of Premier League football club Arsenal. Arsenal already had a technical link-up with Kroenke's Colorado Rapids when in April 2007 Granada Ventures, a subsidiary of ITV plc, had sold their 9.9% stake in Arsenal Holdings plc to Kroenke's KSE UK inc. [5] Kroenke went on to buy further shares in the club, taking his total stake up to 12.19%.[6] The club's board initially expressed skepticism that a bid would be in its best interests,[7] but gradually warmed to him as part of counteracting Alisher Usmanov's rival bid for the club.
On 10th April 2011, it was reported that Kroenke was in advanced talks to complete the takeover of Arsenal.[8][9] The following day, it was announced that he increased his shareholding in Arsenal to 62.89% by purchasing the stakes of Danny Fiszman and Lady Nina Bracewel. By June 2008 the board had prepared to let Kroenke take over the club,[10] and on 19 September 2008 it was officially announced that Kroenke had joined the Arsenal board of directors.[11] Kroenke has a beneficial interest in, and controls voting rights over, 18,594 Shares, representing 29.9% of the issued Shares meaning he is nearing the 29.99% threshold, beyond which he would be forced to make an offer for all the remaining shares [12] at £11,750 per share, valuing the club at £731M. [13][14] In 2006, Kroenke, in partnership with the money manager Charles Banks, acquired the Napa Valley, California winery [ Screaming Eagle. (In April 2009, Banks stated he was no longer involved with Screaming Eagle). [15]
References
Edit
External links
Edit
Stan's purchase of the Malibu Colony Shopping Center, which is only 1 of 2 shopping centers in
affluent Malibu, CA]
Community content is available under
CC-BY-SA
unless otherwise noted.