Ryan Field

Location

1501 Central St, Evanston, IL 60201

Opened
1926
Owner

Northwestern University

Operator
Northwestern University
Surface
Grass 1926 to 1972
Astroturf 1973 to 1996
Grass 1997 to present
Construction cost
original: unknown
1996 renovation: US$20M
Architect
James Gamble Rogers
Former names
Dyche Stadium (1926–1997)
Tenants
Northwestern Wildcats (NCAA) (1926–present)
Capacity
47,130
Ryan Field is a stadium in Evanston, Illinois. It is primarily used for American football, and is the home field of the Northwestern Wildcats of the Big Ten Conference. The field opened in 1926 and holds 47,130 people. Prior to 1997, the stadium was named Dyche Stadium, for William Dyche, Class of 1882, former Evanston mayor and overseer of the building project. In 1997, the field was renamed Ryan Field in honor of the family of Patrick G. Ryan, who was then the chairman of Northwestern's board of trustees. The renaming was made by the other members of the board in recognition of the Ryan family's leadership and numerous contributions to Northwestern, including the lead gift to the Campaign for Athletic Excellence, Northwestern's fundraising drive for athletic facilities.
History
At the time it was constructed, Dyche Stadium was considered one of the finest college football stadiums in the country.[1] The stadium originally consisted of two semi-circular grandstands on either sideline, with the west (home) sideline having a small, curved upper deck whose 2 ends abut in matching concrete towers. The purpose of the curved grandstands was to maximize the number of fans sitting close to the action.[1] Endzone seating was later added in the south endzone, and in 1952 McGaw Memorial Hall was built beyond the north endzone.
The stadium had an artificial turf surface from 1973 to 1996. Prior to the 1997 season, natural grass was installed and the playing surface was lowered approximately five feet to improve sight lines from the lowest rows of the grandstands.
The Chicago Bears hosted their first home game of the 1970 season at Dyche Stadium as an experiment; the NFL had demanded that the Bears move out of Wrigley Field because Wrigley's seating capacity was under 50,000. After Evanston residents petitioned city officials to block the team from moving there permanently, the Bears ended up moving to Chicago's Soldier Field the following year.
Transportation
The closest transit stations are Metra commuter railroad's Central Street station and Chicago Transit Authority's Central station on the Purple Line.
In popular culture
Parts of the The Express, an 2008 film about Syracuse University Heisman Trophy winner Ernie Davis starring Rob Brown as Davis, and Dennis Quaid as Davis' Syracuse coach, Ben Schwartzwalder, were filmed at Ryan Field.[2]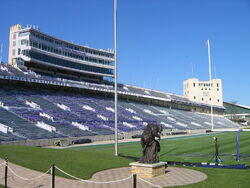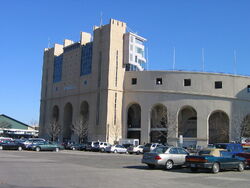 Parts of Four Friends, a 1981 film directed by Arthur Penn, were filmed at Ryan Field.
References
↑ 1.0 1.1 Northwestern University:celebrating 150 years,Jay Pridmore (2000). . Northwestern University Press. ISBN .
↑ Bringing Hollywood to NU. Retrieved on

2007-05-06

.
External links