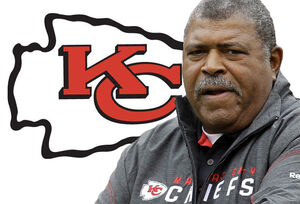 Romeo Crennel (born June 18, 1947) is an American professional football coach who most recently served as the head coach and defensive coordinator for the Kansas City Chiefs of the National Football League.
Playing career
Crennel played baseball and football at Fort Knox (Ky.) High School and Central (Va.) High School before committing to college football at Western Kentucky. Although he was a four-year starter as a defensive lineman, he became an offensive lineman during his senior season at the request of the coaching staff. He was named the team's MVP after the switch but was not drafted and never played in the NFL. While the move did hinder his draft chances, it increased his knowledge of the game, by experiencing the trenches from both the offensive and defensive side of the ball. Crennel earned a bachelor's degree in physical education from Western Kentucky, and then a master's degree while serving as a graduate assistant for the school in 1970.
Coaching career
College
After one season as a graduate assistant with Western Kentucky (1970), Crennel served as the defensive line coach for three seasons (1971–1974). He then became an assistant for defensive coordinator Bill Parcells and head coach Steve Sloan at Texas Tech for three seasons (1975–1977). Crennel finished his collegiate career with two seasons as the defensive ends coach for Mississippi (1978–1979) and one season as the defensive line coach for Georgia Tech (1980).
National Football League
Assistant coach
After spending two seasons as an assistant with the New York Giants, Crennel became the special teams coach for seven seasons (1983–1989) and the defensive line coach for three seasons (1990–1992). In 1983, he was reunited with Parcells as the head coach.
When Parcells stepped down as Giants head coach after Super Bowl XXV, Crennel stayed with the team under the two year tenure of Ray Handley. Crennel left the Giants after the 1992 season and worked as the defensive line coach for the New England Patriots for four seasons (1993–1996) and for the New York Jets for three seasons (1997–1999) during the time that Parcells was the head coach in each franchise.
Crennel was hired as the Cleveland Browns' defensive coordinator for the 2000 season before filling the same role with the Patriots for four seasons (2001–2004) under long-time friend Bill Belichick.
On January 13, 2010, Crennel hired as the Kansas City Chiefs defensive coordinator, reuniting him with offensive coordinator Charlie Weis and General Manager Scott Pioli from their days with the Patriots.[1]
Head coach
Before beginning the 2003 playoffs with the Patriots, Crennel interviewed for head coaching positions with six teams in under 36 hours. He was not offered any jobs, however, and was passed up by the New York Giants, Buffalo Bills, Arizona Cardinals, Chicago Bears, and Atlanta Falcons.[2]
Cleveland Browns (2005-2008)
Crennel went 6-10 and 4-12 in his first two seasons with the Browns, finishing last or tied for last in the AFC North and missing the playoffs each year. The Browns then surprisingly finished the 2007 season with a 10-6 record, just falling short of making the playoffs. Crennel's success in the 2007 season earned him a two-year contract extension in January 2008.[3] On December 29, 2008, following a disappointing injury riddled 4-12 season, Crennel was fired by the Browns.
Kansas City Chiefs (2012-2013)
Following Todd Haley's termination as the team's head coach after 13 games in the 2011 season, Crennel was named the team's interim head coach for the remaining 3 games of the season.[4] Crennel won his first game as the interim head coach of the Chiefs on December 18, 2011, an upset victory against the then undefeated Green Bay Packers 19-14, which was significant as Crennel snapped the Packers' 19-game winning streak ended their hopes for a perfect season.[5] Crennel finished his stint as interim head coach with a 2-1 record. On January 9, 2012 Crennel was named the teams permanent head coach.[6] Three days later, Crennel announced his intent to remain as defensive coordinator during his tenure as head coach.[7] On January 9, 2012 Crennel was named the Chiefs' permanent head coach.[8] Three days later, Crennel announced his intent to remain as defensive coordinator during his tenure as head coach.[9] 
On November 5, 2012, Crennel announced he would be stepping down as defensive coordinator and named linebackers coach Gary Gibbs to the vacant position, after an 1–7 start to the season.[10] 
On December 1, 2012, Crennel attempted to prevent the suicide of player Jovan Belcher by talking to him and witnessed his death by a self-inflicted gunshot wound to the head.[11][12] The following day, Crennel coached his team to a 27-21 victory over the Carolina Panthers, the Chiefs' first home victory since defeating the Packers the previous season, and the only other home win during his tenure.[13] 
On December 31, 2012, it was announced that Crennel had been fired from the Chiefs.[14]
2013-present
In January 2013, Crennel's name surfaced in the media, as possibly becoming the new defensive coordinator for the NFL's St. Louis Rams under their head coach, Jeff Fisher. [15] His name was also mentioned to be in talks with the NFL's Houston Texans as possibly becoming their new defensive coordinator under new their new head coach Bill O'Brien. [16]
Head coaching record
Team
Year
Regular Season
Post Season
Won
Lost
Ties
Win %
Finish
Won
Lost
Win %
Result
CLE
2005
6
10
0
.375
3rd in AFC North
-
-
-
-
CLE
2006
4
12
0
.250
4th in AFC North
-
-
-
-
CLE
2007
10
6
0
.625
2nd in AFC North
-
-
-
-
CLE
2008
4
12
0
.250
4th in AFC North
-
-
-
-
CLE Total
24
40
0
.375
-
-
-
KC
2011
2
1
0
.667
4th in AFC West
-
-
-
-
KC
2012
0
0
0
-
-
-
-
-
-
KC Total
2
1
0
.667
-
-
-
Total[17]
26
41
0
.388
-
-
-
Crennel served as the Chiefs head coach on an interim basis for the final 3 games of the 2011 season.
Coaching tree
NFL head coaches under whom Romeo Crennel has served:
Personal
Crennel had hip replacement surgery in early 2009 and decided to sit-out the 2009 football season while recuperating. [18]
References
External links
Community content is available under
CC-BY-SA
unless otherwise noted.