Introduction
Randall Wade Cunningham Sr. (born March 27, 1963) is a former American football quarterback in the National Football League (NFL). He
played in the NFL for 16 seasons, primarily with the Philadelphia Eagles . Cunningham is also known for his tenure with the Minnesota Vikings Minnesota Vikings. He is the younger brother of former college and professional football player Sam Cunningham and the father of Randall Cunningham II and world champion high jumper Vashti Cunningham. Cunningham was inducted into the College Football Hall of Fame  in 2016.
After playing college football at the University of Nevada, Las Vegas, Cunningham was selected in the second round of the 1985 NFL Draft by the Eagles, with whom he remained through the 1995 season . Following 11 seasons with the team, he announced his retirement from football, but returned after a year away from the game to join the Vikings. In 1998, Cunningham enjoyed the strongest season of his career and helped the team set the NFL record for most points in a regular season at the time, although the Vikings would be upset in the NFC Championship Game. He was released by the Vikings following the 1999 season after failing to match his success during the previous year. In his final two seasons, he played for the Dallas Cowboys  and the Baltimore Ravens  for one year each, primarily as a backup. Upon retiring for a second and final time, Cunningham became an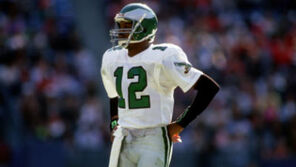 ordained Protestant minister and a coach at Silverado High School.
Gameplay 
He was the NFL's first superstar dual-threat quarterback, a prolific runner and passer whose personal highlight tape has withstood the test of time. During a 16-year career, Randall Cunningham accumulated victories and oh-wow plays in bunches. Trailing 3-0, the Eagles were at the Giants' 5-yard line. Cunningham took the snap, rolled right and was pursued by Banks, who was among the best tacklers in the game. Banks hit Cunningham at the 10, yet Cunningham didn't go down. Using his left hand to stabilize himself, Cunningham popped up and tossed a touchdown pass to tight end Jimmie Giles. Cunningham's stunner capped a 12-play, 80-yard drive. Even today, Banks still can't believe it.