Ozzie Newsome

250px




Baltimore Ravens GM Ozzie Newsome in press conference, 2011

Personal Information
Born
March 16 1956
in Muscle Shoals, Alabama
Career information
Year(s)
1978–1990
NFL Draft
1978 / Round: 1 / Pick: 23
College
Alabama
Professional teams
Career stats

Receptions

662
Receiving Yards
7,980
Touchdowns
47
Stats at NFL.com
Career highlights and awards

3× Pro Bowl selection (

1981

,

1984

,

1985

)
7×

All-Pro

selection (1979, 1980, 1981, 1982, 1983, 1984, 1985)

NFL 1980s All-Decade Team
Ozzie Newsome Jr. (born March 16, 1956 in Muscle Shoals, Alabama) and a 1974 graduate of Colbert County High School in Leighton, Alabama, is a former American football tight end for the Cleveland Browns, an inductee into the Pro Football Hall of Fame, and the current General Manager of the Baltimore Ravens.
College career
Before his NFL career, Newsome played for the University of Alabama, where he started for all 4 years of his college career. Newsome made the College Football All-America Team in 1977 and assisted the Crimson Tide to a 42 and 6 overall record during his four seasons. In total, Newsome amassed 102 receptions for 2,070 receiving yards. His 20.3 average yards per catch was a Southeastern Conference record. Newsome was named the Player of the Decade for the 1970s [1]. In 1994, Newsome was enshrined in the College Football Hall of Fame.
Professional career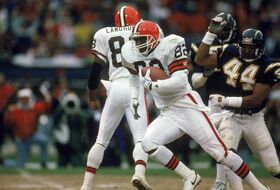 Nicknamed "The Wizard of Oz", Newsome was the 23rd pick in the 1978 NFL Draft for the Cleveland Browns. He was named the Browns' Offensive Player of the Year his rookie year, the first time in 25 years that a rookie had received that honor. Ozzie earned All-Pro honors the following year, 1979, and again in 1984. Newsome went to the Pro Bowl in 1981, 1984 and 1985. In 1986, Newsome won the Ed Block Courage Award for playing with injuries, while in 1990 Newsome won the "Whizzer" White NFL Man of the Year Award for his community service.
Newsome played in 198 consecutive games as a Brown, finishing his career with 662 receptions and 7,980 yards, both Cleveland franchise records, and 47 touchdowns.
In 1999 Newsome was inducted into the Pro Football Hall of Fame. He is considered by many to be one of the greatest, if not the greatest, tight end of all time.
Football executive
On November 22, 2002, Newsome was named general manager of the Baltimore Ravens, making him the first African-American to occupy that position in the NFL. His administrative experience started with his former organization when he was the Ravens' vice president of player personnel. Newsome is very well respected and is considered one of the best general managers of the NFL. His philosophy is "Right player, right price."
Awards
2002 received the United States Sports Academy's highest honor, the Eagle Award, in recognition of his significant contributions to international sport.[1]
Personal
Newsome is a member of the historically black Omega Psi Phi fraternity.
Newsome is currently a member of the Cleveland Browns' "Ring of Honor", becoming a member of the first class inducted on September 19, 2010.
Notes
References
External links