The Oregon State Beavers are a member of the NCAA FBS Pacific-12 Conference, playing their home games at Reser Stadium in Corvallis, Oregon. The team first fielded an organized football team in 1893[1]. The Beavers are currently coached by Gary Andersen, with Dave Baldwin as the offensive coordinator and Kalani Sitake as the defensive coordinator.
Football at Oregon State started in 1893 shortly after athletics were initially authorized at the college. Athletics were banned at prior May of 1892, but when the strict school president Benjamin Arnold passed away, President John Bloss reversed the ban.[2] Bloss's son William started the first team, on which he served as both coach and quarterback.[3] The team's first game was an easy 63-0 defeat over the home team, Albany College.
Oregon State has been in several athletic conferences. These include the Northwest Intercollegiate Association (1902-1914),[4] the Pacific Coast Conference (1915-1959),[5] and the Pacific-12 Conference (1964-present). Prior to 1902, and in-between the Pacific Coast and Pacific-12 conferences, Oregon State played as an independent school.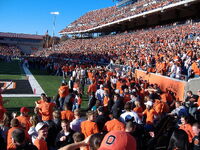 Oregon State's primary rival is the University of Oregon. The two schools enjoy a fierce and long-standing rivalry due to the proximity of the two campuses. The University of Oregon is located in Eugene, Oregon, about 40 miles south of Corvallis. The teams first matched up on the gridiron in 1894 and have been playing each other almost every year since. The rivalry game between the two schools is called the "Civil War" and is typically played the last game of each season. They have played each other 114 times which makes it the seventh-oldest college football rivalry game.
Washington and Washington State
[
edit
|
edit source
]
The two other Pacific Northwest Pac-12 schools are also rivals. The Washington Huskies and the Washington State Cougars are within driving distance of Corvallis, so a large number of the road team's fans typically travel to each game. The Beavers have been playing the Huskies since 1897 and the Cougars since 1903. It is notable that the Oregon State-Washington rivalry predates the first Apple Cup and Oregon-Washington games, which were initiated in 1900.
The rivalry between the four Pacific Northwest Pac-12 schools is occasionally called the "Northwest Championship". Former Washington Huskies coach Rick Neuheisel coined the phrase to describe the four-team competition during the 2002 season. Since 2002, Oregon State has won the "Northwest Championship" two times (2004, 2007) by beating all three of its rivals in the same season.
OSU has won the Pac-10/Pac-12 Championship 5 times: 1941, 1956, 1957, 1964, and 2000.
The Beavers did not field a team in 1900, 1901, 1943, or 1944.
Oregon State has played in 15 postseason bowl games.[8] The Beavers have also played in the Mirage Bowl, but this was a regular season game and a "bowl" in name only, not a post-season invitational bowl game.[9] The 15 bowl game total does not include an invitation to play in the Gotham Bowl in 1960, when no opponent could be found for Oregon State.[10] The Beavers are 10-5 in bowl game appearances.
Bowl game appearances and results
[
edit
|
edit source
]
For a full list, see Oregon State Football Alumni
Oregon State has had 42 All-Americans in the history of the program as of the end of the 2006-07 season.[12]
Lloyd Wickett, NFL defensive lineman 1943, 1946 for the Detroit Lions
Frank Ramsey, NFL offensive lineman, 1945 Chicago Bears
James Allen, former linebacker for the New Orleans Saints
Sam Baker, NFL player in 1953, 1956–1969
Terry Baker, 1962 Heisman Trophy winner, Maxwell Award winner, Sportsman of the Year, and NFL quarterback from 1963–1965
Kelly Chapman, TE - Ottawa Rough Riders 1994-1996
José Cortéz, NFL placekicker from 1999–2006
Bill Enyart, NFL player from 1969–1971
Joe Francis, NFL QB from 1958–1959
DeLawrence Grant, former linebacker for the Oakland Raiders
Bob Grim, NFL player from 1967–1977 and one-time Pro Bowler
Bob Horn, NFL linebacker from 1976–1983
Paul Lowe, AFL running back from 1960–1969, two-time AFL All-Star, 1965 AFL MVP, & member of the AFL All-Time Team
Pellom McDaniels, NFL defensive lineman from 1993–1999
Bill McKalip, NFL player from 1932–1932, 1934, 1936
Bronco Mendenhall, head coach of the BYU Cougars, 2005–present
Joe Phillips, NFL defensive lineman from 1986–1999
Steve Preece, NFL defensive back from 1969–1977
Rocky Rasley, NFL guard from 1969–1970, 1972–1976
Ade Schwammel, NFL player from 1934–1936, 1943–1944
Vic Sears, NFL player from 1941–1943, 1945–1953 and member of the NFL 1940s All-Decade Team
Ken Simonton, former running back for the Buffalo Bills
George Svendsen, NFL center from 1935–1937, 1940–1941 and member of the NFL 1930s All-Decade Team
Aaron Thomas, NFL player from 1961–1970
Robb Thomas, NFL wide receiver from 1989–1998
Reggie Tongue, NFL defensive back from 1996–2005
Esera Tuaolo, NFL defensive tackle from 1991–1999
Wayne Valley, Founder and principal owner of the Oakland Raiders & former President of the American Football League
Len Younce, NFL guard in 1941, 1943–1944, 1946–1948 & member of the NFL 1940s All-Decade Team
Radio flagship: KPAM 860-AM in Portland
Broadcasters: Mike Parker (University of Oregon graduate; play-by-play), Steve Preece (analyst) and Todd Mansfield (Fox Sports Northwest employee; sideline reporter).
Oregon State also has an extensive network of broadcast affiliates.[13]
Community content is available under
CC-BY-SA
unless otherwise noted.