We're Getting Mutants in the MCU - The Loop
Play Sound
Oregon Ducks
Current season:
2021 Oregon Ducks
First season
1893
Head coach
Dan Lanning
1st year, 0–0–0 (.000)
Home stadium
Autzen Stadium
Field
Rich Brooks Field
Stadium capacity
54,000
Stadium surface

FieldTurf

Location
Eugene, Oregon
Conference
Pac-12
All-time history
All-time record
668–499–46 (.570)
Postseason bowl record
15–18 (.455)
Conference titles
13 (1919, 1933, 1948, 1957, 1994, 2000, 2001, 2009, 2010, 2011, 2014, 2019, 2020)
Division titles
5 (2011, 2012, 2013, 2014, 2019)
Heisman winners
1 (Marcus Mariota)
Consensus All-Americans
8
Current uniform

Colors
Green and Yellow

             




Fight song
Mighty Oregon
Mascot
The Oregon Duck
Marching band
Oregon Marching Band
Rivals
Oregon State Beavers
Washington Huskies
Website
GoDucks.com
The Oregon Ducks are a member of the NCAA FBS Pacific-12 Conference, playing their home games at Autzen Stadium in Eugene, Oregon. Known as the Civil War at the 54,000 seat Autzen Stadium in Eugene, and its main rivals are the Oregon State Beavers and the Washington Huskies. The Ducks and Beavers end each regular season by with the Civil War rivalry game. The Ducks are currently coached by Dan Lanning.
History
Template:Rellink
Early years (1894–1925)
The football program began in 1893 and played its first game on March 24, 1894, defeating Albany College 44–2 under head coach Cal Young.[1][2][3] Cal Young left after that first game and J.A. Church took over the coaching position in the fall for the rest of the season. Oregon then finished the season with two additional losses and a tie, but went undefeated the following season, winning all four of its games under head coach Percy Benson.[2][3][4] In 1899, the football team left the state for the first time, playing the California Golden Bears in Berkeley, California.[1] Oregon's largest margin of victory came in 1910 when they defeated the University of Puget Sound 115–0.[5]
Oregon changed coaches frequently during this era, going through sixteen different head coaches in nineteen seasons,[6] until Hugo Bezdek, who had coached the Webfoots to a 5-0-1 record in 1906, returned to Oregon from the University of Arkansas in 1913. Bezdek, Oregon's first truly professional coach, led the team from 1913 through 1917. A versatile motivator of athletes, during his tenure Bezdek was also the West Coast scout for the Pittsburgh Pirates.[7]
In the 1916 season, Oregon went undefeated with five wins and one tie under head coach Hugo Bezdek, shutting out all their opponents except California. They opened the season against Willamette University, defeating them 97–0. The game against Washington ended in a 0–0 tie. The tiebreaker for the Pacific Coast Conference title went to Washington, due to Oregon's use of an ineligible player[8][9][10] but Oregon was given the invitation to the 1917 Rose Bowl, then known as the Tournament East-West Football Game at Tournament Park due to the cost of a train ticket to Los Angeles being significantly less from Eugene than from Seattle.[11] The Oregon football team defeated the heavily favored University of Pennsylvania Quakers 14–0, securing their first Rose Bowl victory.[5]
In 1918 Bezdek quit Oregon to become general manager of the Pittsburgh Pirates.[7] He was succeeded by Shy Huntington, one of the heroes of the 1917 Rose Bowl.
Playing at newly constructed Hayward Field, which would be their home stadium in Eugene until 1967, the Webfoots again tied Washington for the Pacific Coast Conference title in 1919, winning the tiebreaker based on their 24-13 victory over the Huskies in Seattle. Oregon lost the 1920 Rose Bowl to Harvard University, 7-6.[12] This would be the team's last bowl appearance until the 1948 Cotton Bowl.[12][13][14]
"Cap", "Doc", "Prink" and "Tex" (1926–1946)
In the late 1920s and early 1930s, Oregon made the first attempts to establish a nationally prominent football program by hiring established Eastern coaches, first John "Cap" McEwan in 1926 from Army, then Clarence "Doc" Spears from Minnesota in 1930. Both coaches had moderate success, but McEwan resigned amid a contract dispute.[15] Spears was hired under a five year contract, but left Oregon after two seasons to return to the Western Conference at Wisconsin.[16]
Prince G. "Prink" Callison, Oregon native, alumnus, former player and coach of the freshman team, took over from Spears in 1932. Behind standout back Mike Mikulak and a smothering defense (50 points allowed, five shutouts), Callison led the 1933 Webfoots to a 9–1 mark and Pacific Coast Conference co-championship, with the only loss to USC. This record would stand as the best in school history until 2001.[17]
After the homegrown Callison retired in 1937, Oregon again hired a working head coach, pulling Gerald "Tex" Oliver from Arizona. Oliver coached into and through World War II, posting a mediocre 23–28–3 record. His 71–7 loss at Texas in 1941 on the day before Pearl Harbor stands as the most points allowed by any Oregon team and the second largest margin of defeat. Oliver, in 1945, is the only coach to see his team lose twice to Oregon State in the same season.[18]
In October 1946, Tex Oliver abruptly resigned as Oregon's head coach, expressing dissatisfaction with the level of support shown by the administration for the football program. [19]
Aiken era (1947–1950)
Oliver was replaced by another working head coach, Jim Aiken of Nevada. Aiken had immediate success with the team he inherited, which like many post-war squads, was peppered with war veterans including Brad Ecklund, Jake Leicht and Norm Van Brocklin, and transfers George Bell, Woodley Lewis and John McKay.[20] Oregon's 1948 team went 9-1 in the regular season and tied with California for the PCC championship; the teams did not meet on the field that season and in a secret ballot by the conference presidents, Cal was awarded the 1949 Rose Bowl bid.[21] In a bid to sooth hurt feelings, the conference broke tradition and allowed the Webfoots to play in a post-season contest other than the Rose Bowl. Oregon's Cotton Bowl game that season (a 21–13 loss to SMU with Doak Walker) was the team's only bowl appearance between the 1920 and 1958 Rose Bowls.
Aiken couldn't maintain his success with younger players. By his fourth season, the Ducks were one of the nation's worst major college teams, posting a 1–9 record in 1950, still the lowest winning percentage in school history as of 2011.[17] Aiken resigned amid allegations of recruiting and practice violations in early 1951.[22]
Casanova era (1951-1966)
Template:Rquote
Once again, Oregon found a working major college coach to take over its program, hiring Len Casanova from the University of Pittsburgh after Aiken's resignation.[23] Casanova gradually rebuilt the program, and eventually led the Ducks to a winning record in 1954. The Ducks played in the earliest nationally-televised college football game in 1953, against Nebraska in Portland, winning 20-12.[24]
In the 1957 season Oregon tied Oregon State for the conference title, but earned the Rose Bowl bid because of the conference no-repeat rule. The Webfoots lost 10–7 to the heavily favored and number one ranked Ohio State in the 1958 Rose Bowl.[25][23]Braven Dyer of the Los Angeles Times, who had picked Ohio State to win by a 48-14 score, said: "The score of 10-7 was a complete moral victory for the underdog Ducks from Eugene who had been doped to lose by three touchdowns. They lost, but at day's end there weren't many fans who were willing to concede that the better team had won." " Vincent X. Flaherty, writing in the San Francisco Examiner, said: "Len Casanova undoubtedly performed the greatest coaching feat of the season for the Rose Bowl classic...there couldn't have been a bowl team anywhere in America yesterday that dazzled with more spectacular finesse."[24]
Casanova led the Ducks to two more bowl appearances, in the Liberty Bowl (1960 vs Penn State) and the Sun Bowl (1963 vs Southern Methodist), before becoming the second athletic director for the University of Oregon in January 1967, replacing Leo Harris.[1][25][23] Future NFL Hall of Fame members Mel Renfro and Dave Wilcox were players under his tutelage. Many of his assistant coaches such as George Seifert, John McKay, and John Robinson went on to have their own successful head coaching careers.[25] His career record of 82–73–8 marked the highest number of wins recorded by a head coach at the university at that time.[23] The Len Casanova Center, Oregon's athletic department headquarters near Autzen Stadium, is named in his honor.[25]
Frei era (1967-1971)
Assistant coach Jerry Frei became head coach after Len Casanova moved on to athletic director in 1967, the year Oregon moved its home football games to the newly constructed Autzen Stadium.[25][26] Although his teams were never selected for a bowl game, and he ended his Oregon career with a losing record, he coached several players who went on to NFL stardom, including Hall of Fame member Dan Fouts and All-Pro wide receiver Ahmad Rashad.[27] In 1970, he coached the Ducks to an improbable comeback at UCLA, scoring 20 points in the final four minutes of the game to beat UCLA 41–40.[28] However, Frei was unable to defeat arch-rival Oregon State, and after the 1971 loss some influential boosters reportedly were demanding that he make significant changes to his coaching staff.[29]
On January 18, 1972, Frei resigned as head coach, citing disagreements with university boosters and athletic director Norv Ritchey.[26][27] Following his resignation, the student body president at the time, as well as numerous published letters to the editor of the Register Guard voiced their support of Frei.[26]
The dark years of Dick and Don (1972-1976)
After an exhaustive search that included interviews with several established head coaches, Frei's offensive line coach, Dick Enright, was elevated to head coach for the 1972 season. Enright was the least experienced candidate for the position, having been a high school coach until 1970,[30] and he struggled to maintain team discipline and consistent play. Enright famously tried to make an option quarterback out of Dan Fouts, who was not a runner.[31] Although his 1972 team did beat Oregon State for the first time in nine seasons, Enright's teams only won six games in two seasons. After complaining to the media about what he considered sub-standard conditions of football facilities,[32] he was fired after the 1973 season, replaced by Don Read, his quarterback coach.[29]
Although he possessed a great offensive mind,[33] Read was unable to field a competitive team in his first job as a major college head coach. Oregon's longest losing streak – 14 games – was set during Read's three-year term, which also saw the team's worst loss in history (66–0 at Washington in 1974).[34]
After the Ducks' home opener in 1975, a 5–0 loss to San Jose State, UO president William Boyd told a reporter he'd "rather be whipped in a public square than sit through a game like that."[35]
Read was fired, with one year left on his contract, after the 1976 season ended. His teams had gone 3-18 in conference play, were shut out seven times in three seasons, and owned just one win over a team with a winning record (17-3 over Colorado State in 1976).[36][37]
In announcing Read's termination, Oregon athletic director John Caine said it had been a financial decision; Read hadn't shown enough progress to generate interest in season ticket sales, boosters were not making donations, and Read couldn't be sent out recruiting without a contract extension, for which there was no support. Breaking recent—and unsuccessful—tradition, Caine also said "the successor will not come from the current staff ... There is a need for a different approach than we've had here for a number of years ... I'm looking for a multi-talented individual, one with perhaps a different personality and a different background."[38]
It had become clear that drastic action was needed to correct a suffering program. Caine had informed an alumni group that the Oregon football team had lost money the last three seasons. Normally, it is a University's football program that provides funding for other non-revenue sports, but at Oregon, football was siphoning money from the successful basketball program and cutting into the budgets for wrestling, baseball and track.[39]
Brooks era (1977-1994)
Caine could not afford to pay top dollar for a college coach; he told reporters he wouldn't top $35,000 annually for his new head coach, but that he would sweeten the pot with a $100,000 recruiting budget, the second highest in the conference.[40] The coaching search took two weeks. After being rebuffed by Bill Walsh, who took the Stanford job, and Jim Mora, who withdrew his name from consideration because he considered the job a dead end, Caine appointed UCLA assistant coach and Oregon State graduate Rich Brooks as Oregon's 29th head football coach, over finalists Monte Kiffin and Ray Greene.[41]
Brooks got off to a shaky start, with four two-win seasons in his first six years at Oregon.[42][43] In 1980, a pay-for-credit scandal, disclosure of an illegal travel fund, misuse of phone cards and criminal sexual abuse charges against Oregon football players led Brooks to tender his resignation to President Boyd; Boyd refused to accept the resignation.[44] Oregon was placed on probation by the Pac-10 (1980)[45] and NCAA (1982).[46] After several mediocre seasons, including 1983 and an infamous scoreless tie with Oregon State known as the "Toilet Bowl,"[47] the Ducks posted an 8–4 season in 1989, going to the Independence Bowl -- Oregon's first postseason appearance in 26 seasons.[48] Brooks would achieve two more bowl games before his final season in 1994.[49]
The pinnacle of Brooks' Oregon career came in his final season, when his team became the Pacific-10 Conference Champions with a 9–3 regular season record and a Rose Bowl appearance.[49] The defining moment of the season came in a game against the 9th-ranked (AP) Washington Huskies, and is widely remembered by Duck fans as "The Pick".[50] Prior to that game, the Ducks had won only three games against the Huskies in 20 seasons, including many heartbreakers in the heated rivalry.[51] Late in the game, with the Ducks nursing a 24–20 lead, Washington was in position to score and take the lead when the Huskies' quarterback Damon Huard threw an interception to Kenny Wheaton, who returned the interception for a 97-yard touchdown, sealing the win for the Ducks. The Pick is replayed on the big screen at Autzen Stadium before each football game.[50] Following the Washington game, the Ducks finished the rest of the regular season without a loss, but lost to Penn State in the 1995 Rose Bowl, 38-20.[49]
After the 1994 season, Rich Brooks announced that he would leave Oregon to become the new head coach of the St. Louis Rams.[52] Although Brooks had a poorer winning percentage, with 91 victories he surpassed Len Casanova to become the winningest coach in school history.[53] The field at Autzen Stadium was dedicated as Rich Brooks Field, in honor of his tenure and accomplishments.[54]
Bellotti era (1995-2008)
Offensive coordinator Mike Bellotti was elevated into the head coaching position after Rich Brooks vacated the position in 1995.[55] During his head coaching career, Bellotti elevated the expectations of the Ducks football program. Season records that in the past would have been deemed acceptable or even laudable are now considered mediocre and disappointing.[54] Bellotti was immediately successful, leading the team to a 9–3 record his first year and an appearance in the Cotton Bowl Classic.[56] In his 14 seasons, Bellotti's teams were selected for 12 bowl games, and only once (2004, 5–6) did the Ducks post a losing record during his tenure.[12]
Bellotti coached the team to the Pac-10 Championship in the 2000 season, shared with Washington and OSU.[57] With a Rose Bowl bid on the line, the Ducks lost the 2000 Civil War at Corvallis, dropping the Ducks to the Holiday Bowl[58] The Ducks defeated Texas 35–30 in the Holiday, for the first 10-win season in program history.[59]
In the 2001 season, senior quarterback Joey Harrington, a Heisman Trophy finalist,[60] led the Ducks to its first 11-win season in program history and an outright Pac-10 championship.[61][62] The season was riddled with close games, 6 of which ended with a spread of one score or less, coining the nickname "Captain Comeback" for Harrington.[63][64] The only loss of the season came at home to the Stanford Cardinal.[64]
The Ducks ended the 2001 regular season ranked No. 2 in both the AP and Coaches polls, but the BCS computer formula ranked Oregon No. 4, behind No. 2 Nebraska – which had been thrashed by Colorado in its final regular season game – and No. 3 Colorado; this kept Oregon out of the national championship game.[65] The discrepancy caused the BCS committee to alter the ranking system for subsequent years to a formula which, if applied in 2001, would have placed Oregon in the national championship game.[66] The 2001 Ducks instead played at the Fiesta Bowl against Colorado. Oregon's run defense stifled Colorado's running game, holding them to just 49 yards on 31 carries. Harrington passed for 350 yards and led the Ducks to a 38–16 win.[67] Oregon settled for a final 2nd place ranking in both the AP and Coaches polls.[68] After the 2001 season, offensive coordinator Jeff Tedford left for the head coaching job at California, replaced by Andy Ludwig.
The 2003 season was highlighted by a big win against the 5th ranked Michigan Wolverines, ruining Michigan's aspirations of a big season during a trip to a west coast game for the third time in four years.[69]
Ludwig resigned as offensive coordinator after a dismal 2004 campaign, the only losing season (5–6) for a Mike Bellotti-coached Oregon team.[70] Recently fired BYU head coach Gary Crowton took the offensive reins;[71] the 2005 season saw a dramatic improvement from 2004, going 10–1 in the regular season, with the only loss to top-ranked USC.[72][73] In the eighth game of the season against the Arizona Wildcats, the senior starting quarterback for the Ducks, Kellen Clemens, suffered a spiral fracture in his ankle, ending his season and his collegiate career.[74] Despite losing Clemens, the Ducks won the game as well as the rest of their regular season games, but lost the Holiday Bowl to the Oklahoma Sooners.[72]
In 2006 the team started off well, winning four games to open the season,[72] including a controversial victory against Oklahoma where there were questionable reviews by the officials late in the game,[75] although some have noted there were also calls throughout the game that went against the Ducks.[76] But the Oklahoma victory proved to be the high point of the 2006 season; the team eventually fell apart, going 3–5 for the remainder of the regular season, and were pounded by BYU in the Las Vegas Bowl, losing 8–38 in a dismal performance.[77]
Gary Crowton left Oregon for the offensive coordinator position at Louisiana State University after the 2006 season; Chip Kelly was hired to replace him in February, 2007.[78] Kelly's impact was felt immediately, with the 2007 Ducks going 8–1 behind QB Dennis Dixon and ranked as high as No. 2, before being decimated by injuries at quarterback. Finishing the regular season with three straight losses, the Ducks were relegated to the Sun Bowl, where they defeated South Florida 56–21.[79]
The 2008 season saw the emergence of quarterback Jeremiah Masoli as the leader of Chip Kelly's spread offense. Masoli, a transfer from City College of San Francisco, stepped in against Washington in the season opener, when starter Justin Roper was injured, and led the Ducks to a 44–10 victory.[80] Despite injuries, Masoli cemented himself as the starter by mid-season. In the 2008 Civil War, the Ducks defeated the Beavers in Corvallis, 65–38, knocking the Beavers out of the Rose Bowl.[81] The Ducks went to the Holiday Bowl.[82] In a clash of two teams with high powered offenses, Oregon beat the Oklahoma State Cowboys in the 2008 Holiday Bowl and finished the season ranked in the top 10.[83][84]
In March 2009, Bellotti announced his resignation; Kelly would take over as the head coach, and Bellotti was named athletic director, replacing Pat Kilkenny.[85] Bellotti left the program as the winningest coach in Oregon history, with 116 wins and a 67.8 winning percentage.[12]
Kelly era (2009-2012)
In his first season as the head coach of the Ducks, Kelly stumbled out of the gate, losing to Boise State by 11 points in a game ending in controversy with Ducks running back LeGarrette Blount punching Byron Hout on national television after being taunted.[86] The Ducks showed only minor improvements with close wins against the Purdue Boilermakers and the Utah Utes.[86] It wasn't until the start of the Pac-10 season that the Ducks began to display their potential, by dismantling the highly ranked California Golden Bears 42–3.[87] The 2009 Ducks only lost one more game, to the Stanford Cardinal in the regular season, to win the Pac-10 title by two games. Oregon went to the 2010 Rose Bowl, where they lost 26-17 to the Ohio State Buckeyes.[72]
During the offseason, the team was mired in controversy. Starting running back LaMichael James was involved in a domestic dispute in which he pleaded guilty to physical harassment of a former girlfriend, and was suspended for the first game of 2010 season.[88] Starting quarterback Jeremiah Masoli was suspended for the entire 2010 football season over thefts from a local fraternity house.[89] On June 7, Masoli was cited for marijuana possession, driving with a suspended license and failing to stop when entering a roadway. In response, coach Chip Kelly officially removed him from the team.[90]
Despite the loss of Masoli, the Ducks dominated their opponents in the 2010 season. On October 17, the team moved up to the No. 1 ranking in both the AP and USA Today Coaches Poll for the first time in school history.[91] This occurred after the #1-ranked teams, the Ohio State Buckeyes and the Alabama Crimson Tide lost in consecutive weeks.
The Ducks finished the regular season with a 12–0 record; winning the conference at 9–0, they were the only team in Pac-10 history to defeat every other conference team in a nine conference game season.[92] Ranked No. 2 in the BCS rankings, the Ducks played Auburn in the 2011 BCS National Championship Game at University of Phoenix Stadium in Glendale, Arizona, losing on an Auburn field goal as time expired, 22–19.[93]
Despite his opening game suspension, Oregon RB LaMichael James won the 2010 Doak Walker Award as the nation's outstanding college running back.[94] James was also Oregon's first unanimous All-American football player, appearing on all five all-America teams recognized by the NCAA.[95]
Oregon won its third straight conference championship in 2011, winning the new Pac-12 North Division and defeating UCLA in the inaugural Pac-12 Conference Championship Game.[96] The Ducks became the first Pac-12 team other than USC to win three consecutive titles outright since the conference was formed in 1959.[97] LaMichael James became the first player in conference history with three 1,500+ yard rushing seasons, and ranks third on the Pac-12's career rushing list. James was a finalist for the 2011 Doak Walker Award, and was named a finalist for the 2011 Paul Hornung Award. Punter Jackson Rice was a finalist for the Ray Guy Award.[98] On January 2, 2012 the Oregon Ducks won the Rose Bowl, defeating the Wisconsin Badgers 45-38 for the title.[99]
Coaching history
Main article:

List of Oregon Ducks head football coaches
Oregon has had 31 head coaches since its founding in 1894. The Ducks have played in more than 1,100 games in 113 seasons. In those seasons, seven different coaches have led Oregon to bowl games: Hugo Bezdek, Shy Huntington, Jim Aiken, Len Casanova, Rich Brooks, Mike Bellotti and Chip Kelly. Conference championships have been won by Huntington, Prink Callison, Jim Aiken, Casanova, Brooks, Bellotti and Kelly. Casanova is the all-time leader in games coached; Mike Bellotti holds the record for most victories, while Chip Kelly is the leader in win percentage for coaches with more than one season of service.
Of the 31 Oregon head coaches, two, Hugo Bezdek and Len Casanova, are in the College Football Hall of Fame as coaches. John McEwan and Clarence Spears are also in the Hall of Fame, but as players at Army and Dartmouth. Brooks and Kelly have each received National Coach of the Year honors from at least one organization. Oregon's current head coach is Chip Kelly, who was promoted to head coach in 2009 following Mike Bellotti's retirement.[100]
Venues and facilities
Main article:

Oregon Ducks football venues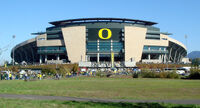 Oregon has used six sites as home fields for its football team:
Autzen Stadium, the home of Oregon's football team since 1967, was named in honor of Thomas J. Autzen, a Portland businessman and, ironically, a graduate of rival Oregon State University. After his death, the Autzen Foundation, managed by son and Oregon alum Thomas E. Autzen, gave the university $250,000 towards construction of the facility, completed in 1967.[101] The 54,000 seat stadium is known as a very intimidating and loud environment. Standing room around the rim of the stadium allows the capacity to swell to more than 60,000. On October 27, 2007 in a game against USC, the crowd of 59,277 was able to reach a noise level of 127.2 decibels, the 4th loudest ever recorded at a college football game.[102]
Moshofsky Sports Center, named in honor of former University of Oregon football letterman (1940–42) and long-time university supporter Ed Moshofsky, was dedicated in August, 1998, the first indoor practice and training facility in the Pacific-10 Conference. Located south of the Casanova Athletic Center, the Moshofsky Center accommodates the majority of the University's intercollegiate athletic programs. The $14.6 million facility includes an enclosed full-length artificial surface football field and 120-meter four-lane synthetic surface running track and an automated system in place to lower a batting cage for use by the softball team, as well as protective netting that transforms the facility for use by the men's and women's golf teams.[103] A combination of indirect lighting and two parallel skylight panels contribute to an energy efficient system which allows the flexibility to alter lighting conditions.[104]
Bowl game history
Main article:

List of Oregon Ducks bowl games
The Ducks won their first Rose Bowl in 1917 against the University of Pennsylvania and lost their next four Rose Bowl appearances.[105] However, the Ducks did play in and win the 2002 Fiesta Bowl against the Colorado Buffaloes.[106][107] After two Rose Bowls in 1917 and 1920, the Ducks appeared in just four bowl games over the next 68 years. Under head coach Rich Brooks, the Ducks went to four bowl games in just six seasons; the 1989 and 1992 Independence Bowls, the 1990 Freedom Bowl, and the 1995 Rose Bowl.[105] During Mike Bellotti's tenure as head coach between the 1995 and 2008 seasons, the Ducks went to a bowl game every year with the exception of the 1996 and 2004 seasons. Under Chip Kelly, the Ducks earned a berth in the 2010 Rose Bowl and the 2011 BCS National Championship Game in successive seasons, but lost both games. The Ducks won the 2012 Rose Bowl.
Rivalries
The Civil War game between Oregon and Oregon State was originally called the "Oregon Classic" or the "State Championship Game." It is the 4th oldest rivalry in division I FBS football. It is also one of the most heated rivalries.
The Oregon-Washington rivalry, also known as the "Border War,"[108] has been ongoing since 1948 and has incited particularly poor behavior from both Oregon and Washington fans.[109] Oregon's current eight-game win streak is the longest in the 110-year history of the series[110]
As Oregon football has risen to national prominence during recent years, a rivalry with USC has grown stronger, with the two schools battling for conference supremacy.[111]
Logos/Uniforms
The University of Oregon football team has been known in recent years for its unique uniform style, consisting of multiple color combinations of helmets, uniforms (both shirts and pants), socks, and shoes, resulting in a new uniform setup every week (not counting in-season changes to uniform designs). The changes have been often well-liked and praised by football recruits.[112][113] New uniform schemes are coordinated by Oregon alumnus Tinker Hatfield, an executive at Nike. Nike has had the outfitting rights for the Ducks since 1995.[114]
Image Gallery
Notable Alumni
References
↑ 2.0 2.1 Tales from the Oregon Ducks Sideline,Libby, Brian (August 1, 2007). pp. 1–3. Sports Publishing LLC. ISBN 978-1-59670-182-3.
↑ 5.0 5.1 Tales from the Oregon Ducks Sideline,Libby, Brian (August 1, 2007). pp. 4–7. Sports Publishing LLC. ISBN 978-1-59670-182-3.
↑

List of Oregon Ducks head football coaches

↑ 7.0 7.1 The Pittsburgh Pirates Encyclopedia. Retrieved on

18 February 2012

.
↑ Pursuit of Perfection,Borland, Lynn (2010). . Tribute Publishing, November 2010. ISBN 978-0-615-40084-6.
↑ Borland, Lynn. "Legendary coach Gil Dobie's only loss at Washington: his legacy", The Seattle Times, November 20, 2010.

 

↑ The Origins of Hate Week aka Oregon vs Washington. Duck Downs. Retrieved on

18 February 2012

.
↑ Gould, Alan. "McEwan Joins Idle Ranks", 21 Dec 1929, p. 15. Retrieved on

24 Mar 2012

.

 

↑ Kuechle, Oliver. "Oregon Still Riled Up over Spears", 17 April 1932, p. 11. Retrieved on

24 March 2012

.

 

↑ 17.0 17.1 Oregon Yearly Results. CFB Data Warehouse. Retrieved on

June 15, 2011

.
↑ Oregon Yearly Results, 1945. CFB Data Warehouse.
↑ Strite, Dick. "Tex Oliver Quits Oregon Football", 10 Oct 1946, p. 20. Retrieved on

24 March 2012

. "A statement made to his squad gave some indication regarding his feelings: "We are playing in a first-class league, before first-class crowds and against first-class competition, but under a second-class regime.""

 

↑ Spokesman-Review - Action in pictures of Idaho's valiant losing battle against Oregon - 1948-10-10 - p.3-sports
↑ "California Gets Rose Bowl Bid over Oregon", November 23, 1948. Retrieved on

Jun 16, 2011

.

 

↑ Strite, Dick. "UO Coach Jim Aiken Quits Post", June 14, 1951. Retrieved on

June 16, 2011

.

 

↑ 23.0 23.1 23.2 23.3 Hockaday, Peter (October 2, 2002). Oregon icon Len Casanova dies at age 97. Oregon Daily Emerald. Retrieved on

April 29, 2009

.
↑ 24.0 24.1 Scott Jr., Jeremiah. Len Casanova: A West Coast Football Legend (PDF). LA84 Foundation. Retrieved on

18 February 2012

.
↑ 25.0 25.1 25.2 25.3 25.4 Bellotti on Casanova: We lost a great man. ESPN Classic (October 3, 2002). Retrieved on

April 29, 2009

.
↑ 26.0 26.1 26.2 Frei, Terry. "Grateful for the Guard", Denver Post, November 12, 2000. Retrieved on

April 30, 2009

.

 

↑ 27.0 27.1 "Jerry Frei; Former Oregon Football Coach", Los Angeles Times, February 18, 2001. Retrieved on

April 30, 2009

.

 

↑ Chapin, Dwight. "Oregon Stages Incredible Rally, 41–40", Los Angeles Times, October 11, 1970. Retrieved on

April 30, 2009

.

 

↑ 29.0 29.1 Where It All Went Wrong: The Sacking of Jerry Frei ... DuckDowns. Retrieved on

April 27, 2011

.
↑ 1972: How to hire the wrong coach by committee. DuckDowns. Retrieved on

18 February 2012

.
↑ Doney, Ken (August 28, 1972). Dick Enright Warns Opponents: Ducks are Young but Special. Lewiston Morning Tribune. Retrieved on

April 27, 2011

.
↑ Newnham, Blaine. "Duck football needs help", November 27, 1973. Retrieved on

April 28, 2011

.

 

↑ Read, Don. Complete Quarterbacking. Human Kinetics. Retrieved on

April 28, 2011

.
↑ Nine Games, 53 Points. Total, not average. DuckDowns. Retrieved on

April 27, 2011

.
↑ Withers, Bud. Memories of UO at the bottom of the barrel. The Register-Guard. Retrieved on

April 28, 2011

.
↑ Withers, Bud. "Oregon fires Don Read", November 27, 1976. Retrieved on

April 28, 2011

.

 

↑ Oregon Game by Game Results 1972-1976. College Football Data Warehouse. Retrieved on

18 February 2012

.
↑ Conrad, John. "Finances reason given for firing", 27 November 1976. Retrieved on

18 February 2012

.

 

↑ Newnham, Blaine. "Selling Oregon", 30 November 1976. Retrieved on

18 February 2012

.

 

↑ Newnham, Blaine. "Waiting for Cards", 9 December 1976. Retrieved on

18 February 2012

.

 

↑ Withers, Bud. "Brooks arrives to get Oregon going", 17 December 1976. Retrieved on

18 February 2012

.

 

↑ Smith, Michael. "Brooks hired as UK football coach", USA Today, December 28, 2002. Retrieved on

April 30, 2009

.

 

↑ The education of Rich Brooks, 1977-1982. Duck Downs. Retrieved on

18 February 2012

.
↑ White Jr, Gordon S.. "An Undivided Pac-10 Takes a Firm Stand", 17 August 1980. Retrieved on

18 February 2012

.

 

↑ Berst, David. "University of Oregon placed on NCAA Probation", 23 December 1981. Retrieved on

18 February 2012

.

 

↑ Everson, Darren; Ben Cohen (8 January 1911). As National Championship Battle Looms, Oregon Reflects on the 'Toilet Bowl'. Wall Street Journal. Retrieved on

18 February 2012

.
↑ 50.0 50.1 Greif, Andrew (October 19, 2007). 'The Pick' just the beginning for Wheaton. Oregon Daily Emerald. Retrieved on

April 30, 2009

.
↑ Bellamy, Ron (November 12, 2002). Wheaton, UO fans stay connected years after 'The Pick'. The Register Guard. Retrieved on

April 30, 2009

.
↑ "Sports People: Pro Football; Oregon's Brooks Picked As the Rams' Head Coach", New York Times, February 11, 1995. Retrieved on

April 30, 2009

.

 

↑ 54.0 54.1 Condotta, Bob. "At Oregon, Mike Bellotti era is one of raised expectations", The Seattle Times, August 29, 2008. Retrieved on

April 30, 2009

.

 

↑ "Oregon coach Bellotti visits Ohio State", Sports Illustrated, January 15, 2001. Retrieved on

April 30, 2009

.

 

↑ "College Football: Roundup; Washington Faces Purdue for Roses", The New York Times, November 19, 2000. Retrieved on

April 30, 2009

.

 

↑ "Oregon vs. Oregon State", USA Today, November 18, 2000. Retrieved on

April 30, 2009

.

 

↑ "Texas vs. Oregon", USA Today, December 29, 2000. Retrieved on

April 30, 2009

.

 

↑ Joey Harrington Among Four Heisman Finalists. Pac-10.org (December 4, 2001). Retrieved on

May 1, 2009

.
↑ Boeck, Greg. "Oregon's Smith setting new standards with play", USA Today, October 9, 2002. Retrieved on

April 30, 2009

.

 

↑ 64.0 64.1 "Stanford vs. Oregon", USA Today, October 20, 2001. Retrieved on

April 30, 2009

.

 

↑ Herbstreit, Kirk. "BCS aside, Nebraska has game to beat Miami", USA Today, December 11, 2001. Retrieved on

April 30, 2009

.

 

↑ "Oregon vs. Colorado", USA Today, January 1, 2002. Retrieved on

April 30, 2009

.

 

↑ TheBobPages – College Football Polls – 2001 History (Coaches Poll) (AP Poll)
↑ "Michigan vs. Oregon", USA Today, September 20, 2003. Retrieved on

May 1, 2009

.

 

↑ "Oregon vs. Oregon State", USA Today, November 20, 2004. Retrieved on

May 1, 2009

.

 

↑ "Crowton to be offensive coordinator", Sports Illustrated, January 20, 2005. Retrieved on

May 1, 2009

.

 

↑ "No. 1 Southern California 45, No. 24 Oregon 13", USA Today, September 24, 2005. Retrieved on

May 1, 2009

.

 

↑ "Crowton to be offensive coordinator", USA Today, October 22, 2005. Retrieved on

May 1, 2009

.

 

↑ "OU coach Stoops still hot over bad call; Oregon coach moves on", USA Today, September 16, 2006. Retrieved on

May 1, 2009

.

 

↑ Schroeder, George (August 23, 2007). Replays and two-headed monsters and more. Register Guard. Retrieved on

May 1, 2009

.
↑ Summers, Steve (December 22, 2006). Thud...Ducks Dropped in Las Vegas Bowl. eDuck Sports. Retrieved on

May 1, 2009

.
↑ New Hampshire Coordinator Picked to Head Oregon Offense. Salem News (February 9, 2007). Retrieved on

May 1, 2009

.
↑ "Roper, Stewart lead Oregon over South Florida, 56–21", USA Today, December 31, 2007. Retrieved on

May 1, 2009

.

 

↑ Roper suffers concussion, but Masoli steps in to lead Ducks to win. ESPN (August 30, 2008). Retrieved on

May 1, 2009

.
↑ Masoli's 3 touchdowns lead Ducks to victory in rivalry game. ESPN (November 29, 2008). Retrieved on

May 1, 2009

.
↑ Oregon State stops Pitt in defensive battle. ESPN (December 31, 2008). Retrieved on

May 1, 2009

.
↑ Masoli runs for 3 TDs, throws for another as Oregon wins. ESPN (December 30, 2008). Retrieved on

May 1, 2009

.
↑ Murphy, Austin. "With Bellotti a step away, Kelly looks to put his stamp on Oregon", Sports Illustrated, March 20, 2009. Retrieved on

May 1, 2009

.

 

↑ 86.0 86.1 Miller, Ted (December 28, 2009). Ducks' finish better than their start. ESPN. Retrieved on

October 21, 2010

.
↑ Masoli tosses three TDs as Oregon runs over Cal. ESPN (September 26, 2009). Retrieved on

October 21, 2010

.
↑ James suspended for opener. ESPN (March 12, 2010). Retrieved on

April 6, 2010

.
↑ Masoli suspended for 2010 season. ESPN (March 12, 2010). Retrieved on

April 6, 2010

.
↑ Moran, Jack (June 10, 2010). Masoli kicked off team. The Register Guard. Retrieved on

October 8, 2010

.
↑ Peterson, Anne (October 20, 2010). Steady progress since mid-90s created No. 1 Oregon. Yahoo Sports. Retrieved on

October 20, 2010

.
↑ Ducks wrap up BCS berth by bouncing Beavers. Oregon Ducks vs Oregon St Beavers. ESPN. Retrieved on

May 10, 2011

.
↑ "Auburn claims SEC's fifth straight national title by dropping Oregon on late field goal", ESPN, January 10, 2011. Retrieved on

January 18, 2011

.

 

↑ "Oregon's LaMichael James wins Doak Walker Award as nation's top running back", December 10, 2010. Retrieved on

May 10, 2011

.

 

↑ Moseley, Rob. "James becomes Oregon's first unanimous all-American", December 15, 2010. Retrieved on

May 10, 2011

.

 

↑ Hirai, Haley. Oregon's James Stands Out In The Crowd. Retrieved on

12 December 2011

.
↑ Oregon Weekly Football Release - Week 13. University of Oregon Athletic Dept..
↑ Oregon outruns Wisconsin to win highest-scoring Rose Bowl ever. Associated Press. Retrieved on

4 January 2012

.
↑ Oregon Football 2011 Multi-Media Guide. University of Oregon. Retrieved on

15 February 2012

.
↑ Autzen Stadium: Architecture of the University of Oregon. University of Oregon. Retrieved on

April 13, 2009

.
↑ Ducks fans deliver an ear-splitting roar. KGW NewsChannel 8 Portland (October 28, 2007). Retrieved on

April 13

.
↑ "Oregon vs. Colorado", USA Today, January 1, 2002. Retrieved on

April 14, 2009

.

 

↑ About the BCS. ESPN (October 17, 2005). Retrieved on

April 14, 2009

.
↑ Linde, Richard. The Border War. 4malamute.com. Retrieved on

April 28, 2011

.
↑ Raley, Dan (October 29, 2004). Nothing neighborly about Huskies vs. Ducks. Seattle Post Intelligencer. Retrieved on

March 23, 2009

.
↑ College Football Data Warehouse: Oregon vs Washington. Retrieved on

April 28, 2011

.
↑ A newer form of rivalry. Retrieved on

June 8, 2012

.
↑ An anonymous player poll gives insight to college football from a national perspective. ESPN The Magazine (August 11, 2010). Retrieved on

August 16, 2010

.
↑ Oliver, Brandon (August 22, 2009). Bruce Feldman talks Oregon. Duck Territory. Archived from the original on

August 26, 2009

. Retrieved on

August 23, 2009

.
↑ Oregon Takes Next Step in Uniform Development. GoDucks (June 25, 2006). Retrieved on

May 6, 2009

.
External Links