O.J. Simpson

O.J. Simpson in game vs. the Baltimore Colts in 1972
Personal Information
Born
July 9 1947
in San Francisco, California

| | |
| --- | --- |
| Height: 6 ft 3 in (1.91 m) | Weight: 215 lb (98 kg) |

Career information
Year(s)
1969–1979
NFL Draft
1969 / Round: 1 / Pick: 1
College
City College (San Francisco), USC (transfer)
Professional teams
Career stats
Rushing ATT/
Rushing yards/
Receptions/
Receiving yards
2,404 Rushes
11,236 rushing yards
203 receptions
2,142 receiving yards
Rushing/Receiving Average
4.7 YPR/10.6 YPC
Rushing/Receiving TDs
61 Rushing/14 Receiving TD's
Stats at NFL.com
Career highlights and awards

1967 Walter Camp Award
1967 UPI Player of the Year
1968 Heisman Trophy Award winner
1973 NFL Offensive Player of the Year
1973 NFL MVP

+1973 NFL rushing record 2,003 yards
Orenthal James "O.J." Simpson, nicknamed "The Juice" (born July 9, 1947),is a former Heisman Trophy winner running back, later a successful part time actor, television sports broadcaster for both NBC and ABC Sports "Monday Night Football" telecasts, that played for the USC Trojans in 1967 and 1968. He went on to successfully play in the National Football League for the Buffalo Bills and the San Francisco 49ers. He was charged in the famous O.J. Simpson trials, but was found innocent. He was also charged tried and convicted in a 2009 invasion/robbery of a Las Vegas sports memorabilia dealer.
Buffalo Bills 1969 draft pick
O.J. was the American Football League's Buffalo Bills' first overall pick in the 1969 Common Draft, and the first professional football player to rush for more than 2,000 yards in a season, a mark he set during the 1973 season. While five other players have passed the 2,000 rush yard mark he stands alone as the only player to rush for more than 2,000 yards in a 14-game season (professional football changed to a 16-game season in 1978). He holds the record for the single season yards-per-game average which stands at 143.1 ypg. Simpson was elected to the Pro Football Hall of Fame in 1985. He also had a successful career in acting and sports commentary.
Early life
Simpson was born in San Francisco, the son of Eunice (née Durden; October 23, 1921 – San Francisco, California, November 9, 2001), a hospital administrator, and Jimmy Lee Simpson (Arkansas, January 29, 1920 – San Francisco, California, June 9, 1986), a chef and bank custodian.[1] Simpson's maternal grandparents were from Louisiana.[2] His aunt gave him the name Orenthal, which supposedly was the name of a French actor she liked.[3] Simpson has one brother, Melvin Leon "Truman" Simpson, and one living sister, Shirley Simpson-Baker, and one deceased sister, Carmelita Simpson-Durio. As a child, Simpson developed rickets and wore braces on his legs until the age of five.[4] His parents separated in 1952.
High school athletic career
At Galileo High School in San Francisco, Simpson played for the school football team, the Galileo Lions. From 1965 to 1966, Simpson was a student at City College of San Francisco, a member of the California Community College system. He played both offense (running back) and defense (defensive back) and was named to the Junior College All-American team as a running back.
College football career
Simpson gained an athletic scholarship to the University of Southern California where he played running back in 1967 and 1968. Simpson led the nation in rushing in 1967 when he ran for 1,451 yards and scored 11 touchdowns. He also led the nation in rushing the next year with 355 carries for 1,709 yards.
In 1967, he starred in the 1967 USC vs. UCLA football game and was a Heisman Trophy candidate as a junior, but he did not win the award. His 64 yard touchdown run in the 4th quarter tied the game, with the PAT the margin of victory. This was the biggest play in what is regarded as one of the greatest football games of the 20th century.[5]
Another dramatic touchdown in the same game is the subject of the Arnold Friberg oil painting, O.J. Simpson Breaks for Daylight. Simpson also won the Walter Camp Award in 1967 and was a two-time consensus All-American.[6] He ran in the USC sprint relay quartet that broke the world record in the 4x110 yard relay at the NCAA track championships in Provo, Utah in June 1967. (While this time has not been beaten, the IAAF now refers to it as a world's best, not a world record. The scarcity of events over distances measured in imperial units resulted in the designation change in 1976.)[7]
In 1968, he rushed for 1,709 yards and 22 touchdowns, earning the Heisman Trophy, the Maxwell Award, and the Walter Camp Award that year. He still holds the record for the Heisman's largest margin of victory, defeating the runner-up by 1,750 points. In the 1969 Rose Bowl where No. 2 USC faced No. 1 Ohio State, Simpson ran for 171 yards, including an 80-yard touchdown run in a 16–27 loss.[8]
Professional football career
Buffalo Bills (1969-77)
Simpson was drafted by the AFL's Buffalo Bills, who got first pick in the 1969 AFL-NFL Common Draft after finishing 1–12–1 in 1968. Early in his professional football career, Simpson struggled on poor Buffalo teams, averaging only 622 yards per season for his first three.
He first rushed for more than 1,000 yards in 1972, gaining a total of 1,251. In 1973, Simpson rushed for a record 2,003 yards, becoming the first player ever to pass the 2,000-yard mark, and scored 12 touchdowns. Simpson gained more than 1,000 rushing yards for each of his next three seasons. From 1972 to 1976, Simpson averaged 1,540 rushing yards per (14 game) season, 5.1 yards per carry, and he won the NFL rushing title four times. Simpson had the best game of his career during the Thanksgiving game against the Detroit Lions on November 25, 1976, when he rushed for a then record 273 yards on 29 attempts and scoring two touchdowns.
Simpson's 1977 season in Buffalo was cut short by injury.
San Francisco 49ers (1978-79)
Before the 1978 season, the Bills traded Simpson to the San Francisco 49ers for a series of draft picks.[9] He played two seasons.
Summary
Simpson gained 11,236 rushing yards, placing him 2nd on the NFL's all-time rushing list; he now stands at 17th. He was named NFL Player of the Year in 1973, and played in six Pro Bowls. He was the only player in NFL history to rush for over 2,000 yards in a 14 game season and he's the only player to rush for over 200 yards in six different games in his career. Simpson was inducted into the Pro Football Hall of Fame in 1985, his first year of eligibility.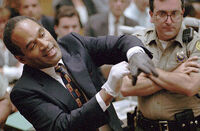 Family life
On June 24, 1967, Simpson married Marguerite L. Whitley. Together they had three children: Arnelle L. Simpson (born December 4, 1968), Jason L. Simpson (born April 21, 1970) and Aaren Lashone Simpson (born September 24, 1977). In August 1979, Aaren drowned in the family's swimming pool a month before her second birthday.[10] Simpson and Whitley were also divorced that same year.[11] On February 2, 1985, Simpson married Nicole Brown. They had two children, Sydney Brooke Simpson (born October 17, 1985) and Justin Ryan Simpson (born August 6, 1988), and were divorced in 1992.
Nicole Brown and her friend Ronald Goldman were murdered on June 12, 1994. Simpson was charged with their deaths and subsequently acquitted of all criminal charges in a controversial criminal trial. In the unanimous jury findings of a civil court case in February 1997, Simpson was found liable for the wrongful death of Ronald Goldman and battery of Nicole Brown.
Nicole Simpson/Ronald Goldman murder trial
In 1995, Simpson was acquitted of the murder of his second wife, Nicole Brown Simpson and Ronald Goldman after a lengthy, internationally publicized criminal trial – the People v. Simpson. A 1997 judgment against Simpson for their wrongful deaths was awarded in civil court, and to date he has paid little of the $33.5 million judgement.[12] His book, If I Did It (2006), which purports to be a first-person fictional account of the murders had he actually committed them, was withdrawn by the publisher just before its release. The book was later released by the Goldman family.[13]
Sports memorabilia case
In September 2007, Simpson was arrested in Las Vegas, Nevada, and charged with numerous felonies, including armed robbery and kidnapping with several accomplices in an attempt to retreive sports memorabilia that he accumulated from his athletic career which was being put up for auction at the Palace Station Hotel-Casino there.[14] In 2008, he was found guilty for his involvement in the incident[15][16] and sentenced to 33 years imprisonment, with a minimum of 9 years without parole.[17]
Release from prison
On July 31, 2013, the Nevada Parole Board granted Simpson parole on some convictions, but his imprisonment continued based on the weapons and assault convictions. The board considered Simpson's prior record of criminal convictions and good behavior in prison in coming to the decision.[18] At his parole hearing on July 20, 2017, the board decided to grant Simpson parole. He was released on October 1, 2017, having served almost nine years.[19][20]
References
See also
External links