Nippert Stadium

Location
2700 Bearcats Way
(174 West Corry Street)
Cincinnati, Ohio 45221
Broke ground
1915
Opened
September 27, 1924[1]
Renovated
1936, 1954, 1970, 1992, 2000, 2005, 2015
Owner

University of Cincinnati

Operator
University of Cincinnati
Surface
UBU Sports' Speed Series S5-M (2013–present)
FieldTurf (2000–2012)
AstroTurf (1970–1999)
Grass (1924–1969)
Construction cost
$10.5 million USD
($NaN in 2020 dollars[2])
Architect
Frederick W. Garber
Tenants
Cincinnati Bearcats (NCAA) (1924–1989, 1991-2013, 2015-beyond)
Cincinnati Bengals (AFL) (1968–1969)
Capacity
35,000 (40,000+ in 2015) [3]
Nippert Stadium in Cincinnati, Ohio, is the University of Cincinnati's football stadium, home to their Bearcats football team in rudimentary form since 1901, and as a complete stadium since 1924, making it the oldest playing site and oldest stadium in college football.[4]
Early history
Edit
In 1895, the organizer of UC's first football team, Arch Carson, introduced a plan to build a stadium complete with wooden bleachers on the site upon which Nippert Stadium currently stands. The plans became a reality in 1901 while Carson was serving as UC's physical education director. The first game played on the site originally called Varsity Field in Burnet Woods was on November 2, 1901 vs the Ohio University Bobcats. Cincinnati was defeated 16-0 in that contest. They rebounded a week later and defeated Hannover on Varsity field November 9, 1901 by a score of 10-0. Although Cincinnati has played home contests in other Cincinnati parks since then, this site has been the primary home of Cincinnati Football since that time. The playing surface at Nippert Stadium is called Carson Field in honor of Arch Carson.
In 1915, construction was completed on the first sections of a brick and concrete structure to replace the wooden stands and continued for several seasons as funds were raised. During the final game of the 1923 season with intrastate rival Miami University, UC player James Gamble Nippert sustained a spike wound injury. He died a month later of blood poisoning, reportedly due to having been infected by droppings left after a pre-game chicken race. Nippert's grandfather, James N. Gamble of Procter & Gamble, donated the required funds to complete the stadium.
In 1924, the completed structure was dedicated as James Gamble Nippert Memorial Stadium with a capacity of 12,000.
Past renovations
Edit
The field was lowered in 1936, allowing capacity to reach 24,000.
In 1954, a small upper deck on the East sideline was completed, and named the Reed Shank Pavilion. This increased capacity to 28,000.
In 1992, the stadium was heavily renovated, expanding the upper deck on the East sideline and adding a new Press Box on the West sideline. This increased capacity at its current figure of 35,097.[4]
In 2005, the new locker rooms behind the north end zone (underneath the newly completed Campus Rec Center) were added, as well as a new video board above the north end zone.
Record attendance
Edit
On August 31, 2013, the first home game of the 2013 season, the Bearcats hosted the Purdue Boilermakers. The crowd on hand broke the record for largest attendance in stadium history, at 36,007.
Other tenants and events hosted
Edit
The stadium served as home for the American Football League expansion team, the Cincinnati Bengals, in 1968 and 1969, while their eventual permanent home at Riverfront Stadium was being constructed.
The stadium has served as a concert venue only once, on August 3, 1975 hosting The Ohio River Rock Festival (Aerosmith, Black Oak Arkansas, Blue Öyster Cult, Foghat, Mahogany Rush, Nitty Gritty Dirt Band, REO Speedwagon, and Styx; admission was festival seating/general admission, attendance 32,000 est. according to local radio broadcasts).
On November 2, 2008, Democratic Presidential candidate Barack Obama held a rally at Nippert two days before the election to an estimated 27,000 attendees.[5]
Expansion
Edit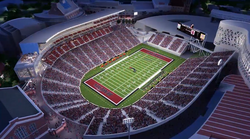 As the UC program rose to prominence in the late 2000s, the small seating capacity of Nippert became an issue. Former UC head coach Brian Kelly called for an expansion of Nippert, the smallest stadium in the Big East. On December 18, 2012, President Santa J. Ono and Athletic Director Whit Babcock unveiled long-anticipated plans to update and expand Nippert Stadium. Originally the price tag was estimated at $70 million.[6] More recent figures have the price estimated as between $80 million and $85 million. On June 25, 2013, the University of Cincinnati Board of Trustees approved the Nippert Stadium Expansion. The West Pavilion will include a new press box and premium seating area, which will add suites, lodge boxes, and club seating. The west side concourse level will improve fan amenities, including concession stands, restrooms, and in-stadium traffic flow. Improvements on the east side of the stadium will include concession stands, restrooms, and improved traffic flow, resulting from building skywalks to connect the Herschede-Shank Pavilion with O'Varsity Way brick plaza leading to Nippert Stadium and the Richard E. Lindner Center. At this time, UC officials estimate that, after construction is completed, Nippert Stadium will have a capacity of approximately 40,000. Construction of the Nippert Stadium expansion started in December 2013, with a completed target date of August 2015.[7] Due to the construction, all 2014 home games have been moved to Paul Brown Stadium.[8]
UC has used Paul Brown Stadium, home of the NFL's Cincinnati Bengals, as an alternate home field for several high profile home games. The downtown stadium has a larger seating capacity of 65,535. Games against Ohio State (2002), Oklahoma (2009), and West Virginia (2011) drew crowds of 66,000, 58,000, and 51,000, respectively, at Paul Brown Stadium. Whit Babcock didn't rule out the occasional home game to be played at Paul Brown Stadium, but made it known that the school is in favor of staying at Nippert.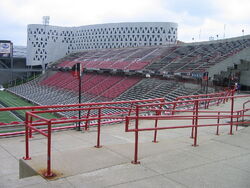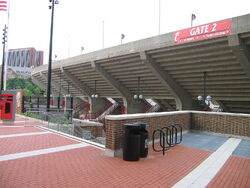 In 2012, USA Today called Nippert Stadium the best football stadium in the Big East Conference, UC's conference at the time (it is now a member of the American Athletic Conference).[9]
Nippert earned a reputation throughout the Big East as a tough place to play. The stadium is sometimes described as a "zoo" when packed full of 35,000-plus Bearcat fans. UC boasted a 14-game home winning streak at Nippert, dating from 2007-2010.
References
Edit
External links
Edit
Community content is available under
CC-BY-SA
unless otherwise noted.