We're Getting Mutants in the MCU - The Loop
Play Sound
Memorial Stadium
"Sea of Red"
Tom Osborne Field
Location
600 Stadium Drive
Lincoln, Nebraska 68508
Broke ground
April 26, 1923[1]
Opened
October 20, 1923
Renovated
2006
Expanded
1964, 1965, 1966, 1972, 1998, 2006, 2013
Owner

University of Nebraska–Lincoln

Operator
University of Nebraska–Lincoln
Surface

FieldTurf

Construction cost
$430,000 (original structure)
($

NaN

in 2022 dollars[2])
Architect

John Latenser, Sr.

and Sons
Davis & Wilson
Project Manager
Earl Hawkins
General Contractor
Parsons Construction Co.
Tenants
Nebraska Cornhuskers (NCAA) (1923–present)
Capacity
87,000+[3]
Memorial Stadium is located on the campus of the University of Nebraska-Lincoln in Lincoln, Nebraska. It is the home of the Nebraska Cornhuskers football team.
The stadium holds an ongoing NCAA record of 326 consecutive sellouts, which began in 1962. When full, Memorial Stadium holds more people than any Nebraska city except Omaha and Lincoln. Because most fans wear red apparel, the stadium is referred to as the "Sea of Red" on game days. On August 31, 2013, a Memorial Stadium record crowd of 91,185 watched Nebraska play.
History
In the fall of 1922, a drive for $430,000 in funds to build a new football stadium was undertaken by faculty, students, alumni and friends of the university. Designed by John Latenser, Sr., a notable Omaha architect, the stadium was named Memorial Stadium to honor all Nebraskans who served in the Civil and Spanish-American Wars and the 751 Nebraskans who died in World War I. Later, the stadium would also honor the 3,839 Nebraskans who died in World War II; the 225 in Korea; and the 422 in Vietnam. Construction was completed in just over 90 working days; Memorial Stadium was dedicated on October 20, 1923.
Inscribed on the four corners of the stadium are the following words, written by former Nebraska professor of philosophy Hartley Burr Alexander:[4]
Southeast: "In Commemoration of the men of Nebraska who served and fell in the Nation's Wars."
Southwest: "Not the victory but the action; Not the goal but the game; In the deed the glory."
Northwest: "Courage; Generosity; Fairness; Honor; In these are the true awards of manly sport."
Northeast: "Their Lives they held their country's trust; They kept its faith; They died its heroes."
A statue of former Nebraska coach Tom Osborne and former Nebraska quarterback Brook Berringer can be found outside the north side of the stadium. Berringer was a quarterback on Nebraska's 1994 and 1995 national championship teams who died in a plane crash in April 1996, just two days before the 1996 NFL Draft where he was expected to be an early/middle round pick.
Expansion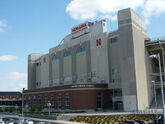 Memorial Stadium has undergone several phases of expansion and renovation since its original construction. In its original configuration, the stadium consisted of stands on the east and west sidelines. It was modeled after Ohio State's Ohio Stadium and had a seating capacity of around 31,000. A series of four additions between 1964 and 1972 enclosed the stadium by adding seats above the north and south end zones, more than doubling Memorial Stadium's seating capacity to nearly 74,000. A major renovation in 1999 added 42 luxury boxes above the west stands; the stadium was rededicated and the playing surface was renamed after retiring coach Tom Osborne. Osborne, known for his trademark modesty, was notably embarrassed by this gesture.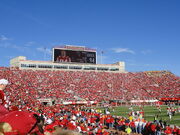 In 2004, construction began to renovate and expand the north end zone stands. Memorial Stadium now features an additional 13 luxury boxes above the north stands called the "Skyline Suites" and an additional 6,000 seats, increasing seating capacity to 81,067. Nebraska has the eighth-largest video screen in college football, at 33 feet (10 m) tall and 118 feet (36 m) wide. (At the time it was completed in 2004, the scoreboard was the largest in a college football stadium.) Before the 2009 season two new high definition video screens were added on the northeast and northwest pillars of the original stadium, bringing the total number of high definition screens in the stadium to five. Concurrently, ribbon boards stretching the length of the field were installed along the east and west balconies of the stadium.
On October 15, 2010, the University announced that its Board of Regents had approved an expansion project that is anticipated to cost up to $65 million, increasing the stadium's listed seating capacity to over 87,000. This expansion will be built on the stadium's east side, and will include 3,300 general admission seats, 2,119 new club seats and 38 additional skybox suites. The expansion totals more than 6,000 new seats and brings the total number of private suites inside the stadium to 101.[5] The original east facade of the stadium, plus Gate 20, will be preserved within a new entrance lobby. The creation of the first standing room only area in Memorial Stadium is also in the plan; an area available for companies and private parties to host events on a game-to-game basis. In addition, the University plans to create a 20,000 square feet (Expression error: Unexpected < operator. m2) cutting edge athletics research facility in addition to another 20,000 square feet (Expression error: Unexpected < operator. m2) dedicated to campus research. The expansion project was completed and dedicated on August 22, 2013. The project was initially voted on by fans of the football program, who were asked if they preferred expanding the stadium capacity, or preserving the stadium's ongoing NCAA-record sell-out streak. The outcome of the polling was overwhelmingly in favor of expansion while maintaining the sellout streak.[6]
Seating capacity
1923: 31,080, original stadium, with stands on both sides
1964: 48,000, south end zone bleachers erected, making stadium a horseshoe
1965: 52,455, center section of north end zone bleachers erected[7]
1966: 62,644, the rest of the north stadium bleachers finished
1967: 64,170, New press box
1972: 73,650, south end zone bleachers extended
1994: 72,700, reduced capacity for handicapped seating, HuskerVision video screens installed
1999: 74,056, new press box that included new skyboxes, and club seating
2000: 73,918, reduced capacity for more club seating
2006: 81,067, bleachers extended again for north stadium, new skyboxes, new video boards, Tom and Nancy Osborne Training Facility, ADA-compliant seating and additional coaching offices for football and athletic department administration
2009: 81,091[4]
Surface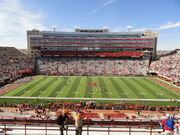 1923–1969: Natural grass
1970–1976: AstroTurf
1977–1983: AstroTurf (replaced 1970 turf)
1984–1991: All-Pro Turf
1992–1998: AstroTurf-9
1999–2004:

FieldTurf

2005–2013: FieldTurf (replaced 1999 turf), crown lowered, black pellet layer
2013–Present: FIeldTurf, "Cool Play System", cork layer
Memorial Stadium was the first college football stadium in Division I-A to install FieldTurf, in 1999. A second FieldTurf installation featuring an alternating light green/dark green "mowing" pattern every five yards was put in place prior to the 2005 season, to coincide with a removal of a fairly significant crown that had been in place for decades. A third FieldTurf installation featuring the traditional alternating light green/dark green "mowing" pattern every 5 yards was put in place prior to the 2013 season. The new turf features new construction materials for a "lighter and cooler" playing surface incorporating cork into the top layer of the traditional recycled tire surface.
Lighting
Starting in the early 1980s, portable lighting was occasionally installed for late-autumn games shown on national television, usually those against the University of Oklahoma.
The first proper night game at Memorial Stadium took place on September 6, 1986, when Nebraska defeated Florida State 34–17.
Attendance records
The following are the top ten highest attended games at Memorial Stadium:[10]
Highest Attendance at Memorial Stadium
Rank
Attendance
Date
Game result
1
91,185
August 31, 2013
Nebraska 37, Wyoming 34
2
86,304
September 26, 2009
Nebraska 55,

Louisiana–Lafayette

0
3
86,160
October 28, 2012
Nebraska 23, Michigan 9
4
86,115
November 7, 2009
Nebraska 10, Oklahoma 3
5
86,107
October 17, 2009
Nebraska 10, Texas Tech 31
6
85,998
November 21, 2009
Nebraska 17, Kansas State 3
7
85,962
September 29, 2012
Nebraska 30, Wisconsin 27
8
85,938
October 24, 2009
Nebraska 7, Iowa State 9
9
85,907
October 30, 2010
Nebraska 31, Missouri 17
10
85,831
September 27, 2008
Nebraska 30, Virginia Tech 35
Gallery
References
↑ University of Nebraska–Lincoln. UNL Historic Buildings - Memorial Stadium. Retrieved on

February 18, 2008

.
↑ Consumer Price Index (estimate) 1800–2008. Federal Reserve Bank of Minneapolis. Retrieved December 7, 2010.
↑ 3.0 3.1 2013 Nebraska Football Game Notes: Nebraska vs. Wyoming. Nebraska Athletic Department. Retrieved on

August 28, 2013

.
↑ 4.0 4.1 Nation's Best Facilities. Huskers.com. Retrieved on

July 25, 2013

.
↑ Cordes, Henry. "Memorial Stadium expansion makes room for more fans-and more academic research". Retrieved on

August 23, 2013

.

 

↑ Kaipust, Rich. "Wanted: More Seats, Safe Sellout Streak", July 7, 2010. Retrieved on

September 27, 2010

.

 

↑ Mott, James A.. Wisconsin Football Facts 1966: Athletic Review 1965-1966. The University of Wisconsin Collection. Retrieved on September 29, 2011. .
↑ Reed, Leslie (October 8, 2010). Plan Means More Seats by 2013. Omaha World-Herald. Retrieved on

July 27, 2013

.
↑ Christopherson, Brian (March 27, 2011). "East Stadium Expansion Project Comes With Some Flexibility". Lincoln Journal Star. Retrieved July 27, 2103
↑ Memorial Stadium Records. Huskers.com (November 15, 2010). Retrieved on

November 1, 2011

.
External links