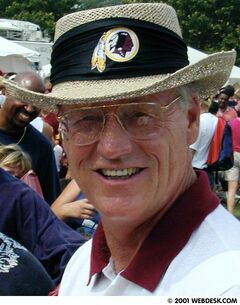 Marty Schottenheimer



Date of birth
September 23 1943
Place of birth
Canonsburg, Pennsylvania

—

No.

NFL Draft

1965

/ Round 4/ Pick 49 / Pick: by the

Career highlights

AFL All-Star

1965

Coaching Record / Statistics

Coaching stats
Pro Football Reference
Coaching stats
DatabaseFootball
Career player statistics (if any)
'  
  
'  
  
'  
  
More stats at:
Playing stats
DatabaseFootball
Team(s) as a player (if any)
Team(s) as a coach/administrator (if any)
1974

1975-1976

1977

1978-1979

1980-1984

1984-1988

1989-1998

2001

2002-2006

2011-present

Portland Storm

(WFL)
(linebackers coach)
New York Giants
(linebackers coach)
New York Giants
(defensive coordinator)
Detroit Lions
(linebackers coach)
Cleveland Browns
(defensive coordinator)
Cleveland Browns
(head coach)
Kansas City Chiefs
(head coach)
Washington Redskins
(head coach)
San Diego Chargers
(head coach)


Virginia Destroyers


(head coach/general manager)
Martin Edward "Marty" Schottenheimer ( pronounced /ˈʃɒtənhaɪmər ; born September 23, 1943) is the current head coach of the Virginia Destroyers of the United Football League. Over his career, he has served as head coach of the Cleveland Browns, Kansas City Chiefs, Washington Redskins, and San Diego Chargers. He has the most wins of any NFL coach since 1966 to never coach a team in a Super Bowl (which was first held in that year). He was fired from his head coaching position with the San Diego Chargers in 2007, after leading the Chargers to a 14–2 record but a disappointing second round loss after a first round bye in the playoffs.
Pro football playing career
Schottenheimer was born in McDonald, Pennsylvania. Marty attended high school at Fort Cherry High School in McDonald. After college, Schottenheimer, a linebacker, was selected in the fourth round of the 1965 NFL Draft by the Baltimore Colts and in the seventh round of the 1965 American Football League draft by the Buffalo Bills. He signed with the Bills and spent the next four (1965, 1966, 1967, and 1968) seasons with Buffalo, including the Bills' 1965 AFL Championship season, when he was selected to the AFL All-Star Team. In 1969, he joined the Boston Patriots and spent the next two seasons with the Pats. He was traded to the Pittsburgh Steelers in 1971 but was traded again to the Colts before the beginning of the 1971 season. He retired from football in 1971 and spent the next several years working in the real estate industry. Schottenheimer credits his professional playing career as being his inspiration for coaching.
Pro football coaching career
Schottenheimer's professional coaching career began in 1974 when he became linebackers coach for the Portland Storm of the World Football League. In 1975 he was hired as a linebackers coach for the NFL's New York Giants and in 1977 became defensive coordinator. Schottenheimer spent 1978 and 1979 as the linebackers coach for the NFL's Detroit Lions.
Cleveland Browns
In 1980, he was hired as the defensive coordinator for the Cleveland Browns. Schottenheimer became Cleveland's head coach midway through the 1984 season, replacing fired head coach Sam Rutigliano. Schottenheimer would remain with the Browns until 1988, amassing a 44-27 (.620) regular-season record and a 2-4 (.333) mark in the playoffs, including four playoff appearances, three AFC Central Division titles, and two trips to the AFC Championship Game (both against the Denver Broncos).
Kansas City Chiefs
Schottenheimer spent 10 seasons as head coach of the Kansas City Chiefs from 1989 to 1998 recording an impressive 101-58-1 regular season record (.634) including three division titles, seven playoff appearances, and a trip to the AFC Championship game in 1993, losing to the Buffalo Bills. After a disappointing 7–9 season in 1998, Schottenheimer resigned as Chiefs head coach on January 11, 1999.
Washington Redskins
After working as a football analyst for ESPN from 1999 to 2000, Schottenheimer was hired as head coach of the Washington Redskins for the 2001 season. Schottenheimer's Redskins became the first team in NFL history to win five consecutive games immediately after losing its first five games. The Redskins would win eight of their final eleven games to narrowly miss the post season. Despite this momentum, in a controversial move, Daniel Snyder, the owner of the Redskins, fired Schottenheimer on January 13, 2002 after just one 8–8 season to make room for former University of Florida head coach Steve Spurrier, under whom Washington went 12-20 in the next two seasons, with his best season being 7-9 in 2002.
San Diego Chargers
The San Diego Chargers hired Schottenheimer as their 13th head coach on January 29, 2002. Schottenheimer posted a 47–33 record (.588) with the Chargers. His success didn't come immediately, as the team posted a 4–12 record in 2003, thereby "earning" the first overall pick in the draft (this was the last time that a team with the worst record in the NFL kept its head coach the following season, even considering the 3 other 4–12 teams that season replaced their head coaches, Oakland, Arizona, and the New York Giants hiring Norv Turner, Dennis Green, and Tom Coughlin, respectively). He was named NFL Coach of the Year for the 2004 NFL season. Schottenheimer led the team to 2 playoff appearances, his 12th and 13th as a head coach. However, both appearances resulted in disappointing losses to the underdog New York Jets in overtime in 2005 and the New England Patriots in 2007, bringing his playoff record to 5–13.
Schottenheimer was abruptly fired by San Diego on February 12, 2007. Reasons for his firing include a strained relationship with general manager A.J. Smith, which reached a breaking point when 4 assistants (Cam Cameron, Wade Phillips, Rob Chudzinski and Greg Manusky) left for positions with other teams. It should be noted that these coaches left to pursue higher level opportunities with other teams, instead of merely making a lateral move to another team in which they would be doing the very same thing they were doing at San Diego.
Jim Trotter, of the San Diego Union Tribune, also believes that Schottenheimer's insistence that his brother, Kurt Schottenheimer, replace Phillips as the defensive coordinator further strained the relationship between team president Dean Spanos and Schottenheimer. Spanos had always been against the idea of allowing relatives to be on the same coaching staff, even though Schottenheimer's son Brian was the Chargers' quarterbacks coach. Schottenheimer even went as far to book a flight to San Diego for his brother, Kurt, against Spanos' wishes. This act of defiance increased the gap between Spanos and Schottenheimer.[1]
Dean Spanos released a statement saying "Our fans deserve to know what changed for me over the last month. When I decided to move ahead with Marty Schottenheimer in mid-January, I did so with the expectation that the core of his fine coaching staff would remain intact. Unfortunately, that did not prove to be the case, and the process of dealing with these coaching changes convinced me that we simply could not move forward with such dysfunction between our head coach and general manager. In short, this entire process over the last month convinced me beyond any doubt that I had to act to change this untenable situation and create an environment where everyone at Charger Park would be pulling in the same direction and working at a championship level. I expect exactly that from our entire Charger organization in 2007."[2]
Schottenheimer is still owed $4 million for the final year of his contract, as the firing was "without cause".[3] Schottenheimer was replaced as San Diego head coach by Norv Turner - coincidentally the last full-time head coach the Redskins had before Schottenheimer's arrival.
Virginia Destroyers (UFL)
In March 2011 the Virginia Destroyers hired Schottenheimer as their new head coach at the age of 67. After going 3-1 in a shortened regular season, his Destroyers earned a birth in the 2011 Championship game and the right to host the game. On October 21, 2011, the Virginia Destroyers defeated the two-time defending UFL Champion Las Vegas Locos 17-3. It is Coach Schottenheimer's first ever championship as a coach. [1]
Television work
Soon after being replaced as head coach of the San Diego Chargers, he was hired by ESPN to work as an NFL Insider on the network, returning to a role he had served in between his coaching stints with the Kansas City Chiefs and the Washington Redskins. He's recently been seen on SportsCenter and NFL Live.
Head coaching record
Schottenheimer coaching tree
Schottenheimer was heavily influenced by Lou Saban, his first professional head coach in the American Football League. In turn, several current NFL Head Coaches trace their lineage back to Marty Schottenheimer on his Coaching tree:
File:Schottenheimer Coaching Tree.GIF
Schottenheimer gave many Head Coaches their first coaching jobs. All of these coaches have coached under Schottenheimer:
His son Brian Schottenheimer is the New York Jets offensive coordinator. When the Jets defeated the San Diego Chargers in the 2009 Divisional Playoffs, Jets Head Coach Rex Ryan sent Marty the game ball as a friendly gesture regarding the team that had fired him three years earlier.[5]
Marty's younger brother Kurt Schottenheimer coached the Green Bay Packers' secondary (2006–2008) before he was let go, along with the majority of the defensive coaching staff, after a disappointing 2008 season.
See also
Marty Ball

, a type of coaching that is known as being conservative.
References