Martin Stadium

Martin Stadium in August 2012, from NE corner
Location
Washington State University
720 NE Stadium Way
Pullman, Washington 99164
Broke ground
January 1, 1972[1]
Opened
September 30, 1972
Renovated
1979, 2006, 2012
Expanded
1979: track removed
2012: premium seating
Owner

Washington State University

Operator
Washington State University
Surface

FieldTurf

: (

2000

–present)
Omniturf: (1990–1999)
SuperTurf: (1979–1989)
AstroTurf: (1972–1978)
Construction cost
$1 million
($

NaN

in 2022 dollars[2])

$70 million (renovation)
Architect
Naramore Bain Brady & Johanson[3]
General Contractor
Halvorson–Berg[4]
Former names
Rogers Field (1902–1970)
Soldier Field (1892–1902)
Tenants
Washington State Cougars (

1972

–present)
(Pac-12, NCAA)
Idaho Vandals - (1999–2001) NCAA
Capacity
32,740 (2013–present)[5]
33,522 (2012)[6]
32,248 (2011)[7]
35,117 (2003–2010)
37,600 (1979–2002)
26,500 (1972–1978)
Martin Stadium is an outdoor athletic stadium in Pullman, Washington, on the campus of Washington State University. It is the home field of the Washington State Cougars of the Pacific-12 Conference, and is the smallest football stadium in the conference. The FieldTurf playing field runs an unorthodox east-west, at an elevation of 2,520 feet (770m) above sea level.[8]
History
The stadium is named after Clarence D. Martin (1886–1955), the governor of the state of Washington (1933–41), a former mayor of Cheney, and ironically, a graduate of the University of Washington. His son, Dan (Clarence D. Martin, Jr., 1916–1976),[9] made a $250,000 donation to the project in January 1972.[10][11]
Martin Stadium opened on September 30, 1972, with a disappointing 19-point loss to Utah, then a member of the WAC,[12] with 20,600 in attendance.[13] Two and a half years had passed since its predecessor, the wooden Rogers Field, was significantly damaged by fire, a suspected case of arson.[14] The WSU Cougars played all of their home games at Joe Albi Stadium in Spokane in 1970 and 1971.
As of 2006, the stadium has a seating capacity of 35,117. Since the renovation of Reser Stadium at Oregon State and the addition of Utah's Rice-Eccles Stadium to the Conference, Martin Stadium has fallen to last in seating capacity among Pac-12 football stadiums. The current attendance record was set during the championship year of 1997, when WSU beat Stanford in front of 40,306 fans on November 15. (The '97 Cougar team won the Apple Cup in Seattle the following week to win the Pac-10, and played in the Rose Bowl for the first time in 67 years.) Despite the relatively small size of Martin Stadium, it has one of the highest ratios of seating capacity to population base; almost 1.6 seats per every citizen in the city of Pullman, and a seat for everyone in Whitman County.
1979 Expansion
Martin Stadium was the first college football stadium to expand by removing its 440 yard (400m) running track and lowering the playing field, in this case by 16 feet (5m). This modification in 1979 added over 12,000 new seats, most of which were closer to the field (and the opponent's bench).[15] The first game following the renovation was played in October 1979, a victory over the UCLA Bruins. Following a 10-3 season and an undefeated home campaign in 2003, Martin Stadium was ranked by Sports Illustrated as one of the toughest stadiums for visiting teams in college football.
2011-2013 Renovations
The proposed renovation of Martin Stadium consists of two separate projects. The first project, called the Southside Project, is an $80 million project to replace the old press box on the south stands with a new structure that includes a new press box, club seats, loge boxes, luxury suites and a club room. Approximately 1,900 new seats will be added to Martin Stadium in the premium seating area. The expansion will add 21 luxury suites (four, 24-person; nine, 18-person; and eight, 12-person), 42 loge boxes (27, four-person and 15, six-person) and approximately 1,300 club seats (1,200 outdoor and 100 indoor). The old press box does not have the amenities necessary for "first class" game productions with respect to national television and radio broadcasts as provided for in the new PAC-12 television and media contract. The Southside Project began demolition and construction in November 2011 and was completed by the first game of the 2012 season. The second project, called the West End-Zone Project, would provide a home for the Cougar football program, including new weight, lock, equipment and training rooms for players, in addition to meeting rooms and coaches' offices. It will also feature a WSU Football heritage area and a game-day home for Gray W former letter winners. The West End-Zone project was approved in November 2012, and construction began on November 26, 2012. This project is projected to be completed by the 2014-2015 football season.
Playing surface
The current playing surface is FieldTurf, first installed in 2000 and replaced in 2006,[16] it was preceded by the sand-filled Omniturf, installed in 1990.[17] The original playing surface at Martin Stadium in 1972 was AstroTurf, replaced by SuperTurf in 1979.[18][19] The playing surface at Rogers Field was natural grass.
Goalposts
Martin Stadium is one of only three in the NCAA Football Bowl Subdivision (formerly Division I-A) which uses goalposts with two posts for all of its home games. The others are Doak Campbell Stadium at Florida State and Tiger Stadium at LSU. For a period of the 1980s and 1990s, the NCAA banned the use of "offset" goalposts, but allowed them again in 1994.
Apple Cup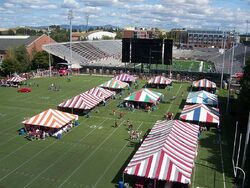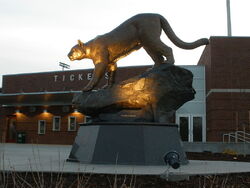 Washington State hosts the Apple Cup in even-numbered years. Except for 1954, the Apple Cup was played at Joe Albi Stadium in Spokane from 1950–80, rather than in Pullman. The Cougars went 3-12 in these fifteen Spokane Apple Cups (winning in 1958, 1968, and 1972), while winning the previous games played at Rogers Field in Pullman (1948, 1954).
Since 1982, a Cougar victory, the rivalry game with UW has been played at Martin Stadium, with the Cougars winning seven of the sixteen Pullman games.
Sharing with a rival
For two and a half seasons, 1999-2001, the Idaho Vandals of nearby Moscow borrowed Martin Stadium to use as its home field, as Idaho transitioned from Division I-AA back up to I-A. At the time, the Vandals' Kibbie Dome was too small to support the NCAA's attendance requirements for Division I-A. The attendance criteria was changed and Idaho is now a member of the WAC in Division I FBS, and uses its own facility.
Washington State and Idaho renewed their dormant football rivalry in 1998, and matched up annually in the Battle of the Palouse for a decade. The game was played at Martin Stadium in September, although the 2003 game was curiously played far from the Palouse, 300 miles (480 km) west at CenturyLink Field in Seattle.[21] After a ten year renewal, new Vandal head coach Robb Akey, a former WSU defensive coordinator, stated that he preferred the game not be played every year.[22] The game was last played in 2007 and is scheduled to resume in 2013.
Fire at Rogers Field
At 10:30 p.m. on Saturday, April 4, 1970 (the first day of spring break), residents heard what they described as a gunshot at the football stadium. By 2:00 a.m., the south grandstand and press box of the 1930s wooden venue had burned to the ground, witnessed by a thousand residents and firefighters.[14] The exact cause, or offender, was never found, though there were several suspects.
The Cougars played their entire home schedule for the 1970 and 1971 football seasons at Joe Albi Stadium in Spokane. The fire also displaced the Idaho Vandals, whose wooden Neale Stadium was condemned before the 1969 season (and set afire by arson that November). The Vandals had used WSU's Rogers Field for its three Palouse home games in 1969 and were planning to use it again in for four home games in 1970. Without another suitable stadium in the Moscow-Pullman vicinity, Idaho played its 1970 home schedule at the reduced capacity Rogers Field, returning to its Moscow campus in October 1971. The 1970 WSU-Idaho game in Spokane on September 19 was dubbed "The Displaced Bowl," and was easily won by the Cougars, 44-16, their only victory of the season.[23][24]
The name "Rogers Field" continues on campus, transferred to areas used for intramural sports and football practices, west of the stadium.[20]
Tradition
The public address announcer at Martin Stadium is WSU professor Glenn Johnson, who is also the mayor of Pullman. Johnson is known for his first-down call of "...and that's ANOTHER...", to which the crowd responds by chanting "...COUGAR FIRST DOWN!" in unison along with Johnson. The catchphrase has also inspired a dedicated website AnotherCougarFirstDown.com that is currently managed by Washington State University.
References
External links