Leonard Tose
Personal Information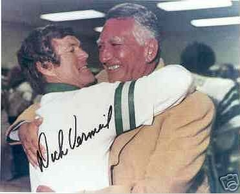 Birthname: Leonard Hyman Tose
Birthdate and location: March 6, 1915 in New Bridgeport, Pennsylvania, U.S.
Deathdate and location: April 15, 2003 (aged 88) in Philadelphia, Pennsylvania, U.S.
Occupation: former Philadelphia Eagles team owner, business executive, philanthropist
Religion: Jewish
Family
Championship(s):1980 NFC Championship
Children: Susan Tose Spencer

Years as owner: 1969-1985

Leonard Hyman Tose (March 6, 1915 – April 15, 2003[1]) was an owner of the Philadelphia Eagles from 1969–1985. He made a fortune in the trucking industry and was known for his lavish lifestyle. He eventually lost his fortune because of a gambling addiction and alcoholism.
Early years
Edit
Tose's father, who came to the United States from Russia, settled outside Philadelphia and was a peddler with a pack on his back. He eventually owned 10 trucks, the beginning of the family business. Eventually, Tose Inc. owned more than 700 trucks and grossed $20 million a year. Tose was born in Bridgeport, Pennsylvania.
Philadelphia Eagles owner
Edit
Tose, a lifelong fan of the Philadelphia Eagles, invested in the team as a member of the "Happy Hundred," a group led by James P. Clark. Tose invested $3,000 as one of the one hundred owners to purchase the team from Alexis Thompson on January 15, 1949. Tose tried to buy the team with his own group of investors in 1956, but was unable to do so. The team was bought in December 1963 by Jerry Wolman for $5,505,000 and Tose received more than $60,000.[2] He bought the team from Wolman in 1969 for $16,155,000, then a record for a professional sports franchise. Tose's first official act was to fire head coach Joe Kuharich.[3] He followed this by naming former Eagles receiving great Pete Retzlaff as GM and Jerry Williams as coach.
In 1976, he, along with General Manager Jimmy Murray, lured Dick Vermeil from UCLA to coach the hapless Eagles, who had one winning season from 1962–1975. Vermeil's 1980 team lost to Oakland in the Super Bowl. In January 1983, Tose announced that his daughter, Susan Fletcher, the Eagles' vice president and legal counsel, would eventually succeed him as primary owner of the Eagles.
In 1985, Tose was forced to sell the Eagles to Norman Braman and Ed Leibowitz, highly successful automobile dealers from Florida, for a reported $65 million to pay off his more than $25 million in gambling debts at Atlantic City casinos.
Lifestyle
Edit
A slim, suave man who was always impeccably well dressed, Mr. Tose was, by his own admission, a compulsive gambler and an alcoholic with a lifestyle that his critics called "flamboyant" and which he called "comfortable". He and the fourth of his five wives had matching Rolls-Royces. Mr. Tose flew to Eagles home games in a helicopter, was married aboard the liner Queen Elizabeth II and fed reporters filet mignon and shrimp cocktail.
After selling the Eagles
Edit
In 1991, the Sands Casino sued him for $1.23 million in gambling debts. He countersued, contending that the casino got him too drunk to know what he was doing. Eventually, the casino won. There was testimony from a cocktail waitress swearing that her job description was "to keep Mr. Tose's glass filled." A monogrammed glass, courtesy of the casino, which she kept filled with top-shelf scotch.
In the end, he lost it all, by his estimate more than $20 million at Resorts International and $14 million at the Sands. In 1996, on his 81st birthday, Tose was evicted from his seven-bedroom Villanova mansion after losing the house in a U.S. Marshal's sale.
In 1999, he told a congressional hearing on compulsive gambling that his losses totaled between $40 million and $50 million. He spent his last years alone in a downtown hotel room after his home in Philadelphia's upscale Main Line district was confiscated for unpaid taxes. Mr. Tose died in his sleep in the hospice wing of St. Agnes Medical Center in Philadelphia on April 15, 2003. He was 88. No cause of death was released. An obituary by Dan Dunkin captured his life: "To put Leonard Tose's life in football terms, he threw on every down."
References
Edit
↑ The Eagles Encyclopedia, by Ray Didinger with Robert S. Lyons, Temple University Press, 2005 ISBN 1-59213-449-1, pages 127–128}}.
Further reading
Edit
Community content is available under
CC-BY-SA
unless otherwise noted.