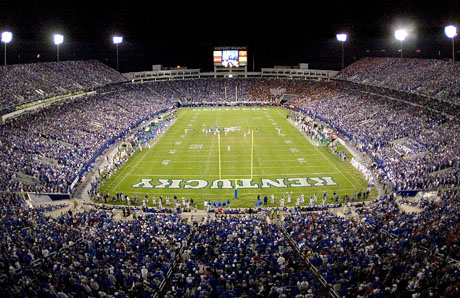 Kroger Field (formerly Commonwealth Stadium)
Kroger Field, formerly known as Commonwealth Stadium, is located in Lexington, Kentucky and serves as the home field for the Kentucky Wildcats.
There was one change for 2005 as a beautiful new Bermuda grass playing surface was installed. The playing area is titled C. M. Newton Field, named after the former UK director of athletics in 2001.
In 1999, both ends of the stadium were enclosed, along with the construction of 40 suites, 10 in each corner of the stadium. The total number of seats was increased to 67,606.
Additional features of the stadium expansion included two Mitsubishi Diamond Vision video boards, a new sound system, new scoreboards, additional restrooms and concession stands, and new concourse televisions.
The architect of the expansion was HNTB of Kansas City, Mo., and Turner Construction of Cincinnati, Ohio, managed the construction. A total of $27.6 million was allocated for the stadium project.
When constructed in 1973, Commonwealth Stadium had a capacity of 57,800. It was completed at a cost of $12 million by the firm of Huber, Hunt, and Nichols. The stadium and parking areas rest on an 86-acre plot that was once part of the UK Experimental Station Farm Grounds.
The stadium was officially opened on Sept. 15, 1973, as the Wildcats moved into their new home after spending 48 years at Stoll Field/McLean Stadium across from Memorial Coliseum. Kentucky defeated Virginia Tech in the stadium opener, 31-26, as quarterback Ernie Lewis ran for two touchdowns and threw for another TD to lead the Wildcats.
Since its opening, Kentucky has played 206 games within the friendly confines of Commonwealth Stadium. And indeed, a 107-95-4 record and a .529 winning percentage is evidence that Commonwealth is a home field advantage for the Wildcats.
Excellent attendance figures also have gone hand-in-hand with Kentucky football and Commonwealth Stadium. The Wildcats have averaged 56,527 fans in those 213 contests at Commonwealth Stadium. In fact, 12,040,330 spectators have witnessed Kentucky football at Commonwealth Stadium - that's almost three times the population of Kentucky.
The 10-millionth person to attend a UK football game came during the 2002 season opener against Texas-El Paso. The five-millionth person to attend a game at Commonwealth Stadium was Jack Crowe, who walked through the gate as number 5,000,000 on Oct. 3, 1987, as Kentucky played host to Ohio.
An enclosed press box, which seats 110 members of the media, is located between the decks of the stadium's west side. Included in the press box area are 10 private booths (three for VIPs), a photography deck, and two dining areas. The press box is serviced by two elevators.
On May 1, 2017, Cincinnati, Ohio-based grocery retail chain Kroger entered a 12-year, $1.85 million naming rights deal with Kentucky to change the name of Commonwealth Stadium to Kroger Field.