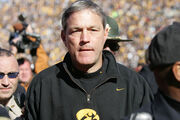 Kirk James Ferentz (born August 1, 1955) is an American football coach and former player. He is currently the head football coach at the University of Iowa, a position he has held since 1999. From 1990 to 1992, Ferentz was the head football coach at the University of Maine. He has also served as an assistant coach with the Cleveland Browns and Baltimore Ravens of the NFL. Ferentz played college football as a linebacker at the University of Connecticut from 1974 to 1976.
After playing football at Upper St. Clair High School in Pittsburgh, Pennsylvania, Ferentz played linebacker for the University of Connecticut. He was a football captain and an academic all-Yankee Conference linebacker at Connecticut. He served as a student assistant at Connecticut in 1977 and graduated in 1978. Ferentz spent his next two seasons as defensive coordinator at Worcester Academy, where he taught English literature. He then spent one season in 1980 as an assistant offensive line coach at the University of Pittsburgh. That Panther team, coached by Jackie Sherrill, finished with an 11–1 record and a number two national ranking.
Ferentz was the offensive line coach at the Iowa under Hall of Fame coach Hayden Fry for nine seasons, from 1981 to 1989. Eleven Hawkeyes coached by Ferentz went on to play in the NFL. Three of them were first round picks in the NFL draft, and five of his players were first team All-Big Ten selections.
Ferentz left Iowa to coach at the University of Maine in 1990. After three seasons of coaching the Black Bears to a combined 12–21 record, he was named the offensive line coach of the NFL's Cleveland Browns. Ferentz served under Bill Belichick in Cleveland and followed the franchise to Baltimore when they became the Baltimore Ravens.
On December 2, 1998, Ferentz was hired as Iowa's 26th head football coach to replace the retiring Hayden Fry. The team struggled during Ferentz's first two seasons with a combined 4–19 record, but the Hawkeyes earned their first bowl bid under Ferentz after a 7–5 season in 2001. They beat Texas Tech in the Alamo Bowl, 19–16.
The 2002 season would prove to be memorable for Ferentz and the Hawkeyes. The team finished the regular season with an 11–1 record; its only loss coming to Iowa St. They shared the Big Ten Conference championship with Ohio St, as both teams finished 8–0 in conference play. Quarterback Brad Banks won the Davey O'Brien Award for best quarterback and finished second in the Heisman Trophy balloting to Carson Palmer of USC. Tight end Dallas Clark was that season's John Mackey Award winner, and placekicker Nate Kaeding was the Lou Groza Award winner. Ferentz was named Coach of the Year by the Associated Press for his efforts. Iowa received its first-ever BCS invitation, losing to USC in the 2003 Orange Bowl, 38–17.
Despite losing several seniors to graduation, the Hawkeyes compiled a 9–3 regular season record in 2003. They defeated Florida 37–17 in the Outback Bowl on January 1, 2004, for their first January win since 1959. This earned the Hawkeyes a #8 national ranking in both the AP Poll and Coaches Poll at the end of the season. Offensive tackle Robert Gallery was that season's Outland Trophy winner; after the season, the Oakland Raiders chose him with the second overall pick in the 2004 NFL Draft.
Ferentz had to deal with multiple injuries to the Hawkeyes' running backs and the death of his father, John, during the 2004 season. Nevertheless, the Hawkeyes compiled a 9–2 regular season record, sharing the Big Ten Conference championship with Michigan after a 30–7 victory over Wisconsin on November 20. For the second time in three seasons, Ferentz was named the Big Ten Conference Coach of the Year. On January 1, 2005, they defeated LSU, 30–25, after a thrilling 56-yard touchdown pass from Drew Tate to Warren Holloway as time expired in the Capital One Bowl. This gave Ferentz his third straight ten-win season with the Hawkeyes and another #8 national ranking.
The Hawkeyes went 7–4 during the 2005 regular season. After early-season losses to Iowa State and Ohio State and close losses to Michigan and Northwestern, they finished the season with wins over Wisconsin and Minnesota to earn a second trip to the Outback Bowl to face Florida on January 2, 2006. This time, however, the Gators got a measure of revenge for their loss two years earlier, as the Hawkeyes lost to Florida, 31–24. Much was said about the officiating in this game, as there were 13 missed or bad calls made against the Hawkeyes that directly influenced the outcome. The NCAA made an official acknowledgment of this issue.
Iowa started the 2006 season strong, winning their first four games before losing to top-ranked Ohio State. After a 5–1 start, however, the Hawkeyes collapsed down the stretch, losing five of their last six games. Iowa suffered shocking losses to Northwestern and Indiana and lost rivalry games with Wisconsin and Minnesota. The Hawkeyes finished the regular season with a 6–6 record and accepted an invitation to the 2006 Alamo Bowl, Iowa's sixth straight bowl game. Playing as nine-point underdogs to defending national champions Texas, Iowa lost the Alamo Bowl by a score of 26–24.
In 2007, Ferentz' Hawkeyes started 2–4 and lost their first three conference games. An upset victory over Illinois ended a nine-game conference losing streak for Iowa, and the Hawkeyes closed out the Big Ten season by winning their last three conference games. However, a disappointing loss in the season finale to Western Michigan dropped the Hawkeyes' season record to 6–6. Though Iowa was bowl-eligible, the Hawkeyes did not receive a bowl bid, snapping Iowa's streak of six consecutive bowl appearances.
In 2008, Ferentz and the Hawkeyes started out strong with victories over his old team, Maine, Florida International, and rival Iowa State, but close losses to Pitt, Northwestern, and Michigan State left Iowa with a 3–3 record. Iowa then went on to win five of their next six games, including a 24–23 upset of #3 ranked and undefeated Penn State. After finishing the regular season at 8–4, Iowa accepted an invitation to the Outback Bowl where they defeated the South Carolina Gamecocks, 31–10.
The 2009 Hawkeye football team got off to the best start in school history. Narrow home victories over Northern Iowa and Arkansas State coupled with double digit road wins over Penn St and Wisconsin fueled a 7–0 start. Ferentz' 2009 Hawks became the first Iowa team to win eight games to start a season by winning at Michigan State, 15–13, with a touchdown pass on the final play of the game. After defeating Indiana to run their record to 9–0, the Hawks lost quarterback Ricky Stanzi to injury in an upset loss to Northwestern. Iowa then lost the de facto Big Ten championship game at Ohio St, 27–24, in overtime. The Hawkeyes shut out Minnesota, 12–0, to finish the regular season with a 10–2 record and were selected for their second BCS bowl game under Ferentz by being invited to the 2010 Orange Bowl. Iowa defeated Georgia Tech, 24–14, to earn the school's first BCS bowl win and their first victory in a BCS-level bowl since the 1959 Rose Bowl. Iowa finished with an 11–2 record that tied the school record for victories in a season and the Hawkeyes earned #7 rankings in both the AP Poll and Coaches Poll, their highest finish since the 1960 season.[2]
Pro football opportunities
[
edit
|
edit source
]
Many major college and NFL teams have considered Ferentz as a candidate for their head coaching jobs. However, Ferentz has publicly declined any interest in other coaching positions, opting to stay at Iowa. On February 12, 2009, Ferentz and Iowa athletics director Gary Barta agreed to a new contract extension that keeps Ferentz at Iowa until 2015.[3]
On January 2, 2006 the head coaches of five NFL teams, Green Bay, St. Louis, Houston, New Orleans, and Minnesota, were fired. There was renewed speculation that Ferentz would be offered a head coaching job with one of those professional franchises. But such speculation was soon put to rest when Ferentz stated that he was still happy with his job at Iowa, and that he had no plans to leave.[4]
On June 2, 2006, Ferentz became the highest paid coach in the Big Ten and third highest in college football when he was given a restructured contract that boosted his annual salary to $2.7 million.[5]
Following the 2006 NFL season, rumors circulated that Ferentz may have been in consideration for the Pittsburgh Steelers' head coaching job after Bill Cowher stepped down. However, before Cowher's departure, Ferentz was asked about his possible interest in the position, and stated: "I know that staff pretty well and they've got some good guys in that building. My guess is that's where they would go. But I'm not interested, and I doubt they are, either. I've got a great job right here."[6] The Steelers job eventually went to Mike Tomlin.
In 2008, Ferentz was again rumored to be a candidate for an NFL head coaching job, particularly as successor to Romeo Crennel for the Cleveland Browns.[7]
In January 2009, rumors surfaced citing Ferentz as a potential candidate to be hired as head coach in place of Herman Edwards soon after the hiring of former New England Patriots VP of Player Personnel Scott Pioli as the new GM of the Kansas City Chiefs. However, the Chiefs eventually hired Todd Haley, and Ferentz received a contract extension to remain at Iowa through 2015.
In December 2011, rumors again surfaced citing Ferentz as a potential candidate to be hired as head coach in place of Todd Haley.
Kirk and his wife, Mary, have five children. They are Brian (26), Kelly (24), Joann (22), James (20) and Steven (16). Brian was a starting offensive lineman on the 2005 Iowa football team and signed an NFL free agent contract with the Atlanta Falcons. James is in his third year with the Hawkeye program. Kelly is in graduate school at Iowa and Joann is an undergrad student.[8]
Ferentz is currently the highest paid state employee in Iowa, with an annual salary of $3.65 million plus bonuses. According to the Des Moines Register state-salary database, Ferentz earned a total of $3,174,999.96 during the fiscal year ending June 30, 2006.
Community content is available under
CC-BY-SA
unless otherwise noted.