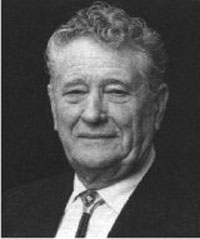 American Football League (AFL)
Joe Foss
Personal Information:
Born:
April 17, 1915 in Sioux Falls, South Dakota, U.S.
Died:
January 1, 2003
(aged 87) in Scottsdale, Arizona, U.S.
Career Information
Occupation(s)"
WWII fighter pilot, USMC and Air Force officer, Commissioner, American Football League (AFL), 1960-66
TV broadcaster and personality, Philanthropist
Education:
University of South Dakota, B.A. 1940, (Business Administration)
Family Information
Spouse:
June Shakstad, 1942-1959 (divorced)
Donna "Didi" Wild Hall, 1967-2003 (his death)
Children:
4
Military Service
Allegiance:
USA
Buried at:
Arlington National Cemetery, U.S.
Service/Branches:
1940–1946 (USMCR)
1946–1975 (USANG)
Rank Acheived:
Major (USMC)


Brigadier General (Air Force)

Units:
VMF-121, VMF-115
Wars/Battles:
World War II, Battle of Guadalcanal (1942-43)
Awards:
Congressional Medal of Honor
Distinguished Flying Cross
Joseph Jacob "Joe" Foss (April 17, 1915–January 1, 2003) was a decorated WWII war hero, a leading fighter ace of the United States Marine Corps during World War II and a 1943 recipient of the Medal of Honor, recognizing his role in the air combat during the Guadalcanal Campaign. In postwar years, he achieved fame as a General in the Air National Guard, the 20th Governor of South Dakota, and the first commissioner of the American Football League, as well as a career as a television broadcaster.
Early years
Edit
Born on a farm near Sioux Falls, South Dakota, as the oldest son of Olouse and Mary Lacey Foss, Foss grew up in a farmhouse without electricity. When he was 12, he visited a local airfield in Renner, South Dakota to see Charles Lindbergh on tour with his aircraft, the Spirit of St. Louis. Four years later, he and his father paid $1.50 apiece to take their first aircraft ride in a Ford Trimotor at Black Hills Airport with a famed South Dakota aviator, Clyde Ice.
In 1933, while coming back from the fields during a storm, his father died when he drove over a downed electrical cable and was electrocuted as he stepped out of his automobile.[1] Dropping out of school, young Foss, at the age of 17, with his mother, took over the running of the family farm.[2] Farming was made difficult by dust storms, which over the next two years took its toll on crops and livestock. After watching a Marine Corps aerial team, led by Capt. Clayton Jerome, perform aerobatics in open-cockpit biplanes, he was determined to become a Marine aviator. Foss worked at a service station to pay for books and college tuition, and to begin flight lessons from Roy Lanning, at the Sioux Skyway Airfield in 1938, scraping up $65 to pay for the instruction. His younger brother took over the management of the farm and allowed Foss to go back to school and graduate from Sioux Falls College.
While at the University of South Dakota (USD), along with other like-minded students, Foss convinced authorities to set up a Civil Aeronautics Authority flying course at the university; he built up 100 flight hours by graduation.[2]Foss paid his way through university by "bussing" tables. He joined the Sigma chapter of the Sigma Alpha Epsilon fraternity and excelled at sports in USD, fighting on the college boxing team, participating as a member of the track team and as a second-string guard on the football team. [3]Foss served as a Private in the 147th Field Artillery, Sioux Falls, South Dakota National Guard from 1937 to 1940. By 1940, armed with a pilot certificate and a degree in Business Administration, Foss hitchhiked to Minneapolis to enlist in the Marine Corps Reserves, in order to join the Naval Aviation Cadet program to become a Naval Aviator.[2]
World War II action
Edit
After being designated a Naval Aviator, Foss graduated at Pensacola, Florida and was commissioned as a second lieutenant, then served as a "plowback" instructor at NAS Pensacola. At 26 years of age he was considered too old to be a fighter pilot, and was instead sent to the Navy School of Photography. Upon completion of his initial assignment, he was transferred to Marine Photographic Squadron 1 (VMO-1) stationed at NAS North Island in San Diego, CA. Dissatisfied with his role in photographic reconnaissance, Foss made repeated requests to be transferred to a fighter qualification program. He checked out in Grumann F4F Wildcats while still assigned to VMO-1, logging over 150 flight hours in June and July, 1942, and was eventually transferred to Marine Fighting Squadron 121 VMF-121 as the executive officer. Although only 27, his squadron mates gave him the unflattering nickname of "Old Foos." While stateside, Foss married his high school sweetheart, first wife June Shakstad in 1942.
Guadalcanal
Edit
In October 1942, VMF-121 and its aircraft were sent to Guadalcanal as part of Operation Watchtower to relieve VMF-223, which had been fighting for control of the air over the island since their arrival in mid-August. [4] On October 9, Foss and his group were catapult launched off the USS Copahee escort carrier and flew 350 miles north to reach Guadalcanal.[5] The air group, code named "Cactus", based at Honiara International Airport/Henderson Field became known as the "Cactus Air Force", and their presence played a pivotal role in the Battle of Guadalcanal.[6] Foss soon gained a reputation for aggressive close-in fighter tactics and uncanny gunnery skills.[7][N 1] Foss shot down a Japanese Mitsubishi Zero on his first combat mission on October 13, but his own F4F Wildcat was shot up as well, and with a dead engine and three more Zeros on his tail, he landed at full speed, with no flaps and minimal control on the American-held runway at Guadalcanal, barely missing a grove of palm trees.[9]
As lead pilot in his flight of eight Wildcats, the group soon became known as Foss's Flying Circus, with two sections Foss nicknamed "Farm Boys" and "City Slickers."[7] Conditions in the jungle were extreme, and in December 1942, Foss was stricken with malaria. He was sent to Sydney, Australia for rehabilitation, where he met Australian ace Clive "Killer" Caldwell and delivered some lectures on operational flying to RAF pilots, newly assigned to the theater.[8] On January 1, 1943, Foss returned to Guadalcanal and "his boys," to continue combat operations which lasted until February 9, 1943, although the Japanese attacks had waned from the height of the November 1942 crisis.[10] In three months of sustained combat, Foss's Flying Circus had shot down 72 Japanese aircraft, including 26 credited to him. [11]Upon matching the record of 26 kills held by America's top World War I ace, Eddie Rickenbacker, Foss was accorded the honor of becoming America's first "ace-of-aces" in World War II.[12]
Foss returned to the United States in March 1943. On May 18, 1943, Foss received the Congressional Medal of Honor from President Franklin Delano Roosevelt. [11] The White House ceremony was featured in Life magazine, with the reluctant Captain Foss appearing on the magazine's cover.[13] He then was asked to participate in a war bond tour that stretched into 1944.[10]
Post WWII military career
Edit
In October 1945, Foss was ordered to Iowa to appear at Navy Day ceremonies in four cities there and was finally relieved from active duty in December 1945 but was retained in the Marine Corps Reserve on inactive duty until 1947. In 1946, Foss was appointed a lieutenant colonel in the South Dakota Air National Guard and instructed to form the South Dakota Air National Guard, becoming the commanding officer for the Guard's 175th Fighter-Interceptor Squadron. During the unit's formative years, Foss was actively involved in administration and flying with the squadron, even becoming a member of their North American P-51 Mustang air demonstration team.[14] During the Korean War, Foss, then a Colonel, was called to active duty with the United States Air Force and served as a Director of Operations and Training for the Central Air Defense Command; he eventually reached the rank of Brigadier General.[15]
American Football League commissioner (1960-66)
Edit
After serving as governor, Foss spent a short time working for Raven Industries before becoming the first Commissioner of the newly-created American Football League in 1959. He oversaw the emergence of the league as the genesis of modern professional football. During the next seven years, Foss helped expand the league and made lucrative television deals, including a five-year, $10.6 million contract with ABC in 1960 to broadcast AFL games. He then stepped aside as commissioner in 1966, two months before the historic agreement that led to the merger of the AFL and NFL and the creation of the Super Bowl.[16]
Television career
Edit
Drawing on a lifelong love of hunting and the outdoors, Foss hosted ABC television's The American Sportsman from 1964 to 1967, which took him all over the world for hunting and fishing excursions. Foss then hosted and produced his own syndicated outdoors TV series, The Outdoorsman: Joe Foss, from 1967 to 1974. In 1972, he also began a six-year stint as Director of Public Affairs for KLM Royal Dutch Airlines. [16]
Death and legacy
Edit
Foss suffered a severe stroke in October 2002 when he bled from a cerebral aneurysm. He died three months later on New Year's Day, 2003, never having regained consciousness. Foss died in Scottsdale, Arizona, where he and his wife had made their home in later years.[17][18][19] Vice President Dick Cheney, retired Colonel Oliver North and South Dakota native and NBC News anchor Tom Brokaw were among those who attended with North delivering the eulogy. Actor and close friend Charlton Heston gave a brief but powerful tribute to his old friend. Foss was buried at Arlington National Cemetery in Section 7A, Lot 162 on January 21, 2003. Family, friends, military personnel and dignitaries remembered him fondly at a service in Arlington and at an earlier "Memorial Service for an American Patriot" in the old chapel at nearby Fort Myer.[20]
The Joe Foss Institute
Edit
The Joe Foss Institute, which was founded by Foss and his wife Didi in 2001, was created to work with youth in schools and youth groups across the U.S. with an objective defend our freedoms in the future—encouraging & teaching democracy, patriotism, integrity, and public service. Sticking to its primary objective, through both public and private donations, the institute has awarded millions of dollars to deserving high-school students, and continues to aim for the goal of giving out $1,000,000 anually through essay and speech contests to those who apply and qualify.
References
Edit
External links
Edit
Community content is available under
CC-BY-SA
unless otherwise noted.