Joe Banner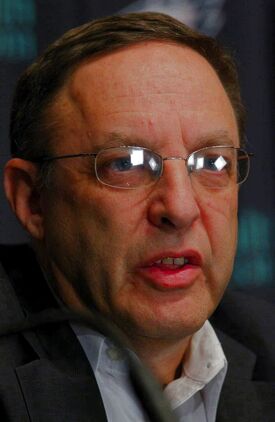 Cleveland Browns
Personal information
Born:
Joseph Banner on February 13 1953
Location:
Boston, Massachusetts, U.S.
Alma Mater:
Denison University, BA, Economics
Career information
Position(s) held:
Executive CEO, Cleveland Browns, 2012-present
NFL
*1994-1996 Philadelphia Eagles (executive assistant)
*1996-1997
Philadelphia Eagles (Senior Vice President)
*1997-2001 Philadelphia Eagles (Executive Vice President)
*2001-2012 Philadelphia Eagles (Team President)
*2012-present Cleveland Browns (Executive CEO)
Joseph "Joe" Banner (born February 13, 1953) is the current Chief Executive Officer of the Cleveland Browns and former Team President of the Philadelphia Eagles (2001–12).[1]
Pre-Football Career
Edit
Banner attended the Rivers School in Massachusetts and studied economics at Denison University in Ohio. In 1975, he spent a semester interning at WCAU 1210 AM radio in Philadelphia; soon after, he was hired there as a sports producer and reporter.[2]
Banner left WCAU when he opened a chain of clothing stores in Boston called Designer's Clothing. He then became Co-Chairman of the Board for the Greater Philadelphia chapter of City Year, a national non-profit organization promoting community service for youth.[2] [3]
Football Executive
Edit
In 1994 Banner began his work in professional football when Jeffrey Lurie, an old friend, purchased the Eagles.[2] He was promoted in 1996 to senior vice president,[4] and in 1997 from senior vice president of administration[5] to executive vice president.[6][7] In 2006, his contract was extended through 2010.[8] On April 1, 2010, his contract was extended three more years through 2013.[9] He changed positions on June 7, 2012, becoming the strategic adviser to team owner Lurie. Don Smolenski replaced Banner as president.[10]
In 2001, Banner received a "PARTNERS Leadership Award" from the University of Pennsylvania for his extensive community service, including volunteer activities reading to students in the Boston public schools and spending time with severely ill children in the Boston Children's Hospital.[11] He has also been heavily involved, in both Boston and Philadelphia, with City Year, a program based on volunteers who commit to a year of full-time volunteer work.[12][13][14][15]
In 2012, Banner was reportedly part of a group that was interested in purchasing the Browns.[16]
On October 16, 2012, Banner was announced as the new CEO of the Cleveland Browns by new Browns owner Jimmy Haslam III.[17]
References
Edit
External links
Edit
Community content is available under
CC-BY-SA
unless otherwise noted.