Jim Brown



Jim Brown in game vs Giants, 1963

Personal Information
Born:
February 17 1936
in St. Simons, Georgia, U.S., in
Died:
, in
Career information
Year(s)
1957–1965
NFL Draft
1957 / Round: 1 / Pick: 6
NFL Supplemental Draft
/ Pick:
High School
Manhasset (NY) High School
College
Syracuse
Professional teams
Career stats
Rushing yards/Receiving yards
12,312 yards rushing/2,499 Receiving Yards
Rushing average/Rushing TDs
5.2 Yards per rush/106 Rushing Touchdowns
Receptions/Receiving TDs
262 Receptions/20 Receiving TDs
Stats at NFL.com
Career highlights and awards
James Nathaniel "Jim" Brown
(born February 17, 1936) is an
American
former professional
football
player who has also made his mark as an actor. He is best known for his exceptional and
record-setting
nine-year career as a
running back
for the
NFL
Cleveland Browns
from 1957 to 1965. In 2002, he was named by
The Sporting News
as the greatest professional football player ever.
[1]
He is considered to be one of the greatest professional athletes the U.S. has ever produced.
[2]
Early life
Edit
James Nathaniel Brown was born to Theresa (a housekeeper) and Swinton Brown (a professional boxer).[3]
At Manhasset Secondary School, Brown earned 13 letters playing football, lacrosse, baseball, basketball and running track.[4] According to the New York Times:
Mr. Brown credits his self-reliance to having grown up on [St. Simons's island, an all-black community off the coast of Georgia where he was raised by his grandmother and where racism did not affect him directly. At the age of 8 he moved to Manhasset, N.Y., where his mother worked as a domestic. It was at Manhasset High School that he became a football star and athletic legend.[4]
He averaged a then-Long Island record 38 points per game for his basketball team. That record was later broken by future Boston Red Sox star Carl Yastrzemski of Bridgehampton, New York.[5]
College sports career
Edit
As a sophomore at Syracuse University, Brown was the second leading rusher on the team. As a junior, he rushed for 666 yards (5.2 per carry). In his senior year, Brown was a unanimous first-team All-American. He finished 5th in the Heisman Trophy voting, and set school records for highest rush average (6.2) and most rushing touchdowns (6). He ran for 986 yards—third most in the country despite Syracuse playing only eight games—and scored 14 touchdowns. In the regular-season finale, a 61–7 rout of Colgate, he rushed for 197 yards, scored six touchdowns and kicked seven extra points for 43 points (another school record). Then in the Cotton Bowl, he rushed for 132 yards, scored three touchdowns and kicked three extra points. But a blocked extra point after Syracuse's third touchdown was the difference as TCU won 28-27.[6]
Brown is a member of The Pigskin Club of Washington, D.C. National Intercollegiate All-American Football Players Honor Roll.
Perhaps more impressive was his success as a multi-sport athlete. In addition to his football accomplishments, he excelled in basketball, track, and especially lacrosse. As a sophomore, he was the second leading scorer for the basketball team (15 ppg), and earned a letter on the track team. His junior year, he averaged 11.3 points in basketball, and was named a second-team All-American in lacrosse. His senior year, he was named a first-team All-American in lacrosse (43 goals in 10 games to rank second in scoring nationally).[7]
Professional football career
Edit
Brown was taken in the first round of the 1956 draft by the Cleveland Browns.[8] He departed as the NFL record holder for both single-season (1,863 in 1963) and career rushing (12,312 yards), as well as the all-time leader in rushing touchdowns (106), total touchdowns (126), and all-purpose yards (15,549). He was the first player ever to reach the 100-rushing-touchdowns milestone, and only a few others have done so since, despite the league's expansion to a 16-game season in 1978 (Brown's first four seasons were only 12 games, and his last five were 14 games). Brown's record of scoring 100 touchdowns in only 93 games stood until LaDainian Tomlinson did it in 89 games during the 2006 season. Brown holds the record for total seasons leading the NFL in all-purpose yards (5: 1958–1961, 1964), and is the only rusher in NFL history to average over 100 yards per game for a career. Brown was also a superb receiver out of the backfield, catching 262 passes for 2,499 yards and 20 touchdowns. Every season he played, Brown was voted into the Pro Bowl, and he left the league in style by scoring three touchdowns in his final Pro Bowl game. Perhaps the most amazing feat is that Jim Brown accomplished these records despite never playing past 29 years of age. Brown's 6 games with at least 4 touchdowns remains an NFL record. LaDainian Tomlinson and Marshall Faulk both have five games with 4 touchdowns.
Brown led the league in rushing a record eight times.
"
He told me, 'Make sure when anyone tackles you he remembers how much it hurts.' He lived by that philosophy and I always followed that advice.
"

–John Mackey, 1999
Brown's 1,863 rushing yards in the 1963 season remain a Cleveland franchise record. It is currently the oldest franchise record for rushing yards out of all 32 NFL teams. While others have compiled more prodigious statistics, when viewing Brown's standing in the game his style of running must be considered along with statistical measures. He was very difficult to tackle (shown by his leading 5.2 yards per carry), often requiring more than one person to bring him down.[9]
Brown retired far ahead of the second-leading rusher and remains the league's eighth all-time leading rusher, and is still the Cleveland Browns all-time leading rusher.
Acting career
Edit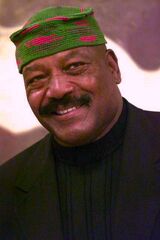 Brown began his career as an actor with an appearance in the film Rio Conchos in 1964, then played a villain in a 1967 episode of I Spy called "Cops and Robbers", went on to star in the 1967 war movie The Dirty Dozen (during the filming of which he announced his retirement from professional football), the 1970 movie ...tick...tick...tick..., as well as in numerous other features. Biographer Mike Freeman credits Brown with becoming "the first black action star", thanks to roles like the Marine captain he portrayed in the hit 1968 film Ice Station Zebra.[10]
In 1969, Brown starred in 100 Rifles with Burt Reynolds and Raquel Welch. The film was one of the first to feature an interracial love scene. Raquel Welch reflects on the scene in Spike Lee's Jim Brown: All-American. Brown acted with Fred Williamson in films such as 1974's Three the Hard Way, 1975's Take a Hard Ride, 1982's One Down, Two to Go, 1996's Original Gangstas and 2002's On the Edge. He also guest-starred in a handful of television episodes of various programs with Williamson. In 1998, he provided the voice of Butch Meathook in Small Soldiers. Perhaps Brown's most memorable roles were as Robert Jefferson in The Dirty Dozen, and in Keenen Ivory Wayans' 1988 comedy I'm Gonna Git You Sucka. Brown also acted in 1987's The Running Man, an adaptation of a Stephen King story, as Fireball. He played a coach in Any Given Sunday and also appeared in Sucker Free City and Mars Attacks!. Brown appeared in some TV shows including Knight Rider in the season 3 premiere episode Knight of the Drones. Brown appeared alongside football hero Joe Namath on The A-Team episode Quarterback Sneak.'[11]
Other post-football activities
Edit
Brown served as a color analyst on NFL telecasts for CBS in 1977-78.
In 1983, seventeen years after retiring from professional football, Brown mused about coming out of retirement to play for the Los Angeles Raiders when it appeared that Pittsburgh Steelers running back Franco Harris would break his all-time rushing record. Brown disliked Harris' style of running, criticizing the Steeler running back's tendency to run out of bounds, a marked contrast to Brown's approach of fighting for every yard and taking on the oncoming tackler. Eventually, Walter Payton of the Chicago Bears broke the record on October 7, 1984, with Brown having ended thoughts of a comeback. Harris himself, who retired after the 1984 season after playing eight games with the Seattle Seahawks, fell short of Brown's mark. Another Steeler running back, Jerome Bettis (whose running style more resembled Brown's), would later surpass Brown.
References
Edit
↑ Football's 100 Greatest Players: #1 Jim Brown. The Sporting News. Archived from the original on September 16, 2008. Retrieved on April 1, 2008.
↑ Article. Fighting Spirit Magazine (1993-11-12). Retrieved on 2010-12-18.
↑ Jim Brown Biography (1936-). filmreference.com. Retrieved on 2011-01-26.
↑ 4.0 4.1 Holden, Stephen. "FILM REVIEW; Jim Brown as Football Legend, Sex Symbol and Husband", The New York Times, March 22, 2002. Retrieved October 15, 2007.
↑ Bob Rubin. "Remember Jim Brown, lacrosse star?", The Miami Herald, November 25, 1983. Retrieved on June 1, 2008.

 

↑ The Cotton Bowl 1957. Mmbolding.com. Retrieved on 2010-12-18.
↑ Jim Brown NFL & AFL Football Statistics. Pro-Football-Reference.com (1936-02-17). Retrieved on 2010-12-18.
↑ Schwartz, Larry. "Jim Brown was hard to bring down", ESPN.com. Retrieved July 17, 2011.
↑ Freeman, Mike. Jim Brown: The Fierce Life of an American Hero, page 17 (HarperCollins 2007).
↑ Quarterback Sneak at IMDB
Community content is available under
CC-BY-SA
unless otherwise noted.