Gibbs Stadium

Location
429 North Church Street
Spartanburg, SC 29303
Broke ground
1995
Opened
October 5, 1996
Owner

Wofford College

Operator
Wofford College
Surface
Grass
Construction cost
$4.5 million
($

NaN

in

Template:Inflation-year

dollars[1])
Architect
McMillan Smith and Partners
General Contractor
M.B. Kahn Construction
Tenants
Wofford Terriers Football
Capacity
13,000
Gibbs Stadium is a 13,000-seat multi-purpose stadium in Spartanburg, South Carolina.[2] It opened in 1996 and is home to the Wofford Terriers football team. It is also the home to the Spartanburg High School varsity football team. It is home to the 30th largest college football scoreboard in the nation at 1,485 square feet (138.0 m2). It was named for the Gibbs family, long-time donors to Wofford, for their $1 million donation to build it.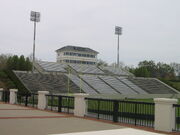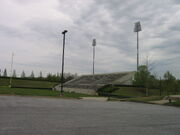 See also
List of NCAA Division I FCS football stadiums
References
External links