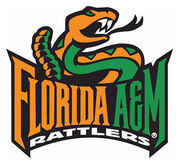 The
Florida A&M Rattlers football team
represents the Florida Agricultural and Mechanical University located in Tallahassee, Florida. The Rattlers are a member of the NCAA FCS
Mid-Eastern Athletic Conference
 and play their home games at Bragg Memorial Stadium in Tallahassee. The Rattlers are currently coached by Willie Simmons.
Florida A&M won the inaugural 1-AA (now FCS) national championship in 1978 when the NCAA divided Division 1 football into 1-A and 1-AA. In 2004, Florida A&M moved up to play as a 1-A independent, but the Rattlers returned to the 1-AA MEAC the following season.
Affiliations
Edit
Although a member of the Division II SIAC in 1978, Florida A&M successfully petitioned the NCAA to grant the team 1-AA status for the 1978 season.
| Season | Coach | Record |
| --- | --- | --- |
| 2019 | Willie Simmons | |
| 2018 | Willie Simmons | 6-5 |
| 2017 | Alex Wood | 3-8 |
| 2016 | Alex Wood | 4-7 |
| 2015 | Alex Wood | 1-10 |
| 2014 | Earl Holmes; Corey Fuller | 3-9 |
| 2013 | Earl Holmes | 3-9 |
| 2012 | Joe Taylor; Earl Holmes | 4-7 |
| 2011 | Joe Taylor | 7-4 |
| 2010 | Joe Taylor | 8-3 |
| Season | Coach | Record |
| --- | --- | --- |
| 2009 | Joe Taylor | 8-3 |
| 2008 | Joe Taylor | 9-3 |
| 2007 | Rubin Carter | 3-8 |
| 2006 | Rubin Carter | 7-4 |
| 2005 | Rubin Carter | 6-5 |
| 2004 | Billy Joe | 3-8 |
| 2003 | Billy Joe | 6-6 |
| 2002 | Billy Joe | 7-5 |
| 2001 | Billy Joe | 7-4 |
| 2000 | Billy Joe | 9-3 |
| Season | Coach | Record |
| --- | --- | --- |
| 1979 | Rudy Hubbard | 7-4 |
| 1978 | Rudy Hubbard | 12-1 |
| | | |
| | | |
| | | |
| | | |
| | | |
| | | |
| | | |
| | | |
External Links
Edit