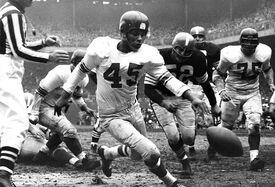 'Emlen Tunnell'
[[Image:|250px]]
Personal Information
Born
Emlen Lewis Tunnel
March 29, 1925 in
Bryn Mawr, Pennsylvania, U.S.
Died
July 22, 1975
(aged 50) in Pleasantville, New York, U.S.
Career information
Year(s)
1948–1961
Undrafted in 1948
College
Iowa
Professional teams

Playing career

Coaching/Executive career

Career stats
INTs
79
Interception return yards
1,282
TDs
4
Stats at NFL.com
Career highlights and awards
Emlen Lewis Tunnell (born March 29, 1925 - died July 22, 1975) was an American football player. He was the first African-American to play for the New York Giants,[1] and was inducted into the Professional Football Hall of Fame in 1967. He played in the National Football League for the Giants and Green Bay Packers. Tunnell played college football at the University of Iowa.
In 1999, Tunnell was ranked number 70 on The Sporting News' list of 100 Greatest Football Players.
Tunnell died of a heart attack on July 22, 1975.
Collegiate career
Tunnell joined the University of Iowa football team in 1946 after two years in the U.S. Coast Guard during World War II. He started as a quarterback, halfback and on defense during his two years as a Hawkeye. He led the team in passing in the 1946 season and receiving during the 1947 season. Tunnell quit the team before the 1948 season in order to join the New York Giants.
National Football League career
Tunnell played 14 years in the National Football League. He played his first 11 years with the New York Giants and the last three years with the Green Bay Packers. He was a nine-time Pro Bowl selection. He ended his career with a record 79 interceptions (since surpassed by Paul Krause).[2] He was elected as the first African-American in the Pro Football Hall of Fame in 1967.[3] He became a scout and assistant coach with the Giants, where he died from an heart attack during a practice section in 1975. Tunnell began his pro career by hitchhiking across the country from Iowa to New York City to meet Jack Mara, son of Giants founder Tim Mara and ask to try out for the team.[4] In his Hall of Fame induction speech, Tunnell thanked the West Indian banana-truck driver who dropped him off near this Polo Grounds "appointment."[5]
References
Notes
Tunnell, Emlen and William Gleason, "Footsteps of a Giant", Garden City, NY: Doubleday and Company, 1966. Library of Congress number 65-19776. Tunnell's autobiography.
Footsteps of a Giant, 1966, Hardcover, 1st edition, 108 pages, Doubleday Publishing, New York City, ISBN B0007DZSNY, QID 1326651316.
External links
Community content is available under
CC-BY-SA
unless otherwise noted.