Edward Orgeron Jr. (born July 27, 1961)[1][2][3] is an American college football coach who is currently head coach for the LSU Tigers. Orgeron previously served as the head football coach of the Mississippi Rebels from 2005 to 2007. He was also the interim head coach at USC in 2013. Prior to becoming LSU's head coach in 2016, Orgeron served as their DL coach. His nickname is Coach O.[4]
Early years and playing career
Born to Edward "Be Be" Orgeron Sr. (d. 2011) and Cornelia "Co Co" Orgeron, Ed and his brother Stephen grew up in Larose, a town on the Bayou Lafourche in Lafourche Parish, Louisiana.[2] He is of Cajun descent. Orgeron attended South Lafourche High School in Galliano, Louisiana with former Michigan Panthers, New Orleans Saints, and Atlanta Falcons quarterback Bobby Hebert. Orgeron and Hebert played on the school's Class 4A state championship team in 1977. Orgeron then signed to play college ball at Louisiana State University, but he transferred to Northwestern State University in Natchitoches, Louisiana, after one practice.
Coaching career
Orgeron began coaching in 1984 as a graduate assistant at Northwestern State and the following year coached at McNeese State in Lake Charles, Louisiana. He then served two years as an assistant strength coach under Ken Hatfield at Arkansas. In 1988 he began his time with the Miami (FL) Hurricanes under Jimmy Johnson and Dennis Erickson, spending four of those as Defensive Line Coach, where he coached eight All-Americans, including NFL first rounders Cortez Kennedy, Russell Maryland and Warren Sapp. While he coached there, Miami won two national championships (1989 and 1991). During this time that Orgeron successfully recruited a young Dwayne Johnson to play defensive line for the Hurricanes.[5]
"Yes [my dismissal was necessary]. It led to a turnaround in my lifestyle. That's
something that had to be done in my life, where I just [could feel] comfortable
with what I'm doing today." - Ed Orgeron on his 1992 dismissal by Miami.[6]
Starting in 1991, a series of personal problems began to affect his career at Miami: a Dade County woman filed a restraining order accusing him of repeated violence and in July 1992, Orgeron was arrested for his part in a bar fight in Baton Rouge, Louisiana; Orgeron acknowledged he had been intoxicated that night and grew angry when not allowed inside to retrieve his credit card.[6] In October of 1992, Orgeron took a leave of absence from Miami for personal reasons; the departure was permanent and he was replaced by assistant Randy Shannon.[7] Taking a time off from coaching, Orgeron worked on his personal life: the permanent injunction was rescinded and felony second-degree battery charges were dropped.[6] He stayed with his parents in Larose, and credits his father for helping him get his life in order.[8]
Orgeron returned to the college ranks in 1994, taking a volunteer position at Nicholls State where he coached linebackers.[8] The following year he joined Paul Pasqualoni's staff at Syracuse where he coached defensive line for three years.[9][6] Orgeron credits Pasqualoni for taking a chance on him after his earlier personal issues and helping him develop as a coach both on and off the field.[8]
USC (1998-2004)
In 1998, he was hired by offensive guru Paul Hackett, the newly hired head coach of the University of Southern California, to coach the Trojans defensive line. After Hackett was fired in 2000, Orgeron was one of a handful of coaches retained by Pete Carroll, a defensive specialist. The two met during a high school football game while Carroll was still only a job candidate and found a connection in their passion for recruiting.[10] During the Carroll years, USC went through a very successful seasons including two Associated Press National Championships; Orgeron took on the added responsibility of recruiting coordinator for the Trojans in 2001, and was then named assistant head coach in 2003.[6] Orgeron was the National Recruiter of the Year in 2004, also the same year he was hired at the University of Mississippi (Ole Miss) after the school's firing of David Cutcliffe.[10]
Mississippi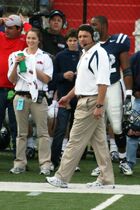 Entering the 2005 season, Orgeron had hoped to run a USC-style offense, but was met with limited success. Mississippi's (Ole Miss') offense finished the season ranked 111th out of 117 Division I-A teams in total offense, 115th in scoring and 116th in rushing. Though Orgeron's defensive experience, along with returning LB Patrick Willis, helped the Rebel defense in 2005, the offense always seemed to produce more interceptions than touchdowns. As a result, the 2005 Mississippi football team struggled and finished the season with a record of three wins and eight losses, the worst for the Rebels since 1987.
In response to the results of his first season, Orgeron fired offensive coordinator Noel Mazzone,[11] replacing him with former University of Miami offensive coordinator Dan Werner.[12] Also, Orgeron hired Art Kehoe, the longtime offensive line coach from the University of Miami. Werner and Kehoe had just been fired from Miami. In 2006 with the new offensive coordinator and offensive line coaches, Mississippi finished ranked #108 in scoring offense, #111 in total offense and #112 in passing offense.[13] Orgeron's second recruiting class in February 2006 was successful by acquiring the written pledges of a national Top 15 signing class for the Mississippi football program.[14] He followed that with the 32nd ranked recruiting class in February 2007.[15]
At Ole Miss, Orgeron recorded only two wins against teams with a winning record (the 2005 and 2007 Memphis teams, which both finished at 7-5), lowest among then-active SEC coaches. Until the 2007 season, he enjoyed the public support of The University of Mississippi's chancellor Robert Khayat and other administrators with oversight of the football program, including Athletic Director Pete Boone. In a November 2006 article in The Clarion-Ledger, Khayat said of Orgeron and of the poor record since he was hired (7–14 when that interview was conducted), "I think Coach Orgeron inherited a very difficult situation....I am 100 percent behind him, and I think that people ought to understand that he has a big challenge.
In 2007, Mississippi finished the season 0-8 in the conference and 3-9 overall. It was Ole Miss's first winless campaign in the SEC since 1982. On November 24, 2007, after Ole Miss blew a 14-point fourth-quarter lead to in-state rival Mississippi State in the season's last game, Orgeron was fired as head football coach of Mississippi. He was replaced by former Arkansas head coach Houston Nutt who had resigned from Arkansas three days after Orgeron was fired.
New Orleans Saints and Tennessee
On January 23, 2008 it was announced that Orgeron had been hired as the Saints new defensive line coach.[16]
On December 31, 2008, Orgeron accepted a position with the Tennessee Volunteers football program under new head coach Lane Kiffin. In his role with the program, he was the associate head coach, the recruiting coordinator and the defensive line coach.[17]
USC (2010-present)
Orgeron left Tennessee and returned to USC with Kiffin on January 12, 2010. It was announced on September 29, 2013, that Orgeron would be the interim coach of the Trojans for the rest of the 2013 season after the firing of Kiffin.[18]
In media
Orgeron appears as himself in the 2009 film The Blind Side as Mississippi's head coach, taking Michael Oher out to dinner. In 2005, Orgeron had won an intense recruiting battle for Oher. Director John Lee Hancock contacted Orgeron about playing himself, despite having been fired by Ole Miss previous to the filming of the movie; Orgeron agreed and impressed the filmmaker with his enthusiasm.[19]
In 2006, Bruce Feldman, then a senior writer at ESPN The Magazine, was allowed in-depth access to the Ole Miss program for a book about the recruiting process at a big-time college football program. The result was 2007's Meat Market: Inside the Smash-Mouth World of College Football Recruiting, a book filled with anecdotes about Orgeron, which The New York Times described as "one of the most insightful books ever written about college football."[20]
Personal life
Orgeron is known for his strong, gravelly voice, Cajun accent, and intensity while coaching.[6][8] In 2006, during his time at Ole Miss, he was parodied in a popular internet video titled "Colonel Reb is Cryin'".[21]
Orgeron was previously married to Colleen Orgeron.[7] He met his second wife, Kelly, at the 1996 Liberty Bowl and the couple has three children.[6] On his second tenure at USC starting in 2010, Orgeron lived in a hotel across the street from the campus while his wife and children made their home in Louisiana and he returned home frequently.[4]
Head coaching record
References
↑ Orgeron to finalize deal with Rebels. ESPN (December 15, 2004). Retrieved on

September 29, 2013

.
↑ 2.0 2.1 Edward Orgeron. Houma Courier (October 18, 2011). Retrieved on

September 29, 2013

.
↑ Ed Orgeron. USC Trojans. Retrieved on

September 29, 2013

.
↑ 4.0 4.1 Gary Klein, Ed Orgeron is ready for his leading role as USC's interim coach, Los Angeles Times, September 30, 2013, accessed October 1, 2013.
↑ Dan Friedell, How good was The Rock at football?, ESPN The Magazine, December 12, 2012, accessed October 2, 2013.
↑ 6.0 6.1 6.2 6.3 6.4 6.5 6.6 Randy Mell, After Um, Orgeron Turned Life Around, Sun-Sentinel, December 31, 2004, accessed September 29, 2013.
↑ 7.0 7.1 Randy Mell, Defensive Line Coach Gets Leave Of Absence, Sun-Sentinel, October 27, 1992, accessed September 29, 2013.
↑ 8.0 8.1 8.2 8.3 Bud Poliquin, Poliquin: Ed Orgeron, the former Syracuse football aide, will long admire his old boss, Paul Pasqualoni, The Post-Standard, September 15, 2011, accessed September 29, 2013.
↑ 10.0 10.1 David Wharton, USC's Ed Orgeron is a rah-rah recruiter, Los Angeles Times, February 1, 2011, accessed September 29, 2013.
↑ Bruce Feldman (2008-12-31). Orgeron accepts associate head coach job at Tennessee. ESPN.com. Retrieved on

2009-01-01

.
↑ USC tabs Ed Orgeron as interim coach after Kiffin fired. USA Today. Retrieved on

29 September 2013

.
↑ Schlabach, Mark (June 29, 2009). Prominent coaches turn actors for film. ESPN. Retrieved on

July 1, 2009

.
↑ Pete Thamel, Book Review: Meat Market, The New York Times, November 6, 2007, accessed September 29, 2013.
↑ Glenn Guilbeau, Ole Miss coach shows his sense of humor, Shreveport Times, November 16, 2006, accessed September 29, 2013.
External links