Dick LeBeau
Pittsburgh Steelers
Defensive coordinator
Personal information
Date of birth:
September 9 1937
Place of birth:
London, Ohio
Career information
Overall record:
12-33
Championships
2
Career:
1973-present
Career history
Career highlights and awards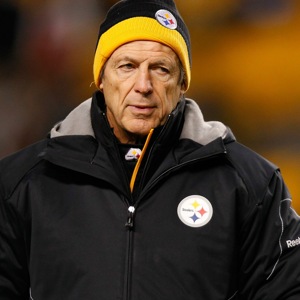 Charles Richard "Dick" LeBeau (born September 9, 1937) is a National Football League Hall of Fame defensive back and football coach. He is currently the Pittsburgh Steelers' defensive coordinator and is considered to be one of the greatest defensive coordinators of all time. He spent 14 years in the NFL as a player with the Detroit Lions and is in his 37th year as a coach.[1][2] Considered an "innovator" and "defensive football genius",[3][4] LeBeau created the "zone blitz" when he was defensive coordinator of the Cincinnati Bengals in the late 1980s.
On February 6, 2010, LeBeau was selected into the 2010 class of the Pro Football Hall of Fame. The entire 2010 Pittsburgh Steelers team was in attendance at the induction ceremony.
Biography
Edit
Playing career
Edit
LeBeau attended Ohio State University playing for famed coach Woody Hayes, and was on the 1957 national championship team, playing at cornerback and halfback. Also in 1957, playing both sides of the ball, he scored two touchdowns as Ohio State came back to beat Michigan 31–14.
He was initially drafted in the fifth round in 1959 by the Cleveland Browns but was cut from their team, and was signed as a rookie free agent by the Detroit Lions. He spent his entire 14 year NFL career in Detroit and was teamed with NFL Hall of Fame players Dick "Night Train" Lane, Yale Lary, and Lem Barney as part of a Detroit secondary that was one of the most feared in the NFL. Johnny Unitas always had respect for him, stating, "Dick is a good corner, I am just glad Night Train Lane is gone, because there was a great corner, Night Train was the best".
Lebeau is widely considered to be one of the greatest defensive backs in Detroit history. From 1959–72, he recorded 62 interceptions for 762 yards and three touchdowns. His 62 interceptions are the most by a player in Lions' history, and he is tied for seventh all-time in NFL history. His 762 interception return yards ranks third all-time in team history.
LeBeau was also one of the most durable players in the league. From 1959–72, he played in 185 games – placing him fourth on Detroit's all-time list. He is third all-time for most seasons played (14) and holds the NFL record for consecutive appearances by a cornerback with 171. He also recovered 9 fumbles, returning them for 53 yards and a touchdown.
During his career, he earned three trips to the Pro Bowl (1965–67). In 1970, LeBeau established a career-high nine interceptions (tied for sixth on the team's all-time single-season interceptions list). He was a major defensive contributor to the Lions finishing with a 10–4 record that season. The Lions finished second in the NFC Central and earned a berth in the playoffs.
In 2010, LeBeau was voted into the Pro Football Hall of Fame along with running back Floyd Little.[5][6]
LeBeau was honored by the Lions and inducted into the Pride of the Lions in 2010.
Coaching career
Edit
Dick LeBeau is arguably the best ever to coach defense. … He has done it on such a consistent basis over a long period of time. -Ron Jaworski, ESPN analyst and former NFL quarterback.[7]
After retirement as a player, LeBeau became an NFL coach. The following teams hired him as an assistant:
He started his coaching career with the Philadelphia Eagles as a special teams coach under coach Mike McCormack, he spent 3 seasons in Philadelphia. In 1976, LeBeau coached the defensive backs for the Green Bay Packers under Pro Football Hall of Fame QB Bart Starr, in his first season Willie Buchanon, Johnnie Gray, Steve Luke and Perry Smith combined for 10 interceptions. In 1977 Mike C. McCoy replaced Smith and that quartet combined for 11 interceptions. In 1979 Estus Hood replaced Buchanan and the secondary combined for another 11 interceptions. In 1980, he became the Cincinnati Bengals defensive backfield coach and in that season his starting secondary intercepted 7 passes.
In 1981, Cincinnati had an outstanding defense that had not given up more than 30 points in any of their regular season or playoff games. Their line was anchored by defensive ends Ross Browner and Eddie Edwards, who did a great job stopping the run. Cincinnati's defense was also led by defensive backs Louis Breeden and Ken Riley, and Linebackers Bo Harris, Jim LeClair, and Reggie Williams, who intercepted four passes and recovered three fumbles. Bengals intercepted 19 passes for 318 yards and also recorded 41 total sacks. The Bengals played in their first AFC Championship Game defeating San Diego 27–7, limited a San Diego offense – which featured three future members of the Pro Football Hall of Fame: quarterback Dan Fouts, receiver Charlie Joiner, and tight end Kellen Winslow; the offense also featured two superb running backs, Chuck Muncie, who led the NFL with 19 touchdowns, and multi-talented rookie James Brooks – to only 7 points at Riverfront Stadium in a temperature of nine degrees below zero with a wind-chill factor of minus 59. In Super Bowl XVI, the Bengals trailed 20–0 at halftime and lost to San Francisco, 26–21. Even though he was only the secondary coach, he had a great influence on the Bengals overall defense.
In 1984 LeBeau was promoted to be the Bengals defensive coordinator. He did very well, rarely allowing over 30 points in a game to an opponent. In 1984, his first season as defensive coordinator, the Bengals dropped from the top ranked defense in 1983 (when they coordinated by Hank Bullough) to 13th in 1984 and allowed only 339 points all season. In 1985 they dropped from 13th to 22nd but Dick LeBeau's zone blitz scheme was doing very well. The next season, 1986, improved cutting points allowed to 394 and finishing as the 20th ranked defense in the NFL. In 1987 they did even better, cutting the points allowed to 370.
In 1988, the Bengals defense ranked 17th in the league, allowing 5,556 yards and 329 points during the regular season. Cincinnati had a superb defensive line, led by pro bowl defensive tackle Tim Krumrie, along with linemen Jim Skow (9.5 sacks), David Grant (5 sacks), and Jason Buck (6 sacks). Pro Bowl defensive backs Eric Thomas and David Fulcher (the world's biggest free safety) combined for 12 interceptions. The team ended up winning the AFC Central Division with a 12–4 record. Bengals lost Super Bowl XXIII against San Francisco 49ers for the second time in franchise history. The following season, 1989, the Bengals defense was 15th in the NFL, an improvement of 2 spots and were in the top half of NFL defenses due to LeBeau's scheme. In 1990 and 1991 the Bengals defense ranked 25th and 28th of 28 teams and the Bengals made a change in defensive coordinators.
LeBeau was hired by the Pittsburgh Steelers in 1992 as the secondary coach. In 1994, 4 defensive players were called to play in the 1995 Pro Bowl (Kevin Greene, Carnell Lake, Greg Lloyd and Rod Woodson). As a secondary coach Lake and Woodson were heavily influenced by LeBeau.
In 1995 LeBeau was promoted to be the defensive coordinator and the 1995 Pittsburgh defense ranked third in the league in total yards allowed after they had finished as the second ranked defense in 1994 in that same category, so the drop off was minimal with LeBeau at the helm. They did allow 327 points in 1995 as opposed to 234 the year before when the Steelers defense was coordinated by Dom Capers, but they got to the Super Bowl in 1995 with a much improved offense. Pro Bowl linebacker Kevin Greene led the team with 9 sacks, while Pro Bowl linebacker Greg Lloyd led the team with 86 tackles. The secondary was led by Pro Bowl defensive backs Carnell Lake and Hall of Famer Rod Woodson. The Steelers lost against the Dallas Cowboys in Super Bowl XXX, making it the third Super Bowl lost for him.
In 1997 LeBeau took a lateral move as defensive coordinator of the Cincinnati Bengals. The Bengals defense was 25th in 1996 and in his first year back with the Bengals they only dropped to 28th and allowed just over 400 points. In 1998 they didn't drop at all, remaining 28th in the NFL (of 30 teams) and allowed 452 points. In 1999 the zone blitz scheme began to take hold and although the Bengals defense allowed 460 points, they dropped to 25th on the NFL (out of now 31 teams) an improvement of 3 spots.
LeBeau was rewarded with the head coach position of the Cincinnati Bengals for three seasons, from 2000 through 2002. In those years the Bengals' zone blitz scheme was becoming more dominant. In 2000 the Bengals defense improved and got to 22nd in the NFL. In 2001 they allowed only 309 points and in 2002 they were ranked 17th in the NFL, although they did allow slightly more points (456).
Despite LeBeau's considerable defensive coaching talent, his head coaching stint was unsuccessful, and his teams finished 4–9, 6–10 and 2–14, respectively, in his three seasons. His overall record as a head coach stands at 12–33. In 2003 LeBeau was an assistant with the Buffalo Bills. LeBeau then went back to the Steelers in 2004.
"It was a thought process kind of born out of necessity. It was basically an outcropping of the run-and-shoot [offense] that was becoming pretty prevalent in the league back then. We were in the same division as Houston, and they were tremendous at it with Moon and Co. Then the West Coast offense was spreading throughout the league. Those were all quick-rhythm, get-the-ball-out-of-your-hands-and-cut-up-the-defense types of passing games. We were just looking for ways to get pressure without exposing our defensive backs to have to cover the whole field all of the time."
- Dick LeBeau, on the origin of the 'zone blitz'.[1]
As an assistant coach he is credited with inventing the "Fire Zone" or "zone blitz" defense, which employs unpredictable pass rushes and pass coverage from various players.[8] His defenses typically employ 3–4 sets, with any of the 4 linebackers and frequently a defensive back among the pass rushers, while defensive linemen may drop back into short pass coverage zones to compensate for the pass rush coming from other positions. The design is intended to confuse the opposition's quarterback and frustrate its blocking schemes, as the offense may be unsure on each play of which defenders will rush the passer and which will drop into coverage. While often described as a "blitzing" scheme (implying more than the typical number of four pass rushers used by most defenses), the call on any particular "zone blitz" play may involve only three or four pass rushers but from unpredictable positions and angles. Although widely considered a defensive innovator, his stint as the head coach of the Cincinnati Bengals was unsuccessful.[9]
LeBeau is beloved among his players, many of whom refer to him as "Coach Dad." Steelers players have given him many gifts, including a Rolex watch.[10]
LeBeau was named "Coordinator of the year" by the Sporting News for the 2008 season.[11]
Personal life
Edit
LeBeau acted in the 1970 movie Too Late the Hero, where he played Michael Caine's double in a scene.[12] LeBeau is said to regularly recite A Visit from St. Nicholas by heart to his players every holiday season.[13] LeBeau credits his London High School Coach Jim Bowlus with influencing him to taking up coaching after his playing years ended. LeBeau says seeing the effect that coach Bowlus had on him and his teammates clinched it for him at that point.
References
Edit
↑ 1.0 1.1 Domowitch, Paul. "Unassuming LeBeau has respect of blitzing Steelers defense", Philadelphia Daily News, 2009-01-28.

 

↑ Brubach, Holly. "After the Zone Blitz, the Deadpan Defense", The New York Times, 2009-01-08.

 

↑ Gosselin, Rick. "Steelers' LeBeau deserves spot in Hall of Fame", Dallas Morning News, 2009-01-30.

 

↑ Kragthorpe, Kurt. "Steelers' LeBeau knows defense", Salt Lake Tribune, 2009-01-29.

 

↑ Bouchette, Ed. "LeBeau elected to football Hall of Fame", Pittsburgh Post-Gazette, 2010-02-07.

 

↑ Klis, Mike. "Floyd Little elected to Pro Football Hall of Fame", Denver Post, 2010-02-07.

 

↑ Mihoces, Gary. "The puppet master: LeBeau's X's and O's fuel Steelers' run", USA Today, 2009-01-15. Retrieved on 2010-05-01.

 

↑ Svrluga, Barry. "Steelers' LeBeau Earns Respect of Former Teammates and Current Players", The Washington Post, 2009-01-18. Retrieved on 2010-05-01.

 

↑ Cook, Ron. "The type of thing that makes a grown man cry", Pittsburgh Post-Gazette, 2008-11-30.

 

↑ Coordinator of the year: Dick LeBeau, Steelers. Retrieved on 2009-01-21.
↑ Steelers innovator Dick LeBeau never shows his age. Retrieved on 2009-02-01
External links
Edit
Community content is available under
CC-BY-SA
unless otherwise noted.