De'Anthony Thomas

Oregon Ducks

—

No.

6
Running back
Date of Birth: January 5 1993
Place of Birth: Los Angeles, California
Height: 5 ft 9 in (1.75 m)
Weight: 173 lb (78 kg)

Career Highlights and Awards

Career History

 Teams: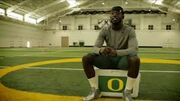 De'Anthony Marquies Thomas (born January 5, 1993) is an American college football running back. He is a student at the University of Oregon and plays on its football team, the Oregon Ducks.[1] He previously attended Crenshaw High School in Los Angeles, California, where he played running back, defensive back, and wide receiver.
Thomas rushed for 1,299 yards and 18 touchdowns on offense and collected five interceptions on defense, while leading Crenshaw (12-2) to its second straight city championship.[2] Regarded as a five-star recruit by Rivals.com, Thomas was listed as the No. 1 athlete prospect in the class of 2011.[3]
Thomas is also a sprinter, with a personal best of 10.57 seconds in the 100 meters and 20.61 seconds in the 200 meters.
When Thomas was 12 years old, he played for the Crenshaw Bears in Snoop Dogg's Snoop Youth Football League. Snoop Dogg claims to have given Thomas the nickname "Black Mamba",[4] although Sports Illustrate has written that another coach in the league first identified Thomas to Snoop Dogg as the "Black Mamba".[5] Thomas himself prefers the spelling "Black Momba".[4]
Thomas had a standout 2011 season as a true freshman for Oregon. He amassed a staggering 2,235 all-purpose yards, while his season haul of 18 touchdowns set the school record for number of touchdowns by a true freshman.
On January 2, 2012, Thomas turned in a stellar two touchdown, 314 all-purpose yard performance in the Rose Bowl that helped propel Oregon to a 45-38 victory over Wisconsin. In that game, his 91-yard touchdown run broke the previous Rose Bowl record for the longest run from scrimmage. His only other carry in that game resulted in a 64-yard score, giving him a 77.5 yard average for the day.
He is on many Heisman watch lists ahead of the 2012 season.
Community content is available under
CC-BY-SA
unless otherwise noted.