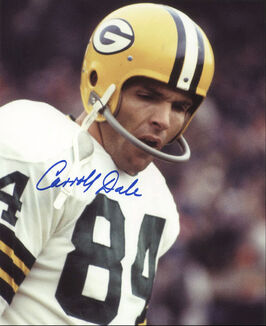 Carroll Wayne Dale (born April 24, 1938 in Wise, Virginia) is a former American football wide receiver. He played college football at Virginia Tech from 1956–59. Dale was named second-team All American in 1958 and 1959.
After college, Dale was drafted by the Los Angeles Rams where he played for five years. In 1965, Dale was traded to the Green Bay Packers. Dale played as part of the champion Packers in Super Bowl I and Super Bowl II. Dale retired from the National Football League in 1973, having amassed 438 receptions for 8,277 yards and 52 touchdowns.
Dale was inducted into the Virginia Sports Hall of Fame in 1976, Packers Hall of Fame in 1979 and into the College Football Hall of Fame in 1987.
Carroll Dale Stadium, the football stadium of Dale's alma mater, J. J. Kelly High School, is named for him.
Dale currently resides in Wise, Virginia, where he serves as Asst. Vice Chancellor for Athletic Development at the University of Virginia's College at Wise.
Community content is available under
CC-BY-SA
unless otherwise noted.