Newton during Carolina Panthers pre game warm up in Sept 2017
No. 1 – New England Patriots
Position:
Quarterback
Personal information
Date of birth:
May 11 1989
Place of birth
Atlanta, Georgia
Height: 6 ft 5 in (1.96 m)
Weight: 245 lb (111 kg)
National Football League Debut
2011 for the Carolina Panthers
Career information
High school:
Westlake (Georgia)
College:
Florida (2007-2008)
Blinn College (2009)
Auburn (2010)
NFL Draft:
2011 / Round: 1 / Pick: 1st
Career history
Career highlights and awards

3× Pro Bowl (2011, 2013, 2015)
First-team All-Pro (2015)
NFL Most Valuable Player (2015)
NFL Offensive Player of the Year (2015)
Bert Bell Award (2015)
NFL Offensive Rookie of the Year (2011)
BCS national champion (2010)
SEC champion (2010)
Heisman Trophy (2010)
Maxwell Award (2010)
Walter Camp Award (2010)
Davey O'Brien Award (2010)
AP College Player of the Year (2010)
Sporting News College Player of the Year (2010)
Consensus All-American (2010)
First-team All-SEC (2010)

Player stats at NFL.com
Cameron Jerrell "Cam" Newton (born May 11, 1989[1]) is a current American football quarterback for New England Patriots. He was drafted as the first overall pick by the Panthers in the 2011 NFL Draft. He played college football for the Auburn Tigers. Newton is the son of Cecil Newton, Sr., who played strong safety for two seasons with the Dallas Cowboys[2] and the younger brother of Cecil Newton, Jr., a center in the NFL.[3]
Newton was initially a member of the Florida Gators before transferring to Blinn College, where his team won a national junior college football championship. Newton was then recruited by head coach Gene Chizik of Auburn University and transferred once more. He became just the third player in major college football history to both rush and pass for 20 or more touchdowns in a single season. His performance earned him the Heisman Trophy as the most outstanding college football player, despite a major controversy concerning his eligibility that embroiled the second half of the season, and led Auburn to their second national championship in school history.
Newton was born in College Park, Georgia to parents Cecil Newton, Sr. and Jackie Newton. He attended Camp Creek Middle School for junior high school.[4] In 2003, he attended Westlake High School in Fulton County, Georgia, where he starred in football and basketball.[4] Former Westlake football coach Dallas Allen started hearing about Newton's throwing ability and the freshman coaches told Allen that Newton needed to be moved from the freshman team to the varsity.[5] The freshman coaches eventually persuaded Allen to attend a Thursday night game, where he was impressed by Newton's arm and pocket presence and move him up to varsity for the playoffs.[5] In his sophomore year, the team's starting quarterback broke his finger and in his first game, Newton and his center, brother Cecil Jr., fumbled a snap late in the game that the other team recovered and ran out the clock.[5] When the teams starting quarterback was healthy again, Newton returned as the back-up quarterback.[5]
In 2005, as a junior, Newton grew three inches and gained 15 pounds, sprouting to 6'3" and 205 pounds.[5] He ran for 638 yards with 9 touchdowns and threw for 2,500 yards, completing 118 out of 189 pass attempts for 23 touchdowns with 9 interceptions.[5] As a senior at Westlake, he threw for 1,400 yards and ran for another 1,000 yards. Newton was considered one of the nation's top quarterback prospects but most teams that recruited Newton out of high school wanted him as a tight end.[5] During the recruiting process, he had more than 40 scholarship offers.[6] Then-Florida coach Urban Meyer recruited Newton and told him and his family he would get an opportunity to play quarterback, despite the Gators already having quarterback Tim Tebow.[5]
On September 7, 2006, Newton verbally committed to University of Florida in a press conference at Westlake High School, choosing the Gators over Oklahoma and Mississippi State.[6] Newton chose Florida because his talents fit the spread option offense better than any other out there.[6] Allen disagreed with Newton's decision because he felt he wouldn't play much at Florida and thought he should attend Mississippi State instead.[5] Cecil Newton, Sr. assured Allen that Newton would get his chance to play with the Gators.[5] Newton graduated from high school early to enroll in classes at Florida in January 2007 and arrived on campus just before the beginning of the team's spring practice.[7]
In 2007, as a freshman, Newton earned the spot over fellow freshman quarterback John Brantley as the back-up for star quarterback and eventual Heisman Trophy winner Tim Tebow. He played in five games and threw for 40 yards on 5-of-10 passing and ran the ball 16 times for 103 yards and three touchdowns.[8] In 2008, during his sophomore season, Newton played in the season opener against Hawaii, but then suffered an ankle injury and decided to take a medical redshirt season.[9]
On November 21, 2008, Newton was arrested for alleged theft of a laptop computer from a student at the University of Florida. He was subsequently temporarily suspended by the team after the laptop was in fact found to be in his possession.[10][11] Newton was suspended indefinitely and announced his intention to transfer three days before Florida's national championship win over Oklahoma.[8] All charges against Newton were dropped after he completed a court-approved pretrial diversion program.[12] Foxsports.com reported that Newton left the University of Florida after the fall semester in 2008 rather than face suspension or expulsion in part because of three instances of academic cheating.[13]
In January 2009, Newton transferred to Blinn College in Brenham, Texas under head coach Brad Franchione, son of Dennis Franchione. That fall he led his team to the 2009 NJCAA National Football Championship,[14] throwing for 2,833 yards with 22 touchdowns and running for 655 yards.[15] He was named a juco All-America honorable mention and was the most recruited juco quarterback in the country.[15] Newton was ranked as the number one quarterback from either high school or junior college by Rivals.com, and was the only five-star recruit.[16][17][18]
Newton started the first game of Auburn's season, a home victory over Arkansas State on September 4, 2010. Newton accounted for 5 total offensive touchdowns and over 350 yards of total offense. He was named SEC Offensive Player of the Week following his performance.[19] Three weeks later Newton had a second break-out game with 5 total touchdowns and over 330 total offensive yards against the South Carolina Gamecocks. "That's a great SEC win against a really, really good football team. I can't be more proud of our guys," Auburn coach Gene Chizik said. "I thought we had a good pace going on," Newton said.[20]
On October 2, 2010, Newton led Auburn to a 52–3 victory over Louisiana-Monroe. He completed three touchdown passes, one of which went for 94 yards. It was the longest touchdown pass and offensive play in Auburn football history. On October 9, 2010, Newton led Auburn to a 37–34 victory over Kentucky. He passed for 210 yards and rushed for 198 yards including 4 rushing touchdowns. On October 16, 2010, during the Arkansas game, Newton ran for three touchdowns and threw one touchdown pass.[21] Following these performances, media reports began to list Newton among the top 5 candidates to watch for the Heisman Trophy.[22][23]
On October 23, 2010, Newton led Auburn to a 24–17 victory over the LSU Tigers. He rushed for 217 yards in the game which gave him 1,077 yards for the season and set the SEC record for yards rushing in a season by a quarterback—a record previously held by Auburn quarterback, Jimmy Sidle, that stood for over 40 years—and became just the second quarterback to rush for over 1,000 yards in the conference's history. He also broke Pat Sullivan's school record for most touchdowns in a single season—a record that has stood since 1971—with 27. Both of these records were broken on the same play: a 49-yard touchdown run in which Newton escaped two tackles, corrected himself with his arm, eluded two additional tackles, and dragged a defender into the endzone for the touchdown. The play was described as Newton's "Heisman moment".[24][25][26] Auburn received its first #1 overall BCS ranking and Newton was listed as the overall favorite for the Heisman.[27]
By halftime of the game against Georgia, Newton became the first SEC player to ever throw for 2,000 yards and rush for 1,000 yards in a single season.[28] With the victory, Auburn improved to 11–0 and clinched the SEC West, allowing them to play in the SEC Championship game. Newton led Auburn to a 28–27 victory over Alabama in the Iron Bowl after being down 24–0. The 24-point come from behind victory was the largest in the program's 117 year history. He passed for 216 yards with three passing touchdowns, and ran for another touchdown.
On December 4, 2010 Newton led the Tigers to an SEC Championship, their first since 2004, by defeating South Carolina once again 56–17, which set an SEC Championship Game record for most points scored and largest margin of victory. Newton was named the game MVP after scoring a career-best six touchdowns (four passing and two rushing). With his performance, Newton also became the third player in NCAA FBS history to throw and run for 20-plus touchdowns in a single season (along with former Florida teammate Tim Tebow and Colin Kaepernick, who reached the milestone earlier the same day).[29] Newton was named the 2010 SEC Offensive Player of the Year as well as the 2010 AP Player of the Year. He was also one of four finalists for the 2010 Heisman Trophy, which he won in a landslide victory.[30][31]
Following the victory in the SEC Championship, Auburn was invited to participate in the school's first BCS National Championship Game. The game took place on January 10, 2011 in Glendale, Arizona, with Auburn playing against the Oregon Ducks.[32] In a game that was expected to score as high as 60–55 by Steve Spurrier,[33] Auburn beat Oregon just 22 to 19 to win the BCS National Championship. Newton threw for 262 yards 2 touchdowns and one interception. He also ran the ball 22 times for 65 yards, though he lost a fumble that later allowed Oregon to tie the game with limited time remaining. Once Auburn received the ball, Newton drove the Tigers down the field to win the game on Wes Byrum's last-second field goal. Media outlets wrote that Newton was upstaged by teammate Michael Dyer (the game's Offensive MVP) and Auburn's defense, which held the high-powered Oregon ground game to just 75 yards [34] On January 13, three days after winning the BCS National Championship, Cam Newton declared for the 2011 NFL Draft, forgoing his senior season.[35]
2010 Heisman Trophy Finalist Voting[36]
Finalist
First place votes
(3 pts. each)
Second place votes
(2 pts. each)
Third place votes
(1 pt. each)
Total points
Cam Newton
729
24
28
2,263
Andrew Luck
78
309
227
1,079
LaMichael James
22
313
224
916
Newton spent much of the second half of the 2010 football season embroiled in a controversy regarding allegations that his father, Cecil Newton, had sought substantial sums of money in return for his son playing for a major-college team, in violation of National Collegiate Athletic Association rules.[37] In early November, officials with Mississippi State University charged that Cecil Newton said that it would take "more than just a scholarship" to secure his son's services. This demand was apparently communicated by Kenny Rogers, a recruiter who formerly played for the Bulldogs, to John Bond, his former teammate at MSU. Rogers later said in a Dallas radio interview that Cecil Newton said it would take "anywhere between $100,000 and $180,000" to get his son to transfer to MSU. Auburn maintained throughout the investigation that they were not involved in any pay-for-play scheme, and that Cam Newton was fully eligible to play.
On December 1, the NCAA announced that Cam Newton had been declared ineligible by Auburn after having found evidence that Cecil Newton did in fact solicit Mississippi State for money in exchange for Cam Newton's athletic service. Auburn would immediately file to have him reinstated. The NCAA quickly reinstated Newton, declaring him eligible for the 2010 SEC Championship Game three days later, stating that there was not sufficient evidence that Cam Newton or anyone from Auburn had any knowledge of Cecil Newton's actions.[38] Auburn restricted the elder Newton's access to their athletic program as a result.[39] The NCAA reinstatement cleared Cam Newton's eligibility as a candidate for the Heisman Trophy, which he won in a landslide victory with 2,263 points and 729 first-place votes.[40]
In late January 2011, Newton began working out with George Whitfield Jr. in San Diego.[41] Whitfield has worked with other quarterbacks such as Ben Roethlisberger and Akili Smith. Newton was selected with the first overall pick in the 2011 NFL Draft by the Carolina Panthers. He is the first reigning Heisman Trophy winner to go first overall since Carson Palmer in 2003. During the 2011 NFL lockout, he has spent up to 12 hours a day at the IMG Madden Football Academy in Bradenton, FL with up to two hours per day spent doing one-on-one training with fellow Heisman Trophy winner and former Panther quarterback Chris Weinke.[42]
All values from 2011
NFL Scouting Combine
.
[43]
Pre-draft measureables
Ht
Wt
Arm lengthHand size
40-yd dash
10-yd split
20-yd split
20-ss
3-cone
Vert
Broad
BPWonderlic
6 ft 5 in
248 lb
33¾ in
9⅞ in
4.56 s
1.58 s
2.60 s
4.18 s
6.92 s
35 in
10 ft 6 in
x reps
21
On July 29, 2011, Newton signed a four-year deal worth over $22 million that is fully guaranteed.[44] For the first pre-season game of the 2011 season, Newton is listed as the number two quarterback behind Jimmy Clausen but head coach Ron Rivera won't name the starter for the 2011 season, stating that he wants to see how both quarterbacks look with the offensive line. Cam Newton has been the Carolina Panther's starting quarterback ever since Week 1 of that year. 2011 and 2012 were very sucessful years for him. He broke many records but did not have many wins. That all changed in week 5 of the 2013 season when Cam and the Panthers broke off into a 8 game winning streak. He is currently trying to make his way to his first playoff appearance.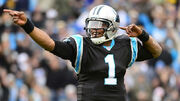 Cam Newton is widely known around the league for his many celebrations. He is widely known as "SuperCam" because of his touchdown celebration where he pretends to rip open his shirt to reveal his "Superman" costume just like Clark Kent. He is also known for his first down celebration where he points to the camera. Almost every play, you can catch him smiling while playing, this is because he is doing what he loves.
↑ Auburn Tigers: player bio for Cameron Newton, "PERSONAL – Born May 11, 1989 ... Son of Cecil and Jackie Newton."
↑ Cecil Newton, NFL Draft. Cbssports.com (2008-06-11). Retrieved on 2011-07-01.
↑ #64 Cecil Newton Bio –. Jaguars.com (1986-03-20). Retrieved on 2011-07-01.
↑ 4.0 4.1 Merrill, Elizabeth. NFL draft 2011: Tracing Cam Newton's journey to the NFL. ESPN. Retrieved May 1, 2011.
↑ 5.0 5.1 5.2 5.3 5.4 5.5 5.6 5.7 5.8 5.9 Evans, Thayer (January 10, 2011). Newton: Family is why I'm here. Fox Sports. Retrieved May 1, 2011.
↑ 6.0 6.1 6.2 Beard, Franz (September 7, 2006). Cameron Newton Says "I'm Going To Be A Gator". Scout.com. Retrieved May 1, 2011.
↑ Schlabach, Mark (July 31, 2007). Gators' Newton on fast track after enrolling early. ESPN. Retrieved May 1, 2011.
↑ 8.0 8.1 Aschoff, Edward. NFL draft 2011: Tracing Cam Newton's journey to the NFL. ESPN. Retrieved May 1, 2011.
↑ Timanus, Eddie. "Auburn system suits quarterback Cam Newton well", October 22, 2010.

 

↑ Jeremy Fowler. "Backup QB Cameron Newton arrested for possession of stolen property, suspended from team", November 21, 2008.

 

↑ Paul Loschak account of laptop theft differs from Cam Newton. Gatorsports.com. Retrieved on 2011-07-01.
↑ Gulbeau, Glenn. "Auburn's Cam Newton Makes Most of Second Chance", October 20, 2010.

 

↑ Thamel, Pete. "Newton Faced Suspension at Florida", November 9, 2010. Retrieved on 2011-01-17.

 

↑ Clark, Matthew. "Newton leads Blinn to title", December 7, 2009.

 

↑ 15.0 15.1 Schlabach, Mark. NFL draft 2011: Tracing Cam Newton's journey to the NFL. ESPN. Retrieved May 1, 2011.
↑ Cameron Newton. Rivals.yahoo.com (2009-12-31). Retrieved on 2011-07-01.
↑ Recruit search. Rivals.yahoo.com. Retrieved on 2011-07-01.
↑ 2010 Prospect Ranking. Rivals100.rivals.com. Retrieved on 2011-07-01.
↑ Auburn, Retrieved September 7, 2010. Auburntigers.cstv.com (2010-09-06). Retrieved on 2011-07-01.
↑ Maisel, Ivan. "Cam Newton powers Auburn to 4–0 start", September 26, 2010.

 

↑ Scoring Summary (Final) Auburn Football #12 Arkansas vs #7 Auburn (Oct 16, 2010 at Auburn, AL). Retrieved on 28 October 2010.
↑ Heisman Pundit, Retrieved October 14, 2010. Heismanpundit.com (2010-10-12). Retrieved on 2011-07-01.
↑ Sporting News, Retrieved October 14, 2010. Sportingnews.com. Retrieved on 2011-07-01.
↑ Forde, Pat. Cam Newton steps up against LSU. ESPN. Retrieved on October 23, 2010.
↑ Evans, Thayer. Cam Newton is super against LSU. Fox News Channel. Retrieved on October 25, 2010.
↑ Scarbinsky, Kevin. Cam Newton has a Heisman Moment. Birmingham News. Retrieved on October 23, 2010.
↑ Lindsay, John. Heisman: Auburn's Cam Newton stays atop SHNS Heisman Poll. E. W. Scripps Company. Retrieved on October 28, 2010.
↑ Goldberg, Charles. Halftime stats: Auburn's Cam Newton becomes first SEC player to throw for 2,000 yards, run for 1,000 in a season. Birmingham News. Retrieved on November 13, 2010.
↑ Mark Schlabach. "Cam Newton puts stamp on title game", ESPN.com. Retrieved on 2010-12-07.

 

↑ "Four finalists named for Heisman Trophy", ESPN.com. Retrieved on 2010-12-07.

 

↑ Smith, Erick. "Auburn quarterback Cam Newton captures Heisman Trophy", USA Today, 2010-12-11. Retrieved on 2010-12-11.

 

↑ Russo, Ralph. "Auburn, Oregon give BCS title game new look". Retrieved on December 5, 2010.

 

↑ Spurrier's Prediction. Football Scoop.
↑ Auburn's Newton wins Heisman in landslide – College Football. Rivals.yahoo.com. Retrieved on 2011-07-01.
↑ Goldberg, Charles. "Auburn's Cam Newton timeline: From recruitment to NCAA ruling", al.com/The Birmingham News, 2010-12-01.

 

↑ "Breaking news: Cam Newton ruled eligible by NCAA", mercurynews.com.com, 2010-12-01.

 

↑ "Cam Newton cleared to play", ESPN.com, 2010-12-01.

 

↑ "Cam Newton – 2010 Heisman Winner", Heisman.com.

 

↑ "Cam Newton Works Out For Media", ESPN.com, 2011-02-10.

 

↑ Cam Newton working daily with Chris Weinke | ProFootballTalk. Profootballtalk.nbcsports.com. Retrieved on 2011-07-01.
↑ Jake Locker, DS #3 QB, Washington. nfldraftscout.com. Retrieved on 2011-04-26.
↑ Schefter, Adam. "Cam Newton agrees to contract", ESPN.com, 2011-07-29. Retrieved on 2011-07-29.

 
Community content is available under
CC-BY-SA
unless otherwise noted.