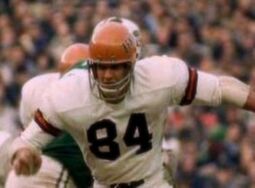 Bob Trumpy (born March 6, 1945 in Springfield, Illinois) is a former professional American Football tight end who played for the American Football League's Cincinnati Bengals from 1968 to 1969, and for the NFL Bengals from 1970 through 1977. He is currently an analyst for CBS Radio Sports/Westwood One.
After graduating from the University of Utah in 1967, Trumpy was selected by the Bengals in the 12th round (301st overall) of the 1968 Common Draft. Despite his low draft selection, Trumpy worked hard in the offseason and managed to earn the starting tight end spot in the team's lineup. He didn't disappoint in his rookie season, recording 37 receptions for 639 yards and 3 touchdowns, and earning a place on the AFL Western Division All-Star team. In 1969, Trumpy was selected by The Sporting News as the AFL's All-League tight end. The following year, Trumpy had the best season of his career, catching 37 passes for 835 yards (a franchise record 22.6 yards per catch average) and 9 touchdowns. In a game against the Houston Oilers, Trumpy became the first Bengals tight end ever to record 3 touchdown receptions in a single game, assisting his team to a 31-31 tie.
Trumpy continued to play for the Bengals until 1977, earning 2 trips to the AFC-NFC Pro Bowl in 1970 and 1973. In his final season, he caught only 18 passes for 251 yards and 1 touchdown, but his touchdown was one of the most memorable plays of his career. In a November 20 game against the Miami Dolphins during a driving rainstorm, Trumpy caught a 29-yard touchdown pass from quarterback Ken Anderson on a flea flicker play that involved 3 different players handling the ball before it was thrown to him. First, Anderson handed the ball off to running back Archie Griffin, who then pitched the ball to receiver John McDaniel running in the opposite direction. McDaniel then handed the ball back to Anderson, setting up his 29-yard touchdown pass to Trumpy. The Bengals went on to defeat the Dolphins 23-17, knocking them out of playoff contention. "It was magic", said Trumpy about the play:
"Don Shula (the Dolphins coach at the time) reminds me of that play every time I see him. He called it 'triple pass' because 3 people touched it before I caught it, but Shula called it the reverse pass. He'll see me and say 'That damn reverse pass. I remember that.' "
Trumpy finished his 10 year career with 298 receptions for 4,600 yards and 35 touchdowns in 128 games. His 4,600 receiving yards, 35 touchdown receptions, and his 15.4 yards per catch average are the most ever by a Bengals tight end. [edit]Broadcasting career
Sports broadcasting career
[
edit
|
edit source
]
After his NFL career, Trumpy became an NFL broadcaster. In 1978, he joined NBC and worked with Jim Simpson. He would later team with Don Criqui (as well as Bob Costas before Costas moved over to a studio anchor position for NBC in 1984) from 1982-1988. In 1992, he became lead color commentator (replacing Bill Walsh) alongside Dick Enberg until 1995 (when NBC went to a three man booth with Paul Maguire and Phil Simms replacing him). The team of Dick Enberg and Bob Trumpy called Super Bowls XXVII (1993) and XXVIII (1994). He would then be paired with Tom Hammond (1995-1996) and Charlie Jones (1997) until NBC lost football (the American Football Conference package to be more specific) to CBS after the 1997 season.

Trumpy hosted a week night sports talk show on WLW-AM in Cincinnati, Ohio from 1980-1989. He left the show to be able to work more assignments at NBC Sports, including PGA Tour golf and the Olympics. He was replaced on the sports talk show by Cris Collinsworth. He currently works an analyst for CBS Radio Sports/Westwood One on Sunday Night Football, and has been with the network since 2000 (save for the 2005 season, where he was replaced by John Riggins), and also does programming for WLW-AM radio. With Westwood One he was most frequently paired with Joel Meyers. During the first round of the 2006-07 NFL playoffs, Trumpy and Enberg were in the broadcast booth together for the first time since the 1994 AFC Championship Game, covering the Colts-Chiefs game for Westwood One. They were paired again for the Patriots-Chargers game the following weekend.
Ludwig, Chick. Cincinnati Bengals, The Legends. Willmington, OH: Orange Frazer P, 2004. ISBN 1-882203-38-0 page 25.(1)
Community content is available under
CC-BY-SA
unless otherwise noted.