Jurassic World: Dominion Dominates Fandom Wikis - The Loop
Play Sound
Big Game
History
Number of meetings
121
First:
March 19, 1892
Most Recent:
December 1, 2018
Stanford 23, Cal 13
Next:
November 23, 2019
All-time series:
Stanford: 64–46–11 (.574)
At Berkeley:
Stanford leads 28–21–6
At Stanford:
Stanford leads 31–21–1
At San Francisco:
Stanford leads 5–4–4
Home Team Vs. Visitor:
56–54–11
Current streak
Stanford:
Won 9
Away:
Won 1
Longest win streaks
Stanford:
9 (2010-2018)
California:
5 (1919–23, 2002–06)
Home Team:
5 (1954–58, 1969–73)
Visitor:
6 (1939–47)
Trophy

Stanford Axe
The Big Game is an American college football rivalry game played by the California Golden Bears football team of the University of California, Berkeley and the Stanford Cardinal football team of Leland Stanford Junior University. It is typically played in late November or early December. The first Big Game was held on March 19, 1892 on San Francisco's Haight Street grounds when Stanford beat Cal 14–10. It is the tenth longest rivalry in NCAA Division I FBS football. Stanford leads the series record at 64–46–11 (wins–losses–ties). Stanford won the most recent Big Game on December 1, 2018 by a score of 23-13. Stanford has won the last nine in a row, and ten of the last 12 Big Games, following a five-game winning streak by Cal, which itself followed a seven-game winning streak by Stanford. The location of the Big Game alternates between the two universities every year. In even-numbered years, the game is played in Berkeley, while in odd-numbered years, it is played at Stanford.
In the week before the game, both schools celebrate the occasion with rallies, reunions, and luncheons. Cal students hold a traditional pep rally and bonfire at the Greek Theatre on the eve of the game, while Stanford students stage the Gaieties, a theatrical production that both celebrates and pokes fun at the rivalry. The week also includes various other athletic events including "The Big Splash" (water polo), "The Big Spike" (volleyball), "The Big Sweep" (Quidditch), "The Big Freeze" (ice hockey), and the Ink Bowl, a touch football game between the members of the two schools' newspapers. In addition, the two schools compete in a blood drive called "Rivals for Life."
Series history
The Big Game is the biggest college football event in the Bay Area and has a rich history. Future U.S. President Herbert Hoover was the Stanford team manager for the first Big Game, held in 1892. The term "Big Game" was first used in 1900, when it was played on Thanksgiving Day in San Francisco. During that game, a large group of spectators observing from the roof of the nearby S.F. and Pacific Glass Works fell into the fiery interior of the building when the roof collapsed, resulting in 13 deaths and 78 injured.[1]
In 1906, citing concerns about the violence in football, both schools dropped football in favor of rugby, which was played for the Big Games of 1906 to 1914.[2][3] The first incidence of card stunts was performed by Cal fans at the halftime of the 1910 Big Game.[4]
California resumed playing football in 1915, but Stanford did not field a team until after World War I in 1919. From 1915–1917, California's "Big Game" was their game against Washington, while Stanford played Santa Clara as their rugby "Big Game".[5] The 1918 game, in which Cal prevailed 67–0, is not considered an official game because Stanford's team was composed of volunteers from the Student Army Training Corps stationed at Stanford, some of whom were not Stanford students, and had not practiced together.[4] The game resumed as football in 1919, and has been played as such every year since, except from 1943 to 1945, when Stanford shut down its football program due to World War II. A handful of Stanford starters—including guards Jim Cox, Bill Hachten and Fred Boensch, running back George Quist and halfback Billy Agnew—shifted to Cal in order to continue playing.[6][7] Quist returned to Stanford, playing against Cal in the 1946 Big Game.
Scenes for the Harold Lloyd silent classic The Freshman were filmed at California Memorial Stadium during halftime of the 1924 Big Game.
Since 1933, the victor of the game has been awarded possession of the Stanford Axe. If a game ended in a tie, the Axe stayed on the side that already possessed it; this rule became obsolete in 1996 when the NCAA instituted overtime. The Axe is a key part of the rivalry's history, having been stolen on several occasions by both sides, starting in 1899, when the Axe was introduced when Stanford yell leader Billy Erb used it at a baseball game between the two schools.[8]
In March 2007, the National Football League announced that it intended to trademark the phrase "The Big Game" in reference to the Super Bowl,[9] but soon dropped the plan after being faced with opposition from alumni lawyers of both Cal and Stanford.[10]
Notable games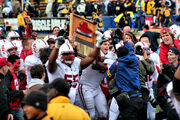 1924: Both teams came into the game unbeaten with a berth in the 1925 Rose Bowl on the line. With its star Ernie Nevers sidelined due to injuries, Stanford trailed 20–6 with under 5 minutes to go, but rallied to score twice to force a 20–20 tie and earn the Rose Bowl bid.[11]
1947: In the 50th Big Game, winless Stanford led the 8–1 Bears with less than three minutes left in the game, but Cal scored on an 80-yard touchdown pass to clinch a 21–18 victory.[12]
1959: Stanford quarterback Dick Norman threw for 401 yards (then an NCAA record, and still a Big Game record), but it was not enough to hold off the Bears, who won 20–17.[12]
1972: Cal drove 62 yards in the final 1:13, culminating in a Vince Ferragamo touchdown pass to Steve Sweeney for a last-second 24–22 Cal victory.[13]
1974: Mike Langford nailed a 50-yard field goal on the final play for a 22–20 Stanford triumph over the 19th-ranked Bears.[13]
1982: See below and The Play.
1988: Stanford's Tuan Van Le blocked a 21-yard Cal field goal attempt on the game's final play to preserve a 19–19 tie.[12]
1990: In a game that echoed "The Play" eight years earlier, Stanford trailed 25–18 late. Quarterback Jason Palumbis threw a 19-yard touchdown pass to Ed McCaffrey to make the score 25–24, but the team failed to convert the a two-point conversion. Thinking the game to be all but over, Cal fans rushed the field, resulting in a 15-yard delay of game penalty. Stanford's Dan Byers then recovered the ensuing onside kick at the Cal 37. Palumbis's pass to McCaffrey to set up a field goal fell short, but a Cal defender was called for roughing Palumbis. Stanford kicker John Hopkins then connected on a 39-yard field goal as time expired, giving Stanford a 27–25 victory.[14]
2000: Stanford's Casey Moore caught the winning touchdown on the final play of the first ever Big Game to go into overtime.[12]
2009: Cal's Michael Mohamed intercepted a pass at the Cal 3-yard line with 1:36 left to preserve a Cal win over #14 Stanford, 34–28.[15]
2010: #6 Stanford ties a 1975 Cal record for most points scored in a 48–14 victory.[15]
2013: #8 Stanford shatters many Big Game records in a 63-13 thrashing.
2016: In the rain at Berkeley, #24 Stanford holds off Cal, 45-31, in a game that ties the three-year-old record for most total points in the game.
The Play
The conclusion of the 85th Big Game on November 20, 1982 would go down as perhaps the most remarkable and controversial play in college football history. Cal held a lead late in the game, but Stanford, led by John Elway, drove down the field to retake the lead and seemingly elevate Elway to the first bowl game of his college career since Stanford, with a victory, would have been invited to the Hall of Fame Bowl.[16] More importantly, Elway, with a victory, might well have won the Heisman Trophy. In what is now known simply as "The Play," four Cal players lateraled the ball five times on a kickoff return with four seconds left on the clock. Kevin Moen, who was also the initial ball carrier, ran for a touchdown while knocking down the final Stanford "defender," trombone player Gary Tyrrell, who had run onto the field with the rest of the band to celebrate prematurely.
The Play is often recounted with KGO radio announcer Joe Starkey's emotional call of The Play, which he hailed as "the most amazing, sensational, dramatic, heartrending, exciting, thrilling finish in the history of college football!" The legitimacy of The Play has remained controversial among some Stanford fans. To this day, the final score in the official record shows Cal winning by a score of 25–20, whereas in many Stanford publications it is recorded as Stanford 20, Cal 19 due to Stanford's contention that a Cal ball carrier had his knee down, and at least one lateral (and possibly three) was actually an illegal forward pass, any of which would have resulted in the end of the play.
Game results
█ Blue: California victories (46)
█ Red: Stanford victories (64)
█ Gray: Tied games (11)
Bold font: Winning team
Italic font: Losing team
Plain font: Tied games

Visiting team
Home team
Notes
1892
Cal: 10
Stanford: 14
[17][18]
1892
Stanford: 10
Cal: 10
[17][18]
1893
Cal: 6
Stanford: 6
[17]
1894
Stanford: 6
Cal: 0
[17]
1895
Cal: 6
Stanford: 6
[19]
1896
Stanford: 20
Cal: 0
[19]
1897
Cal: 0
Stanford: 28
[20]
1898
Stanford: 0
Cal: 22
[20]
1899
Cal: 30
Stanford: 0
[21]

V
H
N
1900
Stanford: 5
Cal: 0
[21]
1901
Cal: 2
Stanford: 0
[21]
1902
Stanford: 0
Cal: 16
[22]
1903
Cal: 6
Stanford: 6
[22]
1904
Stanford: 18
Cal: 0
[23]
1905
Cal: 5
Stanford: 12
[24]
1906
Stanford:6
Cal: 3
Rugby
1907
Cal: 11
Stanford: 21
Rugby
1908
Stanford: 12
Cal: 3
Rugby
1909
Cal: 19
Stanford: 13
Rugby

V
H
N
1910
Stanford: 6
Cal: 25
Rugby
1911
Cal: 21
Stanford: 3
Rugby
1912
Stanford: 3
Cal: 3
Rugby
1913
Cal: 8
Stanford: 13
Rugby

1914
Stanford: 36
Cal: 8
Rugby

1915–1917
No games
Cal resumes football,
Stanford still playing rugby.
1918
No game[25]
1919
Cal: 14
Stanford: 10
[26]

V
H
N
1920
Stanford: 0
Cal: 38
1921
Cal: 42
Stanford: 7
[27]
1922
Cal: 28
Stanford: 0
[28]
1923
Stanford: 0
Cal: 9
[29]
1924
Stanford: 20
Cal: 20
1925
Cal: 14
Stanford: 27
1926
Stanford: 41
Cal: 6
1927
Cal: 6
Stanford: 13
1928
Stanford: 13
Cal: 13
1929
Cal: 6
Stanford: 21

V
H
N
1930
Stanford: 41
Cal: 0
1931
Cal: 6
Stanford: 0
1932
Stanford: 0
Cal: 0
1933
Cal: 3
Stanford: 7
1934
Stanford: 9
Cal: 7
1935
Cal: 0
Stanford: 13
1936
Stanford: 0
Cal: 20
1937
Cal: 13
Stanford: 0
1938
Stanford: 0
Cal: 6
1939
Cal: 32
Stanford: 14

V
H
N
1940
Stanford: 13
Cal: 7
1941
Cal: 16
Stanford: 0
1942
Stanford: 26
Cal: 7
1943–1945
No games

No games due to World War II.
1946
Stanford: 25
California: 6
1947
Cal: 21
Stanford: 18
1948
Stanford: 6
Cal: 7
1949
Cal: 33
Stanford: 14

V
H
N

1950


Stanford: 7
Cal: 7

1951


Cal: 20
Stanford: 7

1952


Stanford: 0
Cal: 26

1953


Cal: 21
Stanford: 21

1954


Stanford: 20
Cal: 28

1955


Cal: 0
Stanford: 19

1956


Stanford: 18
Cal: 20

1957


Cal: 12
Stanford: 14

1958


Stanford: 15
Cal: 16
1959
Cal: 20
Stanford: 17

V
H
N

1960


Stanford: 10
Cal: 21

1961


Cal: 7
Stanford: 20

1962


Stanford: 30
Cal: 13

1963


Cal: 17
Stanford: 28
1964
Stanford: 21
Cal: 3
1965
Cal: 7
Stanford: 9
1966
Stanford: 13
Cal: 7
1967
Cal: 26
Stanford: 3
1968
Stanford: 20
Cal: 0
1969
Cal: 28
Stanford: 29

V
H
N
1970
Stanford: 14
Cal: 22
1971
Cal: 0
Stanford: 14
1972
Stanford: 22
Cal: 24
1973
Cal: 17
Stanford: 26
1974
Stanford: 22
Cal: 20
1975
Cal: 48
Stanford: 15
1976
Stanford: 27
Cal: 24
1977
Cal: 3
Stanford: 21
1978
Stanford: 30
Cal: 10
1979
Cal: 21
Stanford: 14

V
H
N
1980
Stanford: 23
Cal: 28
1981
Cal: 21
Stanford: 42
1982
Stanford: 20
Cal: 25
See The Play
1983
Cal: 27
Stanford: 18
1984
Stanford: 27
Cal: 10
1985
Cal: 22
Stanford: 24
1986
Stanford: 11
Cal: 17
1987
Cal: 7
Stanford: 31
1988
Stanford: 19
Cal: 19
[30]

1989


Cal: 14
Stanford: 24

V
H
N
1990
Stanford: 27
Cal: 25

1991


Cal: 21
Stanford: 38

1992


Stanford: 41
Cal: 21
1993
Cal: 46
Stanford: 17
1994
Stanford: 23
Cal: 24
1995
Cal: 24
Stanford: 29
1996
Stanford: 42
Cal: 21
1997
Cal: 20
Stanford: 21
1998
Stanford: 10
Cal: 3
1999
Cal: 13
Stanford: 31

V
H
N
2000
Stanford: 36
Cal: 30
Overtime
2001
Cal: 28
Stanford: 35
2002
Stanford: 7
Cal: 30
2003
Cal: 28
Stanford: 16
2004
Stanford: 6
Cal: 41
2005
Cal: 27
Stanford: 3
2006
Stanford: 17
Cal: 26
2007
Cal: 13
Stanford: 20
2008
Stanford: 16
Cal: 37
2009
Cal: 34
Stanford: 28

V
H
N
2010
Stanford: 48
Cal: 14
2011
Cal: 28
Stanford: 31
2012
Stanford: 21
Cal: 3
2013
Cal: 13
Stanford: 63
2014
Stanford: 38
Cal: 17
2015
Cal: 22
Stanford: 35
2016
Stanford: 45
Cal: 31
2017
Cal: 14
Stanford: 17
2018
Stanford: 23
Cal: 13
2019
Cal: 24
Stanford: 20

V
H
N
Rivalry in other sports
In other sports, matchups between Cal and Stanford are not as important to the students and the fanbase, but are still hyped and many feature their own nicknames based on the word "big." Examples include:
Volleyball – The "Big Spike"
Water Polo – The "Big Splash"
Ice Hockey – The "Big Freeze"
Quiddich - The "Big Sweep"
In addition, in rugby, the two schools have a trophy of their own called the "Scrum Axe". In men's basketball the biannual matchups are sometimes labeled the "Big Game" but it is not official. In women's basketball, the meetings are simply called the "Battle of the Bay."
The schools respective newspaper staffs meet in a touch football game during Big Game week, known as the "Ink Bowl".
Big Game Bonfire Rallies
The Big Game Bonfire Rally is a pep and bonfire rally that takes place at University of California, Berkeley in Hearst Greek Theatre on the eve of the Big Game. More than 10,000 students gather to hear the history about The Stanford Axe and the Big Game. The University of California Rally Committee is in charge of the planning and setting up the bonfire, as well as refueling it during the rally. Specifically, freshman members of the UC Rally Committee, as well as freshman band members are sent out with pallets to the chanting of "freshmen, more wood." Several alumni show up to perform traditional rituals. A tradition unique to Cal is the performance of the Haka, a traditional Maori war dance/chant. Traditionally performed by an alumni Yell Leader, the Haka performed was written in the 1960s by a Cal rugby player of Maori descent. The traditional Axe Yell is also made and visits from the UC Men's Octet and Golden Overtones are always expected. The University of California Marching Band is also present, playing traditional Cal songs throughout the duration of the Rally. The highlight of the Rally is the lighting of Big Game Bonfire itself, with the fire reaching over eight stories high at its zenith.
The Big Game Bonfire Rally always ends with the reciting of a speech known as the "Andy Smith Eulogy" or "The Spirit of California". Written in remembrance of the fabled Cal football coach, who led the Bears to five straight undefeated seasons starting in 1920s before tragically dying of pneumonia in 1925, the speech closes the Rally annually. During the speech, candles are passed out among the attendants and are lit for the singing of the campus alma mater, "Hail to California."
For decades, Stanford also held a bonfire on the dry lakebed of Lake Lagunita, but this was discontinued in the 1990s due to the lake being a habitat for the vulnerable California Tiger Salamander. Stanford now holds a laser light show commonly known as the "Non-Fire," as well as the annual student produced play, "Gaieties," during the week leading up to Big Game in place of a Bonfire Rally.[31]
See also
Most-played rivalries in NCAA Division I FBS
References
External links