Baltimore Ravens
Established 1996
Play in M&T Bank Stadium,
Baltimore, Maryland, U.S.
League/Conference affiliations

National Football League (1996–present)

Current uniform

Team colors
Purple, Black, and Metallic Gold


    

    

    

Mascot
Edgar, Allan, and Poe
Personnel
Owner(s):
Steve Bisciotti
Team President
Dick Cass
General Manager
Eric DeCosta
Head Coach
John Harbaugh
Team history

Baltimore Ravens (1996–present)

Championships
League Championships (2)

Conference Championships (2)
Division Championships (6)

AFC North: 2003, 2006, 2011, 2012, 2018, 2019

Home fields
The Baltimore Ravens are a professional American football team based in Baltimore, Maryland. They are currently champions of the Northern Division of the American Football Conference (AFC) in the National Football League (NFL). The Ravens have won two Super Bowl titles, Super Bowl XXXV in 2001 against the New York Giants, and Super Bowl XLVII in 2013 against the San Francisco 49ers. The team was named after Maryland native Edgar Allan Poe's poem "The Raven".
Team History
Team name
The name "Ravens" was inspired by Edgar Allan Poe's poem The Raven.[1][2] Chosen in a fan contest that drew 33,288 voters, the allusion honors Poe, who spent the early part of his career in Baltimore and is buried there.[3] As the Baltimore Sun reported at the time, fans also "liked the tie-in with the other birds in town, the Orioles, and found it easy to visualize a tough, menacing black bird."[4]
Background
After the controversial relocation of the Colts to Indianapolis, several attempts were made to bring an NFL team back to Baltimore. In 1993, ahead of the 1995 league expansion, the city was considered a favorite, behind only St. Louis, to be granted one of two new franchises.[5] League officials and team owners feared litigation due to conflicts between rival bidding groups if St. Louis was awarded a franchise, and in October Charlotte, North Carolina was the first city chosen. Several weeks later, Baltimore's bid for a franchise—dubbed the Baltimore Bombers, in honor of the locally produced Martin B-26 Marauder bomber—had three ownership groups in place[5] and a state financial package which included a proposed $200 million, rent-free stadium and permission to charge up to $80 million in personal seat license fees.[6][7] Baltimore, however, was unexpectedly passed over in favor of Jacksonville, Florida, despite Jacksonville's minor TV market status and that the city had withdrawn from contention in the summer, only to return with then-Commissioner Paul Tagliabue's urging.[5] Although league officials denied that any city had been favored, it was reported that Taglibue and his longtime friend Washington Redskins owner Jack Kent Cooke had lobbied against Baltimore due to its proximity to Washington, D.C.,[5][7][8] and that Taglibue had used the initial committee voting system to prevent the entire league ownership from voting on Baltimore's bid.[9] This led to public outrage and the Baltimore Sun describing Taglibue as having an "Anybody But Baltimore" policy.[9] Maryland governor William Donald Schaefer said afterward that Taglibue had led him on, praising Baltimore and the proposed owners while working behind-the-scenes to oppose Baltimore's bid.[9]
By May 1994, Baltimore Orioles owner Peter Angelos had gathered a new group of investors, including author Tom Clancy, to bid on teams whose owners had expressed interest in relocating.[10] Angelos found a potential partner in Georgia Frontiere, who was open to moving the Los Angeles Rams to Baltimore. Jack Kent Cooke opposed the move, intending to build the Redskins' new stadium in Laurel, Maryland, close enough to Baltimore to cool outside interest in bringing in a new franchise.[11] This led to heated arguments between Cooke and Angelos, who accused Cooke of being a "carpetbagger."[10] The league eventually persuaded Rams team president John Shaw to relocate to St. Louis instead, leading to a league-wide rumor that Tagliabue was again steering interest away from Baltimore, a claim which Tagliabue denied.[12] In response to anger in Baltimore, including Governor Schaefer's threat to announce over the loudspeakers Tagliabue's exact location in Camden Yards any time he attended a Baltimore Orioles game,[13] Tagliabue remarked of Baltimore's financial package: "Maybe (Baltimore) can open another museum with that money."[7] Following this, Angelos made an unsuccessful $200 million bid to bring the Tampa Bay Buccaneers to Baltimore.[14]
Having failed to obtain a franchise via the expansion, the city, despite having "misgivings,"[7] turned to the possibility of obtaining the Cleveland Browns, whose owner Art Modell was financially struggling and at odds with the city of Cleveland over needed improvements to the team's stadium.
During the 1995 season, Modell, decided to move the team to Baltimore. This created a controversy in Cleveland, that was settled with the NFL determining that the franchise could move, but the Browns name, color, and franchise records would remain with Cleveland. The team was, for all intents and purposes, an 'expansion team'.
Ted Marchibroda was hired as the first coach of the Baltimore Ravens. Marchibroda was well known for coaching the former Baltimore Team, the Colts.
Championships
The 2000 season saw the Ravens defense set a new NFL record in holding opposing teams to 165 total points. Inspired by linebacker Ray Lewis, who was named NFL Defensive Player of the Year, Baltimore won their last seven games of the regular season, finishing 12–4 as a wild-card team to make the playoffs for the first time in franchise history. The Ravens defeated the Denver Broncos, Tennessee Titans, and Oakland Raiders on their way to reach Super Bowl XXXV.
Baltimore then went to Tampa for Super Bowl XXXV against the New York Giants, cruising to a 34–7 win for their first championship in franchise history. The Ravens recorded four sacks, forced five turnovers, one of which was an interception returned for a touchdown by Duane Starks. Ray Lewis was named the Super Bowl MVP for his leadership, as the defense allowed only 152 yards and no points (New York's only points were from a kick-off touchdown return).
Personnel
Current staff and coaches
Baltimore Ravens current staff

Front office

Owner – Steve Bisciotti
President – Dick Cass
Executive vice president/general manager – Eric DeCosta
Executive vice president/player personnel – Ozzie Newsome
Senior vice president of football administration – Pat Moriarty
Director of pro personnel – Vince Newsome
Director of college scouting – Joe Hortiz
Director of football administration – Jessica Markison
Senior personnel assistant – George Kokinis
Assistant director of pro personnel – Chad Alexander

Head coaches

Offensive coaches

 

Defensive coaches

Special teams coaches

Coaching support staff

Strength and conditioning
Current roster
Uniforms/Logos
Logo controversy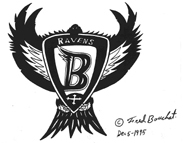 The team's first helmet logo, used from 1996 through 1998, featured raven wings outspread from a shield displaying a letter B framed by the word Ravens overhead and a cross bottony underneath. The US Fourth Circuit Court of Appeals affirmed a jury verdict that the logo infringed on a copyright retained by Frederick E. Bouchat, an amateur artist and security guard in Maryland, but that he was entitled to only three dollars in damages from the NFL.
Bouchat had submitted his design to the Maryland Stadium Authority by fax after learning that Baltimore was to acquire an NFL team. He was not credited for the design when the logo was announced. Bouchat sued the team, claiming to be the designer of the emblem; representatives of the team asserted that the image had been designed independently. The court ruled in favor of Bouchat, noting that team owner Modell had access to Bouchat's work. Bouchat's fax had gone to John Moag, the Maryland Stadium Authority chairman, whose office was located in the same building as Modell's.[15] Bouchat ultimately was not awarded monetary compensation in the damages phase of the case.[16]
The Baltimore Sun ran a poll showing three designs for new helmet logos. Fans participating in the poll expressed a preference for a raven's head in profile over other designs. Art Modell announced that he would honor this preference but still wanted a letter B to appear somewhere in the design. The new Ravens logo featured a raven's head in profile with the letter superimposed. The secondary logo is a shield that honors Baltimore's history of heraldry. Alternating Calvert and Crossland emblems (seen also in the flag of Maryland and the flag of Baltimore) are interlocked with stylized letters B and R.
References
↑ Cite error: Invalid <ref> tag; no text was provided for refs named NamingBaltimoresTeam
↑ Franchise nicknames. Pro Football Hall of Fame (August 19, 2015). Retrieved on August 19, 2015.
↑ Baltimore Ravens History. Pro Football Hall of Fame. Archived from the original on September 8, 2006. Retrieved on August 25, 2006.
↑ Ravens never out of focus: Probable NFL name consistent favorite in polls, group research. Baltimore Sun. Retrieved on June 15, 2016.
↑ 5.0 5.1 5.2 5.3 "PRO FOOTBALL; N.F.L. Expansion Surprise: Jacksonville Jaguars", New York Times, 1 December 1993. Retrieved on 13 December 2014.

 

↑ Charles Babington. "Modell Announces Browns' Move to Baltimore", Washington Post, November 6, 1995. Retrieved on July 18, 2013.

 

↑ 7.0 7.1 7.2 7.3 Burke, Mike (January 12, 1997). A bitter pill still lodged in the throat of Baltimore. Cumberland Times-News. Retrieved on July 18, 2013.
↑ Waldron, Thomas (December 7, 1996). Redskins back city on Browns, Jack Kent Cooke drops opposition to move to Baltimore. The Baltimore Sun. Retrieved on July 18, 2013.
↑ 9.0 9.1 9.2 In museum of gall, Tagliabue's expansion remark is masterpiece. Baltimore Sun (5 December 1993). Retrieved on 13 December 2014.
↑ 10.0 10.1 Olesker, Michael. "Angelos wants a football team, nobody laughs", May 10, 1994. Retrieved on July 18, 2013.

 

↑ Simers, T.J.. "Rams owner describes interest in Baltimore", December 4, 1993. Retrieved on July 18, 2013.

 

↑ Stellino, Vito. "Trial may force NFL to address Baltimore", March 26, 1995. Retrieved on July 18, 2013.

 

↑ Rosenthal, Ken (September 6, 1998). In this museum, a history lesson for Tagliabue. The Baltimore Sun. Retrieved on July 18, 2013.
↑ Morgan, Jon. "Rams moving closer to St. Louis", December 15, 1994. Retrieved on July 18, 2013.

 

↑

Bouchat v. Balt. Ravens Football Club, 346 F.3d 514, 519 (4th Cir. 2003), cert. denied 541 U.S. 1042 (2004) ("The damages trial was conducted over a period of six days, from July 17 to 24, 2002. On July 23, 2002, at the close of the evidence, the jury was asked to decide whether the Defendants had proven, by a preponderance of the evidence, that the Non-Excluded Merchandise Revenues were attributable entirely to factors other than the Defendants' infringement of Bouchat's copyright. If the jury found that they were not, then it was charged to decide the percentage of the Non-Excluded Merchandise Revenues attributable to factors other than the infringement. After a full day of deliberations, the jury answered the first question in the affirmative, thereby denying Bouchat any monetary recovery.")
External links
Community content is available under
CC-BY-SA
unless otherwise noted.