We're Getting Mutants in the MCU - The Loop
Play Sound
Auburn Tigers
Current season:
2021 Auburn Tigers
First season
1892
Athletic director

Jay Jacobs

Head coach
Bryan Harsin
1st year, 0–0–0 (.000)
Other staff

Rhett Lashlee

, OC


Kevin Steele

, DC
Home stadium
Jordan-Hare Stadium
Field
Pat Dye Field
Year built
1939
Stadium capacity
87,451
Stadium surface
Natural Grass
Location
Auburn, Alabama
League
NCAA Division I (

FBS

)
Conference
SEC
Division
SEC Western Division
Past conferences

Independent

(1892-1894)
Southern Intercollegiate Athletic Association (1895-1920)
Southern Conference (1921-1932)
All-time history
All-time record
780–443–47 (.633)
Postseason bowl record
24–18–2 (.568)
Claimed national titles
2 (1957, 2010)
Conference titles
16 (7 SIAA, 1 Southern, 8 SEC)
Division titles
10
Heisman winners
3 (

Pat Sullivan

, Bo Jackson, and Cam Newton)
Consensus All-Americans

Template:American college football All-Americans

Current uniform

Colors
Navy Blue and Burnt Orange

             




Fight song
War Eagle (Fight Song)
Mascot
Aubie the Tiger
Marching band
Auburn University Marching Band
Outfitter
Under Armour
Rivals
Alabama Crimson Tide (

Iron Bowl

)
Georgia Bulldogs (

Deep South's Oldest Rivalry

)
LSU Tigers (

Tiger Bowl

)
Website
www.auburntigers.com/sports/m-footbl/
The Auburn Tigers football team represents Auburn University in college football as a member of the NCAA Division I Football Bowl Subdivision, competing in the Western Division of the Southeastern Conference (SEC). Auburn's Jordan-Hare Stadium has a capacity of 87,451, ranking as the eighth-largest on-campus stadium in the NCAA. Bryan Harsin is the team's current coach.
Seasons
History
The Tigers played the first football game in the Deep South in 1892,[1] with the program's first bowl appearance coming the 1936 season in the sixth Bacardi Bowl played in Havana, Cuba. As of 2009, AU Football has had 78 winning seasons, 35 bowl appearances, twenty-four 9+ win seasons, eleven undefeated seasons and ten conference championships. Auburn has played in the Southeastern Conference since its inception in 1933 and has won six SEC Conference Championships; since the divisional realignment of the conference in 1992, Auburn has won the Western Division title six times[2] including three trips to the SEC Championship game.
Historical ranking
The College Football Research Center lists Auburn as the 14th best college football program in history,[3] with eight Auburn squads listed in Billingsley's Top 200 Teams of All Time (1869–2006).[4] ESPN ranked Auburn 21st overall[5] and 22nd in the BCS era[6], behind several other SEC schools, including Florida, Georgia, LSU, Tennessee, and arch-rival Alabama.
The Associated Press poll statistics show Auburn with the 11th best national record of being ranked in the final AP Poll[7] and 12th overall (ranked 470 times out of 970 polls since the poll began in 1936), with an average ranking of 11.26.[8] Since the Coaches Poll first released a final poll in 1950, Auburn has 25 seasons where the team finished in the top 20 in both the AP and Coaches Polls.[9]
Auburn has the 13th most wins in D-1A college football.[10] In terms of winning percentage, Auburn ranks as the 9th most successful team in the past 25 years with a 71.6% win rate (214–83–5)[11] and 12th over the last 50 years with 63.0% (386–176–10).[12] Of the 93 current I-A football programs that been active since Auburn first fielded a team 116 years ago, Auburn ranks 13th in winning percentage over that period.[13]
Heisman links
Three Auburn players, Pat Sullivan in 1971 , Bo Jackson in 1985,and Cam Newton 2010 have won the Heisman Trophy. The Trophy's namesake, John Heisman, coached at Auburn from 1895 until 1899. Auburn is the only school where Heisman coached (among others, Georgia Tech and Clemson) that has produced a Heisman Trophy winner.
National champion teams
Eight Auburn teams have been awarded some form of "National Champions" title, though Auburn officially claims only the one awarded in 1957 by the Associated Press. The NCAA's website states that "the NCAA does not conduct a national championship in Division I-A football and is not involved in the selection process", but goes on to state that "a number of polling organizations provide a final ranking of Division I-A football teams at the end of each season". The NCAA website lists four Auburn squads that have been named National Champions by at least one organization.[14] The following is the complete list of Auburn teams ranked No. 1 and some of the organizations that recognized them as National Champion:[15]
Team
Organization

1910

6–1 team
Loren Maxwell

1913

undefeated 8–0 team
Billingsley, James Howell, 1st-N-Goal

1914

undefeated 8–0–1 team
James Howell
1957 undefeated 10–0 team
Associated Press, Billingsley, Fleming, Football Research, Helms, James Howell, Massey Ratings, National Championship Foundation, Nutshell Sports, Poling, Sagarin, Sorensen, Williamson, David Wilson

1958

undefeated 9–0–1 team
Montgomery Full Season Championship

1983

11–1 team
ARGH, Billingsley, DKC, Eck, FACT, Fleming, Football Research, James Howell, Massey Ratings, New York Times, Nutshell Sports, Sorensen, Sparks Achievement, David Wilson, 1st-N-Goal

1993

undefeated 11–0 team
Harry Frye, National Championship Foundation, Nutshell Sports, Sparks Achievement, David Wilson
2004 undefeated 13–0 team
Darryl W. Perry, EFI, FansPoll, GBE, Hank Trexler, M Cubed
Another possible national championship team for the Auburn Tigers is the 1932 football team that finished 9-0-1.
The AP Poll did not begin selecting a champion until 1936 nor the AFCA Coaches Poll until 1950, so many national champion titles previous to those date were awarded retroactively. However during the 1910s, it is difficult to dispute the legitimacy of the Auburn titles. The undefeated 1913 and 1914 teams coached by Mike Donahue were some of the best defenses in Auburn history. In fact, the 1914 squad allowed zero points all season, outscoring opponents 193-0. The 1983 team featuring Bo Jackson went 11–1 and finished the season by beating Michigan in the Sugar Bowl. Despite the team entering the game ranked third in the AP and both teams ranked ahead losing their bowl games, Auburn was jumped by fifth ranked Miami for the AP National Title. The 1993 team was ineligible to play in a postseason bowl game due to NCAA-imposed sanctions.[16] The undefeated 2004 squad (13–0) finished second in the AP and Coaches Top 25 polls, but the team was awarded the 2004 Fanspoll.com People's National Champion title.[17] After USC was stripped of the FWAA title, the organization discussed awarding the Grantland Rice Award to Auburn but ultimately voted not to award a trophy for 2004.[18] Auburn University officially only claims the Associated Press (AP) National Championship of 1957[19] (although the school does acknowledge the 1913, 1983, 1993 and 2004 titles in their media guide).[20]
Logos and Uniforms
Modern history
Template:Main: Auburn Tigers seasons
While Auburn football has a long and storied history, the Tigers have been quite successful in recent years. Since the expansion of the SEC and the split into divisions, Auburn has been the winningest SEC West team in league play since the conference realignment in 1992.[21] As of the end of the 2009 season, Auburn teams have won 33 of their last 50 conference matchups including 16 of the last 24 SEC away games. The Tigers seem to perform best when facing their greatest challenge as, in addition to the success on the road in the SEC, Auburn teams have won 9 of their last 16 matchups versus top-10 opponents. The Tigers also have done well protecting Jordan-Hare Stadium, particularly at night where the home team has won 18 of the 22 night games since 2000. Over the five seasons prior to 2009, Auburn won 47 games.
1993 Season
1993 capped an undefeated season for the Auburn Tigers, but were denied any championship attempts due to probation. Under coach Terry Bowden, this marked one of best seasons in Tiger history. Alabama then went to the SEC Championship in their place, and Auburn was the only fully undefeated team of 1993.
2004 Season
The Auburn Tigers ended 2004 on top of the world, beating everyone in their path to a potential national championship berth. Although they had accomplished all they had, two other schools did the exact same thing as well (Oklahoma & USC). This left Auburn out of the BCS Championship game due to the BCS system. Since this event has happened, every SEC team who has run the table has not only been able to play for the title, but win it in extraordinary fashion. In 2008, Sports Illustrated re-entered the 2004 statistics into the BCS system, out of curiosity, to see the outcome. The re-entered version had Auburn at #2, leaving the Sooners out of the title match at #3.
As of 2010, Southern California's national championship in 2004 has been stripped from the program due to infractions regarding running back Reggie Bush. Tommy Tuberville, Auburn's head coach at the time, stated that the Championship should be awarded to the 2004 Auburn Tigers. This was after he had been removed from coaching the team after a lack-luster year in 2008, and had accepted the head coaching job at Texas Tech University. The board denied this attempt for now, and has stated the will leave the 2004 championship trophy vacant at this time. TIME Magazine had Auburn listed as the #1 Team in 2004 as it's national champion. Tuberville viewed this as a "split" with USC, and all Auburn Players received championship rings.
2009 season
Main: 2009 Auburn Tigers
While Auburn had finished ranked in the top-15 in four consecutive seasons starting with the 2004 undefeated season, a poor 5-7 showing in 2008 led to head coach Tommy Tubervile's paid resignation. New head coach Gene Chizik was hired December 13, 2008 and brought in an entirely new staff. The 2009 season saw the Tigers face a difficult schedule, including away games at Tennessee, Arkansas, LSU and Georgia, with non-conference foes including national power West Virginia and Ball State (coming off a 12-2 season). The Tigers managed an 8-5 season record after defeating Northwestern in their New Year's Day bowl matchup (2010 Outback Bowl).
2010 season
On October 24, 2010, Auburn was ranked first in the BCS polls for the first time in school history.
Traditions
Tiger Walk
Before each Auburn home football game, thousands of Auburn fans line Donahue Drive to cheer on the team as they walk from Sewell Hall (the athletes' dormitory) to Jordan-Hare Stadium. The tradition began in the 1950s when groups of kids would walk up the street to greet the team and get autographs. During the tenure of coach Doug Barfield, the coach urged fans to come out and support the team, and thousands did. Today the team walks down the hill and into the stadium surrounded by fans who pat them on the back and shake their hands as they walk. The largest Tiger Walk occurred on December 2, 1989, before the first ever home football game against rival Alabama—the Iron Bowl. On that day, an estimated 20,000 fans packed the one block section of road leading to the stadium. According to former athletic director David Housel, Tiger Walk has become "the most copied tradition in all of college football."[22]
"War Eagle"
Nova, "War Eagle VII"
Template:Main: War Eagle
There are many stories surrounding the origins of Auburn's battle cry, "War Eagle." The most popular account involves the first Auburn football game in 1892 between Auburn and the University of Georgia. According to the story, in the stands that day was an old Civil War soldier with an eagle that he had found injured on a battlefield and kept as a pet. The eagle broke free and began to soar over the field, and Auburn began to march toward the Georgia end-zone. The crowd began to chant, "War Eagle" as the eagle soared. After Auburn won the game, the eagle crashed to the field and died but, according to the legend, his spirit lives on every time an Auburn man or woman yells "War Eagle!" The battle cry of "War Eagle" also functions as a greeting for those associated with the University. For many years, a live golden eagle has embodied the spirit of this tradition. The eagle was once housed on campus in The A. Elwyn Hamer Jr. Aviary (which was the second largest single-bird enclosure in the country), but the aviary was taken down in 2003 and the eagle moved to a nearby raptor center. The eagle, War Eagle VI (nicknamed "Tiger"), was trained in 2000 to fly free around the stadium before every home game to the delight of fans. The present eagle, War Eagle VII (nicknamed "Nova"), continues the tradition.
Toomer's Corner
The intersection of Magnolia and College streets in Auburn, which marks the transition from downtown Auburn to the university campus, is known as Toomer's Corner. It is named after Toomer's Drugs, a small store on the corner that has been an Auburn landmark for over 150 years. Hanging over the corner are two massive old-growth oak trees, and anytime anything good happens concerning Auburn, toilet paper can usually be found hanging from the trees. Also known as "rolling the corner," this tradition is thought to have originated in the 1950s and until the mid 1990s was relegated to only to celebrating athletic wins. However, in recent years it has become a way to celebrate anything good that happens concerning Auburn.
Wreck Tech Pajama Parade
The Wreck Tech Pajama Parade originated in 1896, when a group of mischievous Auburn ROTC cadets, determined to show up the more well-known engineers from Georgia Tech, sneaked out of their dorms the night before the football game between Auburn and Tech and greased the railroad tracks. According to the story, the train carrying the Georgia Tech team slid through town and didn't stop until it was halfway to the neighboring town of Loachapoka, Alabama. The Georgia Tech team was forced to walk the five miles back to Auburn and, not surprisingly, were rather weary at the end of their journey. This likely contributed to their 45–0 loss. While the railroad long ago ceased to be the way teams traveled to Auburn and students never greased the tracks again, the tradition continues in the form of a parade through downtown Auburn. Students parade through the streets in their pajamas and organizations build floats.
Current staff
Name
Position
Gus Malzahn
Head Coach

Rhett Lashlee

Offensive Coordinator
Quarterbacks

Kevin Steele

Defensive Coordinator

Kodi Burns

Co-Offensive Coordinator
Wide Receivers

Wesley McGriff

Co-Defensive Coordinator
Secondary

Tim Horton

Running Backs

Scott Fountain

Tight Ends
Special Teams Coordinator

Herb Hand

Offensive Line

Rodney Garner

Associate HC
Defensive Line

Travis Williams

Linebackers

Ryan Russell

Strength Coach
Head coaches
Tenure
Coach
Years
Record
Pct.
1892

George Petrie

1
2-2
.500
1893

D.M. Balliet

1
1-0
1.000
1893

G.H. Harvey

1
2-0-2
.750
1894

F.M. Hall

1
1-3
.250
1895–1899

John Heisman

5
12-4-2
.722
1900–1901

Billy Watkins

2
6-3-1
.650
1902

Robert Kent

1
2-2-1
.500
1902
James H. Harvey
1
0-2
.000
1903

Billy Bates

1
4-3
.571
1904–1906

Mike Donahue

3
12-9-1
.568
1907

Willis Keinholz

1
6-2-1
.722
1908–1922

Mike Donahue

15
94-26-4
.774
1923–1924

Boozer Pitts

2
7-7-4
.500
1925–1927

Dave Morey

3
10-10-1
.500
1927
Boozer Pitts
1
0-4-2
.167
1928–1929

George Bohler

2
3-11
.214
1929

John Floyd

1
0-4
.000
1930–1933

Chet Wynne

4
22-15-2
.590
1934–1942

Jack Meagher

8
48-37-10
.558
1943
World War II (no football)
1944–1947

Carl Voyles

4
15-22
.405
1948–1950

Earl Brown

3
3-22-4
.172
1951–1975

Ralph "Shug" Jordan

25
176-83-6
.675
1976–1980

Doug Barfield

5
29-25-1
.536
1981–1992
Pat Dye
12
99-39-4
.711
1993–1998
Terry Bowden
6
47-17-1
.731
1998

Bill Oliver

†
1†
2-3
.400
1999–2008
Tommy Tuberville
10
85-40
.680
2009–2012

Gene Chizik

4
33-19
.635
2013-2020
Gus Malzahn
8
68-35
.660
2021-present
Bryan Harsin
1
0-0
.000
†Defensive coordinator Bill Oliver coached the last five games of the 1998 season after Terry Bowden's resignation.
Award winners
A number of Auburn players and coaches have won national awards, including 62 players being named as college football All-Americans. The Tigers also have eleven coaches and players that have been inducted into the College Football Hall of Fame in South Bend, Indiana.
Hall of Fame
Players
Year Inducted
Coaches
Year Inducted
1954 -

Jimmy Hitchcock


1956 -

Walter Gilbert


1991 -

Pat Sullivan


1994 -

Tucker Frederickson


1998 - Bo Jackson
2002 -

Terry Beasley


2004 -

Tracy Rocker


2009 -

Ed Dyas

1951 -

"Iron Mike" Donahue


1954 -

John Heisman


1982 -

Ralph "Shug" Jordan


2005 - Pat Dye
National Awards
Players
Heisman Trophy [1]
Best player

Walter Camp Award [2]
Best player

Outland Trophy [3]
Best interior lineman

Lombardi Award [4]
Best lineman/linebacker

Jim Thorpe Award [5]
Best defensive back

1971 - Pat Sullivan, QB
1985 - Bo Jackson, RB
2010 - Cam Newton, QB

1971 - Pat Sullivan, QB
1985 - Bo Jackson, RB
2010 - Cam Newton, QB

1958 - Zeke Smith,G
1988 - Tracy Rocker, DT

1988 - Tracy Rocker, DT

2004 - Carlos Rogers, CB
Coaches
All-Americans
Name
Position
Years
Source

Jimmy Hitchcock

HB
1932

WCFF

Walter Gilbert

C
1933–1936
Monk Gafford
RB
1942
Caleb "Tex" Warrington
C
1944

FWAA

,

WCFF

Travis Tidwell
RB
1949
Williamson
Jim Pyburn
WR
1954

Joe Childress

RB
1955

FWAA

Frank D'Agostino
T
1955

AFCA

Fob James

RB
1955

INS

Jimmy Phillips

DE
1957

AFCA

,

FWAA

,

WCFF

Zeke Smith

OG
1958–1959

AFCA

,

FWAA

,

WCFF

Jackie Burkett

C
1958

AFCA

Ken Rice
OT
1959–1960

AFCA

,

FWAA

,

WCFF

Ed Dyas
RB
1960

FWAA

Jimmy Sidle
RB
1963

FWAA

Tucker Frederickson

RB
1964

FWAA

,

WCFF

Jack Thornton
DT
1965
NEA

Bill Cody

LB
Freddie Hyatt
WR
1967

TFN

David Campbell
DT
1968
NEA
Buddy McClinton
DB
1969

AFCA

,

FWAA

,

WCFF

Larry Willingham
DB
1970

AFCA

,

FWAA

,

WCFF

Pat Sullivan

QB
1971

AFCA

,

FWAA

,

WCFF

Terry Beasley

WR
1971

AFCA

,

FWAA

,

WCFF

Mike Fuller
S
1974
Ken Bernich
LB
1974

AFCA

,

WCFF

Neil O'Donoghue

PK
1976

TFN

Keith Uecker
OG
1981
Mizlou
Bob Harris
SS
David King
CB
Donnie Humphrey
DT
1983
WTBS

Gregg Carr

LB
1984

AFCA

,

WCFF

Bo Jackson
RB
1983–1985

AFCA

,

FWAA

,

WCFF

Lewis Colbert
P
1985

AFCA

Ben Tamburello

C
1986

AFCA

,

FWAA

,

WCFF

Brent Fullwood

RB
1986

AFCA

,

FWAA

,

WCFF

Aundray Bruce

LB
1987

AFCA

,

WCFF

Kurt Crain
LB
1987
AP
Stacy Searels
OT
1987
AP,

TFN

Tracy Rocker

DT
1987–1988

AFCA

,

FWAA

,

WCFF

Walter Reeves
TE
1988
TSN
Benji Roland
DT
Ed King
OG
1989–1990

AFCA

,

FWAA

,

WCFF

Craig Ogletree
LB
1989
TSN

David Rocker

DT
1990

AFCA

,

WCFF

Wayne Gandy

OT
1993
AP,

FWAA

, SH
Terry Daniel
P
1993

AFCA

,

FWAA

,

WCFF

Brian Robinson
SS

Frank Sanders

WR
1994
AP,

FWAA

, SH
Chris Shelling
SS
1994

FWAA

, SH

Victor Riley

OT
1997

AFCA

Takeo Spikes
LB
1997

TSN

Damon Duval

PK
2001

AFCA

,

WCFF

Karlos Dansby

LB
2003

AFCA

Marcus McNeill
OT
2004–2005
AP, CBS,

FWAA

, SI, Rivals,

CFN

,

WCFF

Carlos Rogers

CB
2004
AP,

FWAA

,

WCFF

Junior Rosegreen
SS
2004
SI, CBS

Carnell Williams

RB
2004

AFCA

Kenny Irons

RB
2005
Rivals

Tim Duckworth

OG
2006
Rivals

Quentin Groves

DE
2006
Rivals

Ben Grubbs

OG
2006
Rivals, ESPN, PFW

David Irons

CB
2006
Rivals
Tigers in the NFL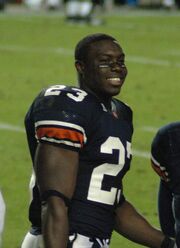 There have been 245 Auburn players drafted into the National Football League, with 15 earning 30 All-Pro honors, 27 making Pro Bowl appearances, and 23 playing in the Super Bowl.
The Dow Jones College-Football Success Index ranked Auburn as the eighth best program in the nation, with the second highest Draft Value which indicate "that a school's players perform better than NFL scouts seem to expect".[8] Auburn is tied (with Miami) for second most Top 5 NFL Draft picks this decade, and The Plains have produced 25 first round draft picks overall.
Running back U
Auburn has several former running backs currently playing that position in the NFL (see below). They carry on a long legacy of top NFL backs from Auburn such as Tucker Frederickson, William Andrews, Joe Cribbs, James Brooks, Rudi Johnson, Stephen Davis, James Bostic, Brandon Jacobs, Lionel James, Brent Fullwood, Carnell Williams, Ronnie Brown, Heath Evans, Kenny Irons, Ben Tate, Tommie Agee and Bo Jackson. Over the years 1987-2008, there have been 15 Tiger running backs drafted into the NFL, with several more successfully signing as undrafted free-agents.
Current NFL players
There are a number of former Auburn players currently listed on NFL rosters. These players include nine running backs, seven linebackers, six wide receivers, three tight ends, eight cornerbacks, one quarterback, one placekicker and twenty linemen including six nose tackle, six guards, five offensive tackles and three defensive ends.
2010 NFL Draft
The following former Tigers were drafted in the most recent NFL Draft:
Hall of Fame
| Name | Position | Inducted |
| --- | --- | --- |
| Frank Gatski | C | 1985 |
Bowl history
Auburn football teams have been invited to participate in 35 total bowls and have garnered a record of 20–13–2. Auburn ranks as one of the best programs in the nation in success in bowl games. Auburn ranks 16th in all-time bowl appearances with 35, 13th in all-time bowl wins with 20, and tied for 22nd in all-time bowl win percentage at .600. On January 1, 2010, Auburn defeated Northwestern in the Outback Bowl in overtime, 38-35. Auburn has won 3 straight bowl games and 6 out of their last 7.
| W/L | Date | PF | Opponent | PA | Bowl |
| --- | --- | --- | --- | --- | --- |
| T | 01-01-1937 | 7 | Villanova | 7 | Bacardi Bowl |
| W | 01-01-1938 | 6 | Michigan St. | 0 | Orange Bowl |
| L | 01-01-1954 | 13 | Texas Tech | 35 | Gator Bowl |
| W | 12-31-1954 | 33 | Baylor | 13 | Gator Bowl |
| L | 12-31-1955 | 13 | Vanderbilt | 25 | Gator Bowl |
| L | 01-01-1964 | 7 | Nebraska | 13 | Orange Bowl |
| L | 12-18-1965 | 7 | Mississippi | 13 | Liberty Bowl |
| W | 12-28-1968 | 34 | Arizona | 10 | Sun Bowl |
| L | 12-31-1969 | 7 | Houston | 36 | Bluebonnet Bowl |
| W | 01-02-1971 | 35 | Mississippi | 28 | Gator Bowl |
| L | 01-01-1972 | 22 | Oklahoma | 40 | Sugar Bowl |
| W | 12-30-1972 | 24 | Colorado | 3 | Gator Bowl |
| L | 12-29-1973 | 17 | Missouri | 34 | Sun Bowl |
| W | 12-30-1974 | 27 | Texas | 3 | Gator Bowl |
| W | 12-18-1982 | 33 | Boston College | 26 | Tangerine Bowl |
| W | 01-02-1984 | 9 | Michigan | 7 | Sugar Bowl |
| W | 12-27-1984 | 21 | Arkansas | 15 | Liberty Bowl |
| L | 01-01-1986 | 16 | Texas A&M | 36 | Cotton Bowl Classic |
| W | 01-01-1987 | 16 | USC | 7 | Florida Citrus Bowl |
| T | 01-01-1988 | 16 | Syracuse | 16 | Sugar Bowl |
| L | 01-02-1989 | 7 | Florida St. | 13 | Sugar Bowl |
| W | 01-01-1990 | 31 | Ohio St. | 14 | Hall of Fame Bowl |
| W | 12-29-1990 | 27 | Indiana | 23 | Peach Bowl |
| L | 01-01-1996 | 14 | Penn St. | 43 | Outback Bowl |
| W | 12-31-1996 | 32 | Army | 29 | Independence Bowl |
| W | 01-02-1998 | 21 | Clemson | 17 | Peach Bowl |
| L | 01-01-2001 | 28 | Michigan | 31 | Florida Citrus Bowl |
| L | 12-31-2001 | 10 | North Carolina | 16 | Peach Bowl |
| W | 01-01-2003 | 13 | Penn St. | 9 | Capital One Bowl |
| W | 12-31-2003 | 28 | Wisconsin | 14 | Music City Bowl |
| W | 01-03-2005 | 16 | Virginia Tech | 13 | Sugar Bowl |
| L | 01-02-2006 | 10 | Wisconsin | 24 | Capital One Bowl |
| W | 01-01-2007 | 17 | Nebraska | 14 | Cotton Bowl Classic |
| W | 12-31-2007 | 23 | Clemson | 20 | Chick-fil-A Bowl |
| W | 01-01-2010 | 38 | Northwestern | 35 | Outback Bowl |
| W | 01-10-2011 | 22 | Oregon | 19 | National Championship |
| W | 12-31-2011 | 43 | Virginia | 24 | Chick-fil-A Bowl |
Future non-conference opponents
References
External links