This article was featured on the Main Page in December 2012.
It is one of American Football Wiki's finest articles.
Archie Griffin



2-time Heisman Trophy winner Archie Griffin during his tenure with the Ohio State Buckeyes in game vs. Michigan, 1974

Personal Information
Born:
August 21 1954
in Columbus, Ohio, U.S., in
Died:
, in
Career information
Year(s)
1976–1985
NFL Draft
1981 / Round: 1 / Pick: 24
NFL Supplemental Draft
/ Pick:
College
Florida
Professional teams
Career stats
Rushing YDS/Rushing AVG
2,808/4.1 AVG
TDs
7 TD's
Stats at pro-football-reference.com
Stats at NFL.com
Career highlights and awards

High School Athletics Hall of Fame inductee (1996)
2x Heisman Trophy Winner at Ohio State (1974, 1975)
2x Big 10 Most Valuable Player Award winner (1973–1974).
College Football Hall of Fame inductee (1996)
#21 on ESPN's Top 25 Players In College Football History list
Current CEO of Ohio State University Alumni Association
Archie Mason Griffin (born August 21, 1954) is a former American football Running back and College Football Hall of Famer.
High school career
Edit
Griffin rushed for 1,787 yards and scored over 170 points in 11 games, including 29 touchdowns, as a senior fullback at Eastmoor High School (now Eastmoor Academy) in Columbus, Ohio. That year he led Eastmoor to the Columbus City League championship, rushing for 267 yards on 31 carries in the title game against Linden-McKinley High School. In his Junior high school, Griffin had also rushed for over 1,000 yards.[1]
In 1996 Griffin was inducted into the high school hall of fame.
Eastmoor Academy renamed their playing field "Archie Griffin Field" in his honor.[2]
College career
Edit
Griffin played for the Ohio State Buckeyes from 1972-75. Among Buckeye football fans, Griffin holds a status akin to a living folk hero. His freshman year was the first year Freshman could play on the varsity team, so when he got the starting position a lot of Sophomores were disappointed because Griffin took their spots. Former Ohio State head coach Woody Hayes said of Griffin, "He's a better young man than he is a football player, and he's the best football player I've ever seen."[3]
In 1972 Griffin was a T-formation halfback, and from 1973 through 1975 he was the team's I-formation tailback. He led the Buckeyes in rushing as a freshman with 867 yards, but his numbers exploded the following year with the team's conversion to the I-formation. He rushed for 1,428 yards in the regular season as a sophomore, 1,620 as a junior, 1,357 as a senior. Griffin is the only back to lead the Big Ten Conference in rushing for three straight years. Overall, Griffin rushed for 5,589 yards on 924 carries in his four seasons with the Buckeyes (1972–1975), then an NCAA record. He had 6,559 all-purpose yards and scored 26 touchdowns. In their four seasons with Griffin as their starting running back, the Buckeyes posted a record of 40-5-1.[4] Griffin is one of only two players in collegiate football history to start four Rose Bowl games, the other being Brian Cushing.
Griffin introduced himself to Ohio State fans in his second game as a freshman by setting a school single-game rushing record of 239 yards in the second game of the 1972 season, against North Carolina, breaking a team record that had stood for 27 seasons. Coincidentally, his only carry in his first game had resulted in a fumble. He broke his own record as a sophomore with 246 rushing yards in a game against the Iowa Hawkeyes. Over his four-year collegiate career, Griffin rushed for at least 100 yards in 34 games, including an NCAA record 31 consecutive games.
Career rushing statistics
Edit
NCAA Collegiate Career Statistics

Ohio State Buckeyes

Season
Rushing
Receiving
Games
Rush Att
Rush YDS
AVG
TDs
Catches
Yards
YPC
TDs
1972
11
159
867
5.5
3
6
90
15.0
1
1973
11
247
1,577
6.4
7
5
32
6.4
1
1974
11
256
1,695
6.6
12
5
77
15.4
0
1975
11
262
1,450
5.5
4
14
170
12.1
0
NCAA Career Totals
44
924
5,589
6.1
26
30
369
12.3
2
Abreviation Key
Games = Games Played
Rush Att = Rushing Attempts
Rush YDS = Rushing Yards
AVG = Rushing Average
TDs = Touchdowns
Catches = Pass Receptions
Yards = Receiving Yards
YPC = Yards Per Catch
TDs = Touchdown Receptions
Griffin finished fifth in the Heisman vote in his sophomore year and won the award as a junior and senior. In addition to his two Heisman Trophies, Griffin won many other College Awards. He is one of two players to win The Big 10 Most Valuable Player Award twice (1973–1974). United Press International named him Player of the Year twice (1974–1975), the Walter Camp Foundation named him top player twice (1974–1975), he won the Maxwell Award (1975), and Sporting News named him Man of the Year (1975). Griffin is also one of two players in NCAA history to start in four Rose Bowl games in a single career.
The College Football Hall of Fame enshrined Griffin in 1986. Ohio State enshrined him their own Varsity O Hall of Fame in 1981 and officially retired his number, #45, in 1999. He was inducted into the Rose Bowl Hall of Fame in 1990. In 2007, he was ranked #21 on ESPN's Top 25 Players In College Football History list.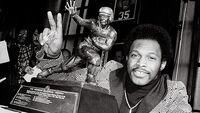 Professional football career
Edit
In the 1976 NFL Draft, he was the first-round draft choice of the Cincinnati Bengals, selected as the 24th overall pick in the draft. He played 7 seasons in the NFL, all with the Bengals (1976–1982). He was joined in the backfield with his college fullback teammate Pete Johnson, who was drafted by the Bengals in 1977. During his 7 NFL seasons, he rushed for 2808 yards and 7 touchdowns, and caught 192 passes for 1607 yards and 6 touchdowns. Griffin played in Super Bowl XVI with the Bengals after the 1981 season.
After his career with the Bengals ended, Griffin played briefly with the Jacksonville Bulls of the United States Football League.
Career Statistics
Edit
Professional Career Statistics

Cincinnati Bengals (NFL)

Season
Rushing
Receiving
GP
Att
Rush Yds
AVG
TD
Long
Catches
Rcvg YDS
YPC
TD
Long
1976
14
262
1,450
5.5
3
77T
16
138
8.6
0
623
1977
12
138
625
4.5
3
31
28
240
8.6
0
24
1978
16
132
484
3.7
0
30
35
284
8.1
3
27
1979
16
140
688
4.9
0
63
28
240
8.6
0
52T
1980
15
85
260
3.1
0
14
28
196
7.0
0
19
1981
16
47
163
3.5
3
23
20
160
8.0
0
17
1982
9
12
39
3.3
1
10T
22
172
7.0
0
22

Jacksonville Bulls (USFL)

1985
18
10
11
1.1
0
0
4
25
6.3
0
--
USFL Totals
18
10
11
1.1
0
0
4
25
6.3
0
--
NFL Totals
98
691
2,808
4.1
7
77T
192
1,607
8.4
6
52T
Career Totals
116
701
2,819
4.0
7
77T
196
1,632
8.3
6
52T
Career after football
Edit
Griffin returned to Ohio State University to receive a Master of Business Administration (MBA) degree. Griffin is currently the President and CEO of Ohio State University Alumni Association. He is also the current spokesman for the Wendy's High School Heisman award program. Formerly, he served as Assistant Athletic Director for Ohio State University and still speaks to the football team before every game.
Griffin also serves on the Board of Directors for Motorists Insurance which has offices in downtown Columbus and the National Football Foundation and College Hall of Fame, based in Irving, Texas.
Along with former NBA basketball star Magic Johnson. Griffin is a part owner of the Dayton Drageons, a Class A minor league baseball team affiliated with Major League Baseball's Cincinnati Reds.[7]
Archie is a son to Margret and James Griffin. He has six brothers and a sister. His brothers are named Jimmy, Larry, Daryle, Duncan, Ray Griffin (former NFL cornerback who for a time was a teammate with the Bengals), and Keith who also played in the NFL. His sister is named Krystal. Archie is married to Bonita and has three sons, Anthony, Adam and Andre. He also has 2 grandsons: Kamron Griffin, and Diante Griffin.
Archie's son Andre is currently entering his fourth year as an assistant football coach at Saginaw Valley State University.[8]
His son Adam is currently a reserve defensive back for the Ohio State football team.[9]
Archie is not related to 2011 Heisman Trophy winner Robert Griffin III.
References
Edit
External links
Edit
Community content is available under
CC-BY-SA
unless otherwise noted.