The
American Football Conference
(
AFC
) is one of the two conferences of the
National Football League
(NFL). The AFC was created after the NFL merged with the
American Football League
(AFL) in early 1970. The NFL's
Baltimore Colts
(now the
Indianapolis Colts
),
Cleveland Browns
,
Pittsburgh Steelers
, and the ex-AFL teams initially composed the conference. All of the other NFL teams formed the
National Football Conference
(NFC). Initially, this alignment was unpopular with fans in these cities.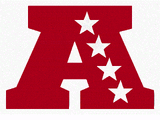 The AFC was created after the NFL merged with the American Football League (AFL) in 1970.[1] All of the 10 former AFL teams along with the NFL's Cleveland Browns, Pittsburgh Steelers, and the then-Baltimore Colts joined the AFC. The two AFL divisions (East and West) were more or less intact, while the NFL's Century Division became the AFC Central.
Since the merger, five expansion teams have joined the AFC and two have left, thus making the current total 16. When the Seattle Seahawks and the Tampa Bay Buccaneers joined the league in 1976, they were temporarily placed in the NFC and AFC respectively. This arrangement lasted for one season only before the two teams switched conferences. The Seahawks eventually returned to the NFC as a result of the 2002 realignment. The expansion Jacksonville Jaguars joined the AFC in 1995.
Due to the relocation controversy of the Cleveland Browns, a new AFC franchise called the Baltimore Ravens was officially established in 1996 while the Browns were reactivated in 1999.
The Houston Texans were then added to the league in 2002, joining the AFC.
Since 2001, the AFC has sent either the Indianapolis Colts, the New England Patriots, or the Pittsburgh Steelers to the Super Bowl every year except the 2002 NFL season, when the Oakland Raiders lost to the Tampa Bay Buccaneers in Super Bowl XXXVII. By contrast, the NFC sent a different team each year until the 2011 NFL season, when the New York Giants made it to their second Super Bowl in that same time span, Super Bowl XLVI.
References
Edit
↑ Pro Football - HISTORY. Retrieved on 2009-04-03.
External links
Edit
Community content is available under
CC-BY-SA
unless otherwise noted.