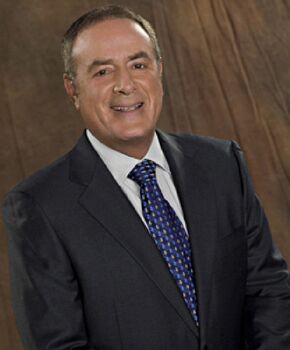 Al Michaels (born November 12, 1944) is a play-by-play announcer. After spending 3 decades with ABC Sports, he was hired by NBC Sports to be the play-by-play announcer on NBC Sunday Night Football.
Michaels was born to a Jewish family in Brooklyn, New York, to Jay Leonard Michaels and Lila Roginsky/Ross. He grew up as a Brooklyn Dodgers fan. Coincidentally, at the time the Dodgers left Brooklyn, Michaels's family also moved to Los Angeles in 1958. Michaels attended Alexander Hamilton High School in L.A. and was a baseball player. He graduated in 1962 and later attended Arizona State University, where he majored in radio and television and minored in journalism. He worked as a sports writer for ASU's independent student newspaper, The State Press. He also is a member of Sigma Nu Fraternity.
Michaels's first job in television was with Chuck Barris Productions, choosing women to appear on The Dating Game. His first sportscasting job came in 1964, when he was hired to do public relations for the Los Angeles Lakers. Later, he was hired by the team to serve eight games as a color commentator but fired after the first four, after Laker play-by-play announcer Chick Hearn disapproved of him. Michaels, who had worked on the team's media guide, was also considered to be the first color commentator of the Los Angeles Kings, where he would have been with Jiggs McDonald. That assignment went to Ed Fitkin instead.
Michaels resumed his professional broadcasting career in 1968, calling the games of the Hawaii Islanders baseball team in the Pacific Coast League. He also called play-by-play for the University of Hawaii's football and basketball teams as well as high school football games, and was named Hawaii's "Sportscaster of the Year" in 1969. In 1970, Michaels appeared as attorney Dave Bronstein in an episode of Hawaii Five-O called "Run, Johnny, Run" (Air date: January 14, 1970); the episode also featured a young Christopher Walken.
In 1971, Michaels moved to Cincinnati, Ohio, where he became the lead announcer for the Cincinnati Reds of Major League Baseball. In 1972, the Reds won the National League Championship Series and advanced to the World Series. Michaels helped cover the Fall Classic for NBC Sports, and also was the network's lead play-by-play announcer for the hockey coverage at the 1972 Winter Olympics in Sapporo, Japan.
In 1973, 2 days before he was assigned to call the regular-season NFL finale between Houston Oilers and Cincinnati Bengals, Bill Enis died from a heart attack at the age of 39. NBC proceeded to bring Michaels in to replace Enis in the booth with Dave Kocourek.
In 1974, Michaels left the Reds for a similar position with the San Francisco Giants, and also covered basketball for UCLA, replacing Dick Enberg on the Bruins' tape-delayed telecasts of their home games, during a period when UCLA was in the midst of an 88-game winning streak. He left NBC that year and announced regional NFL games for CBS Sports in 1975. He called the no-hitter by John Candelaria on August 9, 1976. He signed with ABC Sports in January 1977.
Main Article: Monday Night Football
From 1986 to 2005, Al Michaels was the main commentator for Monday Night Football. He commentated against other great announcers such as Frank Gifford and Dan Dierdorf as well as John Madden. It was his longest running stint as a sports commentator. When ABC announced that the series would be moving to ESPN, Michaels had planned on moving on with it, although his partner Madden decided to move to NBC.
In 2003, he was quoted as saying, "ABC Sports has been my professional home for the last 26 years, and I am delighted that will continue to be for several more..." after signing a long-term contract extension.
In 2005, it was announced that Monday Night Football would be moving from ABC to ESPN beginning with the 2006 season, and partner John Madden announced he would be joining NBC Sports, which had acquired the rights to Sunday Night Football games. Despite speculation that Michaels might be joining NBC as well, Michaels stated that he would continue as the MNF play-by-play announcer, stating, "I feel like I'm a creature of Monday night. I'm home and I'm staying home." Plans were for Michaels to be teamed with Joe Theismann (who would be coming over from Sunday Night Football) on the Monday night telecasts.[21]
At the time, then-ABC Television President Alex Wallau said, "For 26 years Al has played a pivotal role here at ABC Sports, and for 17 of those years he's been the face and voice synonymous with television's most successful sports franchise, Monday Night Football... It's Al's outstanding play-by-play coverage, coupled with his breadth of knowledge, experience and enthusiasm, that keep MNF fans invigorated, excited and coming back for more."
Also, then-ABC Sports President Howard Katz said, "Al Michaels has been invaluable to the Network and we are thrilled to have him remain in our family. Al is the consummate professional and makes everyone around him better."
However, in the weeks leading up to Super Bowl XL, it was widely speculated that Michaels was attempting to get out of his contract with ESPN to join Madden and Collinsworth at NBC. By this time, it was clear that NBC's Sunday Night Football would be the NFL's premier prime-time package, with ESPN's Monday Night Football relegated to secondary match-ups similar to that network's previous Sunday night telecasts. Michaels added fuel to the fire by refusing to state his future plans, and he couldn't "respond to rumors ... because that would become a distraction." On February 8, 2006, ESPN announced that its Monday Night Football team would consist of Mike Tirico on play-by-play, with Theismann and Tony Kornheiser as analysts. ESPN explicitly stated that Michaels would not return to either Monday Night Football broadcasts or ABC's NBA broadcasts (on which Michaels had been lead NBA play-by-play man).
Main Article: NBC Sunday Night Football
Despite announcing his intent to stay with ABC, it appeared as if he was trying to get out of his contract with ABC to allow him to join his former partner Madden. In order to get him out of his contract, NBC had to give up rights to certain things to ESPN. But eventually a deal was reached, and Al Michaels joined the Sunday Night Football Team, where he would commentate alongside Madden until 2009 and Cris Collinsworth in the present day.
Community content is available under
CC-BY-SA
unless otherwise noted.