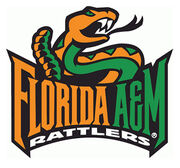 1978 Florida A&M Rattlers
1978 NCAA Division 1-AA National Champions
Head Coach: Rudy Hubbard (5th season)
Stadium: (1) Doak Campbell Stadium, Tallahassee, FL; (2) Bragg Memorial Stadium, Tallahassee, FL
Record: 12-1
Previous: 1977
Next: 1979
Florida A&M won the inaugural NCAA 1-AA national championship in the first season of 1-AA football. NCAA Division I football had been split into 1-A and 1-AA for the 1978 season.
This was the Rattlers' last season as a member of the Southern Intercollegiate Athletic Conference, as they would join the Mid-Eastern Athletic Conference the following year. Although the SIAC is an NCAA Division II conference, Florida A&M successfully petitioned the NCAA to give the team 1-AA status for the 1978 season.
Community content is available under
CC-BY-SA
unless otherwise noted.