The 1916 Cumberland vs. Georgia Tech football game was an American football game played on October 7, 1916, between the Georgia Tech Engineers and the Cumberland College Bulldogs at Grant Field (now known as Bobby Dodd Stadium) in Atlanta, Georgia. The game became the most lopsided in the history of college football, as Georgia Tech was victorious 222–0.[1][2][3]
Background
Edit
Cumberland College, a school in Lebanon, Tennessee, had discontinued its football program before the season but was not allowed to cancel its game against the Engineers.[1][2] The fact that Cumberland's baseball team had crushed Georgia Tech earlier that year 22-0 (amidst allegations that Cumberland used professionals as ringers) probably accounted for Georgia Tech coach John Heisman's running up the score on the Bulldogs.[1][2] He insisted on the schools' scheduling agreement, which required Cumberland to pay $3,000 to Tech if its football team failed to show.[1][2] So, George E. Allen (who was elected to serve as Cumberland's football team student manager after first serving as the baseball team student manager) put together a team of 14 men to travel to Atlanta as Cumberland's football team.[2]
Another reason for Heisman's plan to run up the score was that collegiate rules at the time ranked teams based on how many points they scored. Heisman did not consider that statistic a true mark of a team's success, and may have unleashed his players on Cumberland to make his point.[4]
Cumberland received the opening kickoff and failed to make a first down. After a punt, the Engineers scored on their first play.[1][3] Cumberland then fumbled on their next play from scrimmage, and a Tech player returned the fumble for a touchdown.[1][3] The Bulldogs fumbled again on their next play, and it took Tech two runs to score its third touchdown.[1][3] Cumberland lost nine yards on its next possession, then gave up a fourth touchdown on another two-play Tech drive.[2][3]
The Engineers led 63–0 after the first quarter and 126–0 at halftime. Tech added 54 more points in the third quarter and 42 in the final period.[2][3]
Several myths have developed around the game. Some have written that Cumberland did not have a single play that gained yards; in fact, its longest play was a 10-yard pass (on 4th-and-22).[1][2] One page on Cumberland's website says Georgia Tech scored on every offensive play, but the play-by-play account of the game refutes this and suggests a more likely scenario: that Georgia Tech scored on every one of its sets of downs.[3]
Statistics
Edit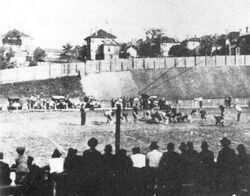 These statistics are based on the sources listed below and may be incomplete.
Team
Rushing
Passing
Kicking
Att
Yards
TD
Fumb Lost
Comp–Att
Yards
TD
Int
FGM–FGA
XPM–XPA
Cumberland
27
–96
0
9
2–18
14
0
6
0–0
0–0
Georgia Tech
40
1,620
32
0
0–0
0
0
0
0–0
30–32
Since World War II, only a handful of schools have topped 100 points in a college football game. The modern-era record for most points scored against a college opponent is 106 by Fort Valley State of Georgia against Knoxville College in 1969. In the previous year Houston defeated Tulsa 100–6 to set the NCAA record in major college football. In 1949 the University of Wyoming defeated University of Northern Colorado by a score of 103-0. The Division III football record was set in 1968 by North Park University in defeating North Central College by a margin of 104-32, using ten passing touchdowns along the way.
References
Edit
External links
Edit
Community content is available under
CC-BY-SA
unless otherwise noted.