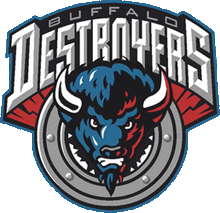 Buffalo Destroyers

Leauge
Arena Football League (AFL)
Conference
Eastern/American
Founded
1999
Folded/Ceased Operations
2004, Relocated to Columbus, Ohio to become the Columbus Destroyers
Arena
HSBC Arena
City
Buffalo, New York
Team Colors
Carolina Blue, Black, Red, Silver, White


    

    

    

    

    

Wild Card playoff berths
2: 2000, 2002
Conference titles
None
ArenaBowl titles
None
The Buffalo Destroyers are an Arena Football Leauge team in Buffalo, New York. They were founded in 1999, and eventually relocated to Columbus, Ohio in 2004.
Team History
Edit
The Destroyers began play during the 1999 AFL season, playing their home games at HSBC Arena (now known as First Niagara Center), and were owned by Buffalo-area businessman Mark Hamister. The team was founded, in part, because of fears that a lease expiration could have led to the demise or relocation of the NFL's Buffalo Bills, the city's largest sports franchise. Those fears were unfounded as a multiyear lease deal to keep the Bills in Western New York was signed shortly thereafter and remains in effect long after the Destroyers left Buffalo. The name "Destroyers" came from a naming contest and alluded to the naval ship of the same name, one of which sits outside the HSBC Arena in the nearby Buffalo Naval and Serviceman's Park.
The Destroyers initially attracted high attendance levels, but a lack of winning early on caused attendance to decline, something from which the team never recovered. The first head coach, Dave Whinham, was fired in the middle of the Destroyers' second season after an abysmal 1-17 record.[1] Former Buffalo Bills player Ray Bentley was selected as his replacement; however, he couldn't lead the Destroyers to a winning season. The closest he came was in 2001, when his team started 6-3 but would end the season on an 0-5 skid to just barely miss the playoffs. The team had another 6-8 season, this time enough to make the playoffs but lost in the first round, in 2002. Bentley abruptly resigned after that season to take a job in broadcasting, and Ron Selesky, a respected personnel man was hired to replace him. Selesky's record in 2003 was a lackluster 5-11. Jerry Crafts, former Bills offensive lineman, played for the Destroyers in 2001 and served most notably as nose tackle, anchoring one of the league's better defenses.
After the 2003 season concluded, talks of a re-location began, as the Destroyers had lost $5 million over five years, went nearly unnoticed by the media (NBC had blacked out all of their games in 2003), and suffered from a lack of local support reflected in low attendance levels. At the time, Destroyers owner Hamister was also in the running, along with partner Todd Berman, to buy the Buffalo Sabres of the NHL, but a deal for a state incentive package fell through and the team was instead sold to Rochester-area entrepreneur and politician B. Thomas Golisano. Shortly after the Sabres deal fell through, in September 2003, Hamister announced that he was relocating the Destroyers to Columbus, Ohio for the 2004 season.
On May 24, 2008 the Arena Football League announced that it was returning to Buffalo with a new franchise to be owned by Bills alumni Jim Kelly and Thurman Thomas along with Rochester Raidersowner Bob Bartosiewicz. That team will play in the AFL's minor league system, af2. The team was originally scheduled to begin play in 2009, but did not materialize in time for that season, and with the dissolution of the AFL as well as af2, the proposal appears to be dead, since the current version of the league has shown no interest in the Buffalo market, and the Raiders have since folded.
Season By Season
Edit
Buffalo Destroyers
Season
Conference
Division
W
L
T
Finish
Win Pct. (%)
Playoff results
1999
National
Eastern
1
13
0
4th
.071
Did Not qualify
2000
National
Eastern
5
9
0
3rd
.357
Lost Wild Card Round (Arizona) 41–34
2001
National
Eastern
6
8
0
4th
.428
Did Not qualify
2002
National
Eastern
6
8
0
4th
.428
Lost Wild Card Round (Orlando) 32–27
2003
National
Eastern
5
11
0
4th
.313
Did Not qualify
External links
Edit
Community content is available under
CC-BY-SA
unless otherwise noted.